May 02
Comments Off

on Lundgren's Lounge: "Galveston" by Nic Pizzolatto

Once again my treasure trove of fellow readers has come through. Although it is beginning to feel like we are a club of "we few, we happy few, we band of brothers" (and sisters), there is a comfort to be drawn from the secret pleasures shared as we parcel out newly discovered titles and emerging writers like shibboleths that mark us from the poor, bereft non-readers amongst us. Most recently Dave Evans, founder of the redoubtable Great Lost Bear in Portland, Maine, alerted me to the work of Nic Pizzolatto and his powerful 2010 debut novel, Galveston. Thank you Dave.
Pizzalotto writes like an angel conceived in hell. He is best known as the creator of the recent HBO cult sensation, True Detective starring Woody Harrelson and Matthew McConaughey and is also the author of an acclaimed book of short stories, Between Here and the Yellow Sea that is sadly out-of-print. Galveston brings us the story of Roy Cady, bagman for Stan Ptitko, impresario of a small-time crime ring in New Orleans (the bagman is the muscle who attends to the dirty work). In the novel's opening pages Roy learns he has terminal lung cancer and then he intuits that his employer, the aforementioned Stan, is setting him up for an even earlier grave. After a 'smoking spasm of violence" Roy's would-be killers "are mostly dead and he is mostly alive." Roy goes on the run but complicating his attempt to melt away is his fateful decision to include a young woman he discovers barely alive in the apartment. Her name is Raquel but everyone calls her Rocky and she is young and sexy and a mess of trouble and when she convinces Roy to stop along the way to rescue her little sister, this unlikely trio heads to Galveston, seeking refuge in a city smack dab in the bulls-eye of an oncoming hurricane.
Pizzolatto gracefully shifts back and forth in time to flesh out this stylish crime noir that was an Edgar Award finalist. His colleague Dennis Lehane describes Galveston as "… dark, brutal, sexy, sad, and filled with so much drop-dead gorgeous writing that I felt authentic envy while reading it." I simply felt gratitude for the chance to escape into a fictional world suffused with the visceral, edgy realness of a world I will probably never know.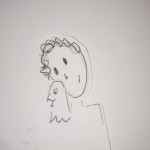 [Bill Lundgren is a writer and blogger, also a bookseller at Longfellow Books in Portland, Maine ("A Fiercely Independent Community Bookstore").  He keeps a bird named Ruby, and teaches at Southern Maine Community College.]