Jun 24
Working in a bookstore affords me the enviable opportunity to read things hot off the press, sometimes even earlier, with galleys and advanced reader's copies. But occasionally the deluge can become overwhelming and then it's time to go back to the dusty stack in the corner and grab that long-neglected classic, the one you'd always meant to read… Recently I did just that with Michael Paterniti's classic from 2000, Driving Mr. Albert: A Trip Across America With Einstein's Brain.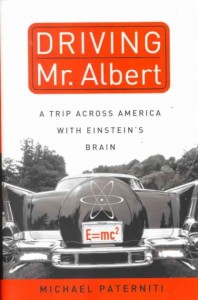 Composed of equal parts travel memoir, cultural history, love story and bildungsroman, Paterniti's charming and riveting narrative begins as he finds himself at a crossroads–as he puts it, "I was taking time to evaluate my prospects, of which there were basically none." And what is the cure for such ennui, for that indecisiveness that sometime bedevils those years before we settle into adulthood? Of course,a ROAD TRIP! Except that this is not your run-of-the-mill road trip, no this a cross-country journey with a quirky and quixotic individual who performed an autopsy on Albert Einstein, in the course of which he removed the brain of the 20th century's most famous scientist.
Paterniti's tale begins with his sleuthing to find out the truth behind a persistent urban legend that Einstein's brain has been preserved, although nobody seems to be exactly sure of where it is. His trail eventually leads to Dr. Thomas Harvey, the man who performed the autopsy and the possessor, in jars of formaldehyde, of floating chunks of brain formerly located in the head of Albert Einstein. When Harvey off-handedly mentions a need to travel to California, our author impulsively offers to drive him and we are off on an unforgettable adventure.
The lure of the open road is an integral part of the mythos of America. In recounting earlier such trips Paterniti remembers that "…every day brought new mystical visions of the kind that belong to all cross-country travelers." This particular journey is like a trip down the rabbit-hole, with side excursions to visit with William Burroughs and other of Dr. Harvey's friends and family. What makes the narrative such an unending delight is the author's good-humor in the face of uncertainty and his exquisite writing prowess. Dr. Harvey eventually wins both reader and author over with his sometimes befuddling charm and by journey's end we feel as if we have traveled across the country ourselves, accompanied by wonder and intrigue and propelled by the talents of a masterful storyteller.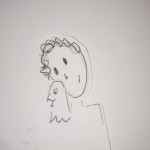 [Bill Lundgren is a writer and blogger, also a bookseller at Longfellow Books in Portland, Maine ("A Fiercely Independent Community Bookstore").  He keeps a bird named Ruby, and teaches at Southern Maine Community College.]