Feb 18
One of the exquisite pleasures of book reviewing, besides assuaging the small guilt at, as one friend described it, "wasting so much of my time reading," is introducing readers to a new author. For the past few years I have marveled at the work of Willy Vlautin. His latest novel, The Free, continues to deepen his role as the purest chronicler of the down-and-out writing in English today.
Following on the heels of his previous small masterpieces, The Motel Life, Northline and Lean on Pete, The Free offers up the lives of three main characters: Leroy Kervin is an Iraqi war veteran whose combat-inflicted head trauma has kept him in a group home for eight years. Freddie McCall is the night man at Leroy's group home, a gentle and decent man who despite working two full-time jobs can't seem to make ends meet. He's lost his wife and kids and the house is in peril. Pauline Hawkins is a nurse and caregiver who besides tending to Leroy and others in the home, looks after her mentally ill elderly father, all while shielding herself with an impregnable emotional detachment.
After eight years of waiting for the fog to clear, Leroy's life has become unbearable. An act of desperation helps him disappear deep into a dream world, a fantastical tableau replete with a vicious authoritarian regime that relentlessly pursues Leroy and his girlfriend as they try to escape on a sailboat. The quotidian existence of Freddie, as he goes from one job to another, assumes an invisibility that our culture assigns to the poor and the down and out. What we don't acknowledge is much easier to ignore. But Vlautin is insisting that we pay attention and pay homage to the grittiness and perseverance and hope that allows these forgotten souls to get through the day.
Vlautin is creating a unique body of work that deserves a wide readership. At the heart of his tales is a sense of the intrinsic human dignity central to our existence and all the more miraculous for its ability to survive the vicissitudes of modern life. These people are me or you with a few minor changes in our respective backgrounds. And while reading these stories, sometimes harrowing in their despair and sense of futility is not always easy, it is important. Vlautin's characters may be struggling just to breathe, they may be buffeted by forces they cannot control and whenever they seem about to get over they are knocked down again… and yet, Vlautin imbues their lives with a grace that transforms their stories into art of the purest kind.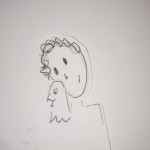 [Bill Lundgren is a writer and blogger, also a bookseller at Longfellow Books in Portland, Maine ("A Fiercely Independent Community Bookstore").  He keeps a bird named Ruby, and teaches at Southern Maine Community College.]