May 03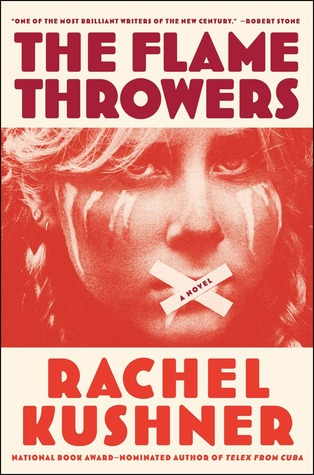 In a recent review I shared E.L. Doctorow's description of the novel as "the presiding art–in it's intentions, if only occasionally in its realization, a major act of the culture." And when that very occasional, serendipitous 'realization' occurs, it is important because of its power to impact both the worldview of individual readers and the very cultural petri dish from which it arose. The Flamethrowers by Rachel Kushner is one of these rare books.
Author Kushner arrived on the literary scene in 2008 with Telex From Cuba, a National Book Award nominee that told the story of Castro's revolution and the Americans forced to give up their tropical paradise and the riches it had afforded them. The Flamethrowers continues to explore the impacts of imperialism and the revolution that the inequities of imperialism inevitably spawn. Yet while politics may lie at the heart of much of Kushner's work, the politics are often background, obscured by the sheer, dazzling beauty of her storytelling gifts. Kushner transcends questions of form because as James Woods points out in his scintillating review of The Flamethrowers in The New Yorker, Kushner has "… a natural, vivacious talent for telling stories and these stories… seem fictively real, cunningly alive. Novelistic vivacity, the great unteachable, the unschooled enigma, has a way of making questions of form appear scholastic."
And that's exactly what Kushner does: to read her is to quickly sense you are in the hands of a master, a writer whose prodigious talents mark her as different from most others. She has that "great unteachable" gift. The Flamethrowers brings us the story of Reno, so named by her artist friends for the city she comes from. She arrives in New York with a rather vague notion of making art, but her first few months include the aching loneliness that only comes with being a stranger in a big city. While she eventually connects with a group of fellow artists, she retains the watchful aloofness of an outsider; whether describing the motorcycle time trials on the Bonneville salt flats, the New York art scene of the mid-'70's or the revolutionary fervor gripping an Italy riven by class warfare. It is this outsider perspective, never truly judging, simply observing and reporting in gorgeous, heart-stopping prose, that lead Robert Stone to say of Kushner, "She's going to be the one we turn to for our serious pleasures and for the insight and wisdom we'll be needing in hard times to come." I will follow this writer anywhere she chooses to lead.
[Bill Lundgren is a writer and blogger, also a bookseller at Longfellow Books in Portland, Maine ("A Fiercely Independent Community Bookstore").  He keeps a bird named Ruby, and teaches at Southern Maine Community College.]