Jan 23
Comments Off

on Lundgren's Book Lounge: "The Epicure's Lament" by Kate Christiensen
Hugo Whittier, protagonist of Kate Christensen's beguiling novel The Epicure's Lament, is an incorrigible cad to rival any similar miscreant in recent American literature. Hugo is not a criminal exactly, unless we are talking about moving through life without the slightest regard for the basic laws of social niceties. What he is, is brutally honest, without artifice or any semblance of regard for the feelings of the various targets of his invective.
And yet… Hugo is also somehow endearing. His bawdy attitude towards females of the species is unrestrained and unrepentant. He drinks and smokes copiously and in fact can truly be said to be smoking himself to death.  He has an autoimmune disorder, Buerger's disease, that causes severe inflammation and pain and can be fatal if the patient continues to smoke… which Hugo does, because he claims life without cigarettes would not be worth living. But he is also an artist in the kitchen and a devotee of the essays of Montaigne, especially those suggesting the logic of suicide. At story's beginning Hugo is living alone in the inherited family mansion above the Hudson, smoking, drinking, flirting with the teen-age clerk at the local drugstore and contemplating his imminent end (though as he points out incessantly, all our ends are imminent). His solitary idyll does not last, as first his brother Dennis shows up, having been thrown out by his wife, followed by Hugo's estranged wife Sonia and 'daughter' Bellatrix. What ensues is a "deliciously wicked black comedy," replete with torrid erotic liaisons, lots of good food, a potential pedophile, communication breakdowns and even a hit man for good measure.
But beyond the captivating story, what distinguishes this work is author Christensen's dazzling chops as a writer. An observation of brother Dennis is described by Hugo as, "Another of his wildly courageous forays out onto the bright, thin, and treacherous ice of badinage." Or this, Hugo's description of his drugstore crush: "While she talked, I noticed, as I always do, the heaving swell of her enchantingly oversized bosom beneath her olive-green smock, her name tag riding the crest of her left breast like a surfer hanging a glorious ten upon a majestic wave." And here is Hugo's early view of his alleged daughter, Bellatrix: "She looks Polish, the worst of the Polish character, the superstitious, mind-numbingly provincial ignorance that enabled an entire nation, as one, to turn a blind eye to the mass murder of any and all of their friends and neighbors who were too dark, too intelligent, too bookish, too deviant, too different from them, and then go to confession and tuck into a hearty meal of overcooked meat and boiled lardy eight-pound dumplings afterward in a stupor of self-forgiving Catholic ignorance."
This is dark social satire at its delicious best and Hugo, "like Shakespeare's Falstaff… more rogue than scoundrel," is one of the most memorable and ultimately endearing characters in recent fiction.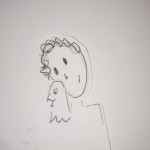 [Bill Lundgren is a writer and blogger, also a bookseller at Longfellow Books in Portland, Maine ("A Fiercely Independent Community Bookstore").  He keeps a bird named Ruby, and teaches at Southern Maine Community College.]