Aug 26
The mysterious alchemy that brings books into my life has always fascinated me. I seldom fail to finish books because it's always so evident that the book in my hands is there for a timely reason, as though there is a god of reading that has placed it there. Often titles appear off the lips of a network of fellow bibliophiles and so recently when friends Monica Wood and Robert Vitesse, voracious readers both, mentioned the astonishing impact of the fiction of Larry Brown on the same day, I immediately went to my shelves and pulled out a copy of Joe and began reading.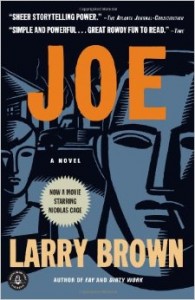 I had previously read some of Brown's short stories and been impressed. But Joe  was another animal altogether; for the two days it took to read, I was transfixed. While teaching or gardening or walking the dogs, the bewitching title character was with me. Joe is a creation of the deep South, Mississippi to be exact and Brown hailed from Oxford, so the comparisons with Faulkner are inevitable. But while the Bundren family of Faulkner's As I Lay Dying have an endearing, almost comical quality to them there is a darkness to the more contemporary Southerners of Brown's fiction that will cast its mark on your reading soul. Wade Jones, patriarch of a family that resembles the Bundrens in their abject helplessness, is as malevolent a character as you might meet in your literary travels. And Joe, with his myriad flaws, living with his ferocious adherence to a ancient Southern code of honor, is as magnificent a creation as I can recall in recent American fiction.
Cleanth Brooks, Faulkner biographer and dean of 20th century American literary criticism, describes Joe thus: "Joe Ransom is a man who insists on running his own life in his own way. He refuses to be controlled by anyone else… Living his life on his own terms makes him a good many enemies, though the fact daunts him not in the least. Yet his is not the arrogance of the bully. He lives by his own code of honor. To shape and present this special kind of character is a formidable test of any author's powers. It is a test that Larry Brown easily succeeds in passing, for most of his readers will accept Joe's essential reality."
Larry Brown died when he was barely 50, apparently of a heart attack. I cannot even imagine what we have missed by his early and untimely demise. Best to simply stop whatever you're doing and grab a copy of Joe, both to honor the memory of both Larry Brown and Joe Ransom and to experience anew why we read.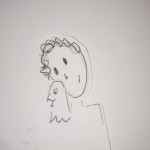 [Bill Lundgren is a writer and blogger, also a bookseller at Longfellow Books in Portland, Maine ("A Fiercely Independent Community Bookstore").  He keeps a bird named Ruby, and teaches at Southern Maine Community College.