Nov 11
Comments Off

on Lundgren's Book Lounge: "Gaining Ground," by Forrest Pritchard
Of all the different kinds of work I have done in my life (truck driver, legislative aide, carpenter, farmer, teacher, writer, educational consultant, bookseller), my favorites have been teaching and running the organic farm in Vermont. Perhaps that's why Forrest Pritchard's memoir about trying to save the family farm, Gaining Ground, resonated so deeply… but I suspect this is a book that will move nearly any reader. It's a tale about growing up and finding one's way in the world  and of the industrial agriculture machine that mostly rules our food choices and the power of family and the ways that a family farm can find a niche within the confines of the present-day capitalist marketplace.
Pritchard was a newly graduated (English and geology, from William and Mary) aspiring writer when he returned to the family farm after college. He had a vague notion of wanting to write the Great American Novel and even vaguer ideas about rescuing a farm that had been in his family for 150 years. That farm was now facing the decline that precedes the seeming inevitable sale and conversion to a homogenized suburban landscape. The problem was that Pritchard had literally no idea of how to go about his proposed rescue mission.
Gaining Ground covers ten years in the life of Smith Meadows farm and for much of the initial part of that decade we are treated to a series of sometimes wild and almost always rather depressing failed forays into the marketplace. From cutting firewood to baling and selling straw, Pritchard struggles to figure out what makes sense for the farm. His grandfather has successfully raised beef cattle and while early efforts are promising, the young farm struggles to find a market. As the story progresses we are privy to the series of revelations that elevate Smith Meadow Farm to both a viable and successful business AND an incredibly satisfying life for the people involved in its evolution. Pritchard's epiphanies include limiting the off-site resources needed to sustain the farm (e.g. hay); investing time and energy into rebuilding and sustaining the pasture essential to raising their grass-fed beef; developing a customer base founded on personal contact, which means finding the right farmer's markets to sell their products and finally, eschewing the lure of on-line marketing, preferring instead to encourage those inquiring from far away to seek out a farmer in their community to satisfy their needs.
This is a beautifully written and entertaining tale, animated by Pritchard's wry and sometimes rather sardonic sense of humor and irony. It is not a book solely for those who dream of returning to the country and exploring a life of sustainability, but for anyone who relies on food to keep them going.
.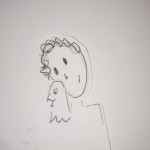 [Bill Lundgren is a writer and blogger, also a bookseller at Longfellow Books in Portland, Maine ("A Fiercely Independent Community Bookstore").  He keeps a bird named Ruby, and teaches at Southern Maine Community College.]