Jul 11
.
Rosie Schaap's memoir, Drinking With Men, turns a number of social conventions topsy turvy, the most prominent being the reassuring (for some) perception that people who spend time in bars are social degenerates and quite possibly, alcoholics. Schaap is unabashed in her praise for the unique sense of community that can be found in the neighborhood tavern and unapologetic for the role that a pint and the warming effects of Irish whiskey can play in fostering that elusive sense of conviviality.
For three years I travelled to New York every Monday to work, returning to Portland on weekends. New York City is a place with 10 million people where loneliness lurks around every corner. Fortunately, as Schaap so delightfully reminds us, there are refuges from that sense of isolation, often to be found in the neighborhood pubs that seemingly exist around every corner. Many nights I would spend at Professor Thom's in the East Village or the Lion's Head Tavern on the upper west side, in the company of a motley assortment of people with whom I shared an affinity, not necessarily for alcohol, but for the unique sense of community that can only be found in such places. Drinking With Men conveys that elusive sense with a delightful sense of humor and a keen observational eye. The book reads like a pleasurable night at your favorite saloon.
From her early years as a tie-dyed Deadhead to her semester abroad in Dublin and college in the Green Mountains of Vermont, to describing her favorite haunts in her native New York, Schaap proves to be a effusively warm companion and tour guide to the nuances of bar culture and the ebb and flow of one's personal love affair with individual bars. Indeed, Schaap compares her affection for the various corner pubs in her life with human relationships. She writes, "I prefer one bar at a time. When it comes to where I drink I'm a serial monogamist… although loyalty is upheld as a virtue, bar regularhood–the practice of drinking in a particular establishment so often that you become known by, and bond with, both the bartenders and your fellow patrons–is often looked down upon in a culture obsessed with health and work… being a regular is not synonymous with being a drunk; regularhood is much more about the camaraderie than the alcohol. Sharing the joys of drink and conversation… is one of life's most unheralded pleasures."
.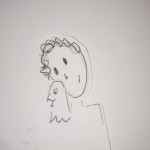 [Bill Lundgren is a writer and blogger, also a bookseller at Longfellow Books in Portland, Maine ("A Fiercely Independent Community Bookstore").  He keeps a bird named Ruby, and teaches at Southern Maine Community College.  He is now in possession of a new hip.]