Jun 28
Comments Off

on Lundgren's Book Lounge: "City of Bohane," by Kevin Barry
Just published in paperback (Graywolf) and recipient of one of the world's most prestigious prizes, The International IMPAC Dublin Literary Award, City of Bohane by Kevin Barry is a mesmerizing magic passport to another world, a futuristic Ireland conjured up by the author's relentless re-imagining of the use of language. Just as the subversion and re-working of language created Joyce's Dublin or the future in Burgess' A Clockwork Orange, Barry has conceived a city sometime in the future of the Emerald Isle, an Irish metropolis ruled by ritual and violence and described in an idiom all its own.
Of course learning a new language is not without its frustrations, but the reader's early resistance will erode in the seductive onslaught of Barry's prose, which often reads more like street slang poetry. Sample this: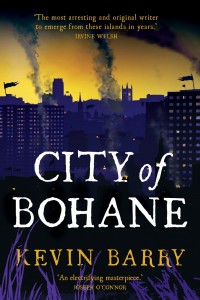 'He watched now the young ones in the April morning as they roamed down there. You could pick out the blow-ins so easily: the arrivistes, the hard-eyed adventurers. They would by long tradition head for the city of Bohane in springtime – they brought their shkelps, their herb-pipes, their dreams. See the way they tried out a walk – getting the roll of the hips just right, and the loose carry of the shoulders, and the glide of the feet; you didn't want to arrive Trace-deep on the stride of a cow hand.'
As you prowl the streets of Bohane with Barry's motley assortment of thugs and criminal masterminds and schemers and connivers you will find yourself increasingly sympathetic to their assorted aims and dreams. There are no saints here, yet Barry makes us care deeply for his flawed sinners. The novel has been described as "an Icelandic saga welded to a ballad of the American West"… there is also a healthy dollop of the manic creativity of the graphic novel, but make no mistake: this is a unique literary work and by book's end the rawness of life in this futuristic dystopia and the hallucinatory effect of Barry's incandescent language will have you fighting the urge to book passage on the next boat over to the simultaneously terrifying and irresistible world that is the City of Bohane.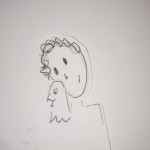 [Bill Lundgren is a writer and blogger, also a bookseller at Longfellow Books in Portland, Maine ("A Fiercely Independent Community Bookstore").  He keeps a bird named Ruby, and teaches at Southern Maine Community College.  He is now in possession of a new hip.]