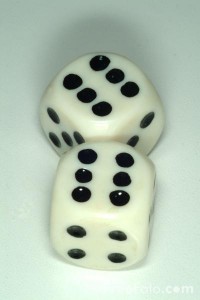 I've been thinking about how much of any career is luck and accident, especially a career in the arts.  You get an idea or you don't.  You meet the helpful person or you don't.  You listen to good advice or fail to.  You ignore bad advice or don't.  You connect with a mentor or you don't.  You move here, you move there.  You're hired, you're not.  You get a little affirmation, you get a little discouragement, or a lot of one or the other, despite simply being who you are all along.  Slowly you learn what you're good at, but always you insist on trying things you're not good at, on doing the thing you can't do, on reaching higher.  It's the Peter Principal applied to the arts, though it's entirely self-imposed.  Call it the Bill-and-Dave's-Cocktail-Hour Principal.
I'm interested in hearing about other people's trajectories. What did you used to do and what are you doing now to sustain and nurture the writing bug?  How'd you get where you are, or aren't?  What did the early years look like?  What accidents pushed you this way or that?  What makes a reader a reader and a writer a writer?  And don't you have to be a reader to be a writer?  (Our notes on our reading are on our Reading Under the Influence page.) Dave's first installment of "Talking to Ghosts" compellingly visits his literary influences, his mentors, his youthful artistic vision, wonderful.  But he was also an Ultimate Frisbee champion–how does that history play into the current work?  Or does it?
I was a paperboy for a year or two before I was really old enough to work, a mile or so on my bike each morning.  I stocked groceries at the A&P.  I cleared brush for a day with my friend Kurt and the lady paid us in Pepperidge Farm Goldfish.  I played in bands, good and bad, not very remunerative.  I dropped out of college, worked for an electrician for a year of partying, then went back.  I used to wake up and worry at night, but now I just lie there and think.  I don't know what accounts for the change.  I used to gaze in the mirror for long intervals, trying to see who was there (also secretly vain).  Not so much anymore.
For a short time, a season or two, I worked with cattle and sheep and various machines in Nebraska, rode a horse named Bill.  In various parts of the country I worked construction a little, then a lot.  I was a dishwasher for four days once.  The owner told us to recycle any decent-looking pickles.  I got fired when the cook got fired, because he was a friend of mine. I worked a lot of construction, come to think of it. I played in more bands.  I was a bartender in a disco for a year, and then at a jazz club, both in Seattle—I used to travel solo.  I worked as a waiter in a lunch place for tips only since my whole paycheck was taken up by dishes I broke.  I was a musician one place and another, ultimately New York City, which just meant I was sometimes broke.  I was a handyman often—just make a poster and tape them up everywhere and wait for the phone to ring.  I once painted Barbara Walter's apartment in Manhattan.  She had Egyptian antiquities on display and a poodle that got paint on its butt, big crisis, also a telephone next to her toiwet, first time I ever saw that.  I remodeled kitchens and bathrooms all over the city for people who wanted to save money: I underestimated everything drastically.  I tiled showers and rooftop patios and the floor of a fancy hot-dog shop.  I never wondered what the hell I was doing.  I knew what I was doing: I was making money so I could write.  That was a romantic notion, too.  The artist in his garret.  A few dimes here, bowl of gruel.  At least I didn't have tuberculosis.
My theory was you had to have experience if you were going to write.  I still subscribe to this theory, which doesn't mean it's correct.  Another theory would be to sit down and write and just keep writing, do and think nothing else.  But I'm always telling students to defer grad school till they're fully broken, to join the Merchant Marine, to quit their job, to forestall marriage.  For my part, I got good at all kinds of things—cards, pinball, shooting, plumbing, mixology, sailing, gardening, birding, memo-writing—and I did a lot of stuff I don't do now.  I used to fly-fish extensively, for example, and play tennis, play golf, downhill ski, bike to work, go parachuting on a lark, rafting, whatever.  I could drive any size truck (but never learned to drive a motorcycle: too scared after my brother's roommate was killed in a jumping accident).  I used to drink large amounts of beer, but became allergic at age 45, go figure.  Now it's Jack Daniel's or good wine, not such a bad fate.  Before I published anything else I wrote a how-to book called Tips and Tricks for Home Repair.  It was a contract deal, a work for hire, $2500, a vast fortune at the time.  It looked like a phone book, really cheap, illustrated by a film-strip guy, those cheerful stick-figure people pointing out the pliers, thin paper, lots of pages.  It was on my resume for a long time, but then I went to grad school and realized it didn't count.  For three years at Columbia I taught a course called Logic and Rhetoric.  Later I taught at the University of Maine at Farmington, then in the grad program at Ohio State.  I got tenure there after just two years but found the fact and nature of tenure depressing and kind of medieval and after a while I quit, moved back to Maine.  Most recently I taught at the College of the Holy Cross in Worcester, Massachusetts, a five-year position, but now that's done, twenty years of teaching altogether, yet another thing I was good at and loved and did in order to write, and now have quit in order to write.  Till I go broke, that is.  Or miss it too much.
All of these things were accidental.  I mean, I was handy with tools, so I did construction, which I was not always good at.  I found anything outdoors romantic, so I stumbled into one thing after the next, any work, any project, any road trip, fine, as long as most of it was outside.  I was good at the piano, and could sing at least a little, so I played in bands.  I was comfortable in front of a classroom—a natural entertainer—and took sustenance from the minds of students, so I taught.
When I was five I asked for a desk for Christmas.
My mother told the story often.  Why a desk?  she asked.
Because I am going to be a writer, I said.
I don't understand this.  Maybe I knew what a writer was because Mom read to us so much.  She'd sit at the kitchen table and read passages from whatever she was reading, didn't matter.  A page from Elmer Gantry. An Ann Landers column, whole.  At bedtime she read us the unabridged Gulliver's Travels, with Gulliver climbing around the cleavage of Brobdingnabian women who thought him a pet, these huge disgusting pores and overpowering perfume and quivering bosoms, illustrations, too, awesome.  The desk was a miniature oak roll-top from the Sears Roebuck catalogue.  I gave it to my daughter when she was five, and she loved it for a while, but now she's already too big for it (but maybe best to leave the discussion of the influence of family to a future post!)
And I wrote, another knack, got through High School on bare verbal talent, college the same, though here and there an English teacher lit new fires.
No matter what else I was doing, college forward, I was writing.  Writing was the thing, writing was the point.  I filled notebooks.  I subscribed to literary magazines.  I wrote two, no three, apprentice novels.  I haughtily eschewed writing programs—I can't quite remember why.  I sent stories to the New Yorker and the Paris Review and Raritan and collected mountains of rejection slips.
I read and wrote so much that the guys in one of my bands called me The Professor.  This long before I'd even considered such a thing.  Everything I did, I did so I could write.  I published nothing of substance until I was, like, 35.  I still don't know what kept me going.  Bands, maybe.  The instant rewards of playing music pretty well in front of crowds, people dancing, yelling.  That's where I could be an artist and hear applause, take home some cash.  Just never quite seriously.  What was serious was writing.  And because I was writing and reading so much I was failing to keep up with my peers in music.  Not enough practice, not enough study, not enough focus on the music of the day, the trend-lines, the new equipment, the shifting attitudes, the grimmer lineaments.
And one night in Norway in the back of a friend's friendly band bus somewhere between Bergen and Stavanger, age thirty or so, I decided I couldn't do it anymore. The two things, music and writing, they came from the same well, so it seemed.  I made a decision, one of the few in life that wasn't made for me: I quit playing music.  I just simply quit.
That's the same as saying I used to be young.
Cheers!
A couple of quotations on my way out the door:
"Whoever, in middle age, attempts to realize the wishes and hopes of his early youth, invariably deceives himself. Each ten years of a man's life has its own fortunes, its own hopes, its own desires."  –Goethe
"Everything in life is luck."  –Donald Trump
Please click  I used to play in Bands to see the first installments of my video memoir.  If you watch on YouTube, you can leave a comment.  Just click the YouTube logo lower right.