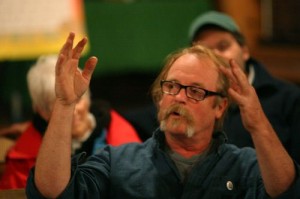 [Update: May 12.  Some good title ideas coming in.  How about the Giant Side?  No–sounds like a rib restaurant.   It's still The High Side for now… That's the name of the vast mansion and estate in the book–If I could think of a great name for a vast mansion and estate that would also be a great novel title, I'd happily make all the changes–any more ideas out there?] [Update: May 11.  Land of Giants turns out to be what they call San Francisco… Just isn't quite gonna work…  How about just GIANT?  No, it doesn't work at all the same way…  Okay, back to The High Side for now… And off to ten editors tomorrow with a great note from Betsy, framing it as I never could…  Whatever happens, Later in the summer, cocktails with all you New York readers…  Alaska in June.] [Original Post: May 10]: I've recently finished a new novel—four solid years worth of drafting and revisions and moaning and groaning trying to make it look effortless, characters I love. The working titlehas been The High Side, but I'm not terribly happy with that. Land of Giants just came to mind this morning, but you know how that is. Sounds great at 5 a.m. just before you go back to sleep on a Sunday morning. But by now I'm hearing the Green Giant ho-ho-ho thing in the back of my head. I never have any trouble naming short work—bang, the title's there just as I'm finishing, or even well before. But a novel? It's so big and covers so much ground and so many events—anyway, no one title has seemed to encompass this tome… Except for Land of Giants, which by tomorrow I will hate. I already hate it, in fact. No, I love it. (I can just see the rejection letter: "Not for us. Perhaps better suited for a San Francisco publisher?") Hate. Love. Hate.
I tend to write long, and this book is no exception, in fact breaks my record in manuscript: 540 pages. Some drafts have been longer (Temple Stream was longer in an early draft until I cut 300 pages, mostly about beavers, thank you Susan). (People often ask how manuscript pages translate into book pages. Depends on font size and kerning and margins and gutters and page size and just about everything else. Could be 1:1, manuscript to book, more often about 1.5:1, easily 2:1, or sometimes, if you're Philip Roth, 1:1.5. War and Peace was over 3000 pages in actual manuscript, I mean, written out by hand ((Tolstoy's wife's hand)), and there are print editions that I can't read even with reading glasses, you know–those dense paperbacks assigned for college courses). I wonder often if my new book is simply too long for the world today, however. Maybe get it down to four pages and sell it in a box complete with magnifying glass?
Another question people often ask is, What's this novel about? But I just said—it's about 540 pages. I make v. bad joke sorry because the question is so hard—almost at this stage as hard as a title. A title should capture the essence of the thing somehow, while exciting interest. Land of God-Damned Giants! Then there's the blurb, which you leave to someone else. ("A massive swelling glissando of passion, better than most sex! Land of Giants!") A description (the pitch, as it's sometimes called, later to be flap copy) should boil the story down. But I can't do it yet. I'm still so close to the work that when I've tried—people actually ask—I sit there at whatever bistro and restate the entire book, forty drinks worth. My agent, Betsy Lerner, is very good at saying what a book is, brilliant in fact, and after talking to her about my pages I have a sense of what they're about for a while, often as long as four hours. But this surety fades. She says supportive, sweeping things like that it's a Big American Story, that's it's Richard Ford in The Sportswriter only with dancers, that it's big and it's sweet (this after reading like 47 drafts), and of course I take it all in. I love Betsy.  She does what I can't do.
But let me try:
It's about a seventeen year-old kid who loses his parents in one violent moment, and then must carry on. Land of Giants!
It's about a kid who grows up across a little pond from a mansion where a rock star lives with a world-class ballerina. Land of Giants!
It's about a middle-aged guy struggling with his father's loser legacy. (It's certainly not about my father, who is a great guy and a major success, and happens to be visiting me right now.) Land of Giants!
It's about a pair of siblings who share a tragedy. Land of Giants!
It's about a football player who could have been great. Land of Giants!
It's about a sports figure turned restaurateur. Land of Giants!
It's about a guy who doesn't quite credit his drive for revenge until he must credit it. Land of Giants!
It's about high school sex.  Land of Giants!
Love is an illusion. That's what it's about. Everything's an illusion. Land of Giants!
It's about the sentences, one after the next. Land of Giants!
It's about 540 pages.
Fuck.
What's next for LOG? (Or am I jumping the gun on the acronym?) I am braced for a certain amount of rejection. In the past I've purchased myself a nice present at this juncture, usually a watch, to mark the success: I've finished writing a book I like very much. This is an important gesture for any writer at this stage in the suffering process. It separates the artistic success from the commercial picture, which is a different form of success altogether. Congratulations, self! You've done it! You've written a good book! Trouble is that now I tell time with my cell phone, primarily. And I don't like jewelry. I already have a canoe and chickens. And I'm writing full time again, which is another way to say I don't have money for anything very fancy. Maybe a nice meal. Oh—or a party! I will throw a bash! A successful-advanced-draft party!
You are invited.
BYOB = Bring your own book!
We will blurb one another promiscuously!
And don't ask me what mine's about, because I don't know, except in a very close-up kind of way. Land of Giants!
Meanwhile, and seriously if I may: while we're partying down, my manuscript will be out getting read by a short list of discerning editors. I anticipate rejection, because that's the safest stance to take emotionally. After seven books published, I'm good at rejection, which is after all just another step in the complex suffering process that is writing. (In the old days I decided to change my goal from getting published to collecting rejection slips. That way, I was always successful. Publication when it came was a disappointment—where's that slip?)  Don't worry.  I can take it.  I'm a suffering machine.
But still, in the back of my heart I believe it's all coming, that this is the one. Right? I'm right, right? I mean, right? It's happened to friends. It's happened to enemies. It's happened to a woman I met at a party who went on and on till my eyes glazed over about her vampire book idea. I think she even bit my neck, or anyway, my personality sure changed after that encounter. But back to the point: These smart, savvy editors who've been aware of me (or have published me) for many years, they'll look at the book with pleasure, stay up all night reading, rush early to the office brimming with ideas—ideas that will help me achieve that last, transformative draft. The return call from Betsy won't come soon enough! Keys to the house treasury please! Yes, sure, okay, we'll accept payment in diamonds. And here comes the book, like molasses down a pipeline. No, something quicker and not so brown, also hipper! Bio-diesel? The copyeditors, the typesetters, the design people, the sales team, the booksellers, and finally the readers, all of them will beam beholding this achievement, this monstrous bleat, this triumphant, sterterous snort of satisfaction from that old warhorse Bill, the steadfast, stentorian steed who's come all this way with a spear in his side and an arrow in his eye, burrs under the bridle straps, bit made of razors, spurs of broken glass, rider a cruel and indifferent master who now lies drunk across the saddle, stinking and oblivious! These perspicacious editors will have their assistants and the boys from accounting pull up a few figures and think—Jesus, this  guy is due! 540 pages are hardly enough! Let's do it large type, so even our man can see what he's made! The 90-city, 10-country tour will nearly kill me, but Oprah and Charlie Rose will have a joint show on which they will take turns massaging me. Careful with my neck, you two! Better clothes, maybe. Definitely better shoes. And a new little tasteful awards shelf over the fireplace in the modest beach cottage. Deodorant.
Land of Giants!