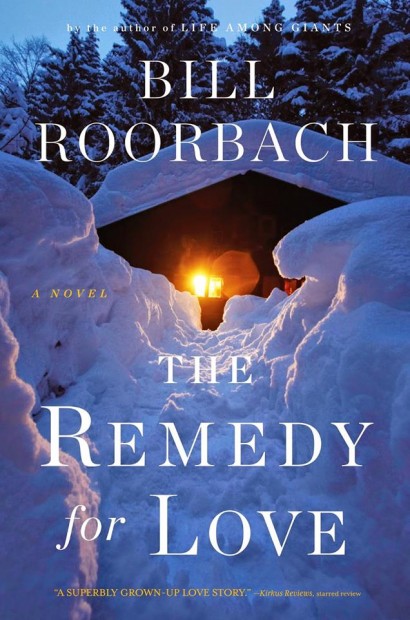 Things have been kind of quiet this summer at Bill and Dave's but that is about to change. For one thing, there is a certain novel that is about to take the world by storm (if you know what I'm saying).  Publication day is October 14. Publisher is, once again, Algonquin Books.
Here's what Kirkus Reviews has to say about The Remedy for Love, in the very first pre-publication review to appear:
#
KIRKUS REVIEWS
The Remedy For Love
by Bill Roorbach
A closely observed meditation on isolation and loneliness "in a world in which no social problem was addressed till it was a disaster."
Eric is a middle-aged "small-town lawyer with no cases," struggling with separation and lost love, when he lays eyes on a young woman in the supermarket line who's just such a disaster. Danielle is a hot mess brimming with suspicion and hostility, to say nothing of being hobbled by a bad sprain and no immediate prospects. When Eric helps her with her groceries—and then, episode by episode, with bits of her torn-up life—young Danielle responds mostly with cagey bitterness, dismissing the train wreck that is her existence with tossed-off observations like "[p]eople are complicated." Yes, they are, and Danielle—if that is her real name, for, as she tells him, it's "Danielle, for now"—is more complicated than most. Set against the backdrop of a howling Maine blizzard ("Storm of the Century, that's what I heard," says Eric. "Of course that's what they always say"), Roorbach's story never takes an expected or easily anticipated turn. Eric makes a project of Danielle, a project that brings some glimmer of meaning into his life. Danielle, in turn, resents being made into said project. She's an exceedingly strange bird, but strange is better than nothing—maybe, for Danielle is harboring enough secrets to keep an NSA agent busy for years. "I'm sure I lied," she tells Eric, simply, in one typical exchange. And so she has, though she has her reasons, which we learn as Roorbach's superbly grown-up love story unfolds.
Lyrical, reserved and sometimes unsettling—and those are the happier moments. Another expertly delivered portrait of the world from Roorbach (Life Among Giants, 2012, etc.), that poet of hopeless tangles.
And check out this:
David Abrams picks the best books of 2014 so far.
http://www.davidabramsbooks.blogspot.com/2014/07/best-books-of-2014-so-far.html
The Remedy for Love
by Bill Roorbach
Take two strangers—Eric, a small-town lawyer, and Danielle, a former schoolteacher turned homeless squatter—put them in a cabin in the Maine woods, spice it up with a little romantic tension, stir in the wreckage of past love affairs, sprinkle liberally with sharp, funny dialogue, then add the Storm of the Century which buries the cabin in huge drifts of snow, and—voila!—you've got The Remedy for Love, one of the best novels of this or any year.  I'm not a doctor, but I'll be prescribing Bill Roorbach's novel to readers sick of blase, cliched love stories that follow worn-out formulas.  What we have here is a flat-out funny, sexy, and poignant romantic thriller.  The Remedy for Love is good medicine which most readers will want to swallow in one dose.