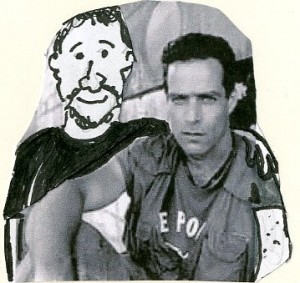 Happy holidays!
I have had a one-sided rivalry with Sebastian Junger for about fifteen years now.  I say it is "one-sided" because he likely doesn't know it exists.  The roots of this (imaginary) feud grow out of the fact that our first books came out at the same time and we did a couple of readings together. This was early in my writing career, back when I still fantasized that the publication of books could lead to earth-shaking fame and everlasting glory, and for one of us it would.
My book was called "A Wild, Rank Place."  His, you likely already know, was "The Perfect Storm."   I'm bringing them up again today, not out of sour grapes or indolence (re-hashing an old essay for today's blog) but out of a building and grudging respect.  Not for the book itself, which, honestly, I never read, but for the staying power of the book's title. Over the last decade and a half it has wormed its way into the culture in a manner not rivaled since "Catch-22" and "1984."  And there's a good reason for this.  It's great!  How did we ever live, let alone talk to each other, in the centuries before we had a phrase that meant the exact confluence of many events to create the ultimate in any situation.  What did we say before we said, "This election was a perfect storm of republican cynicism, economic circumstances, and voter discontent."?    The phrase is wonderful, really, to the extent that I sometimes hear myself using it when I lecture. 
The excerpt below is about my initial jealousy toward the reaction to Junger's book.  I've gotten over that. But I'm still a little jealous of the way the title has taken hold.  Not a day passes, I suspect, when hundreds of people everywhere aren't talking about the "perfect storm" of traffic, drought, or the NFL draft.   It make me wish that just once someone would say, "That situation is a real wild, rank place," or "Geez, we've gotten ourselves into a wild, rank place this time," or even, "I visited her wild, rank place last night."
It would be nice, but I don't see it happening.  (Of coursed even if it did, mine would only be a secondhand glory, since my title comes from a Thoreau quote about Cape Cod: "It is a wild rank place and there is no flattery in it.")
So hat's off to Sebastian.  He has done something very few of us will ever do.  If we analyze the situation we can see that he was aided by a variety of circumstances: the fact that his book sold as a movie before the publication date, his own dashing looks, an ever-more sedentary culture that longed for outdoor adventure, a publishing climate that aided the blockbuster, and other events that taken together created a virtual…..well, you know.
* * *
Here's an excerpt from an earlier, more bitter essay I wrote called "Bigger Than Shakespeare, or how I weathered the Perfect Storm."  And if you are feeling holiday bloat, and are too lazy to read, you can listen to it here:
From Sick of Nature:
From the first time I saw his picture I knew he was trouble.  Our books had come out at the same time and we were asked to do a reading together down in Falmouth.  The sponsors of the reading sent out a flier with both of our jacket photos on it.  In mine I looked like a homelier, mildly constipated version of Jackson Brown, staring glumly at the camera, wearing a white t-shirt with arms crossed sternly.  My wife took the photo and liked it so I used it.  But his!  It was and remains to this day the undisputed king, the mother of all jacket photos.  He stares out like some impossible mix of Jean Claude Van Damme, a Calvin Klein underwear model, and Dolph Lundgren.  And the name matched the photo.  Sebastian Junger!  It was as if a computer had created The Perfect Author, The Perfect Face, and The Perfect Name.  Was there any question that he was about to embark on that modern-day sleigh ride of FAME?  The second I saw the picture I began to consider having a stand in for my next jacket.  And a name change.  I mulled over various dashing nom de plumes.  Cornelius Kaiser, maybe, or Estaban Ernst.
I approached our reading with excitement and trepidation.  It's not very literary to admit to going into a reading hoping to "win," but I'm competitive by nature, (maybe, in part, because I had a father who staged among other things, "lobster races," each child assigned a crustacean to root for as they crawled backward across our patio before boiling them alive).  Whatever the complex roots of my troubles, I had the sudden desire to train.
I can't say that I was training specifically for the reading–that would have made no sense–but I was training nonetheless.  As an inspirational aid I turned to my video collection, and selected that masterpiece of cinematic understatement, Rocky IV.  You may laugh at my mention of this movie, but watch it through and you'll admit that the Siberian training montages are unrivalled in film.  It was those montages I focused on.  I cast Junger as the superhuman Russian fighter, Drago (played by the above mentioned Lundgren) and myself, of course, as everybody's favorite underdog and big-hearted lug–Rocky Balboa.  In the film Stallone's character flies off to "Russia" (which looks a whole lot like Colorado) to train for his big fight with the Rusky.  He is frightened of Drago at first, justifiably so as the Russian has just punched to death his old rival and buddy, Appollo Creed.  Arriving at a rustic cabin out on the tundra Rocky pins Drago's picture up on his bedroom mirror and then sets to training.  While Drago works out on futuristic machines and gets stabbed with daily steroid needles, Rocky trains as no boxer ever has before or since: running around in the snow in his leather jacket with an enormous ox yolk over the back of his neck, tossing mini-boulders into some kind of rock hauler's chute, and chopping down pines in the Siberian Forest.  At the end of his weeks of training he crumples the picture of Drago in his hand.
And so with two weeks to go before my reading, I taped Junger's picture above my computer.  My training regime wasn't quite as manly as Stallone's: I wrote in the morning, jogged the beach, and practiced reading in front of a video camera in the afternoon.  At cocktail hour one night my wife Nina and I tried to guess the height of this mythical Junger-creature.  6'5″ and not an inch shorter I maintained.  Nina, always in closer contact with reality, suggested he might be a normal-sized person, perhaps even shorter than me, and we shook and bet a dollar on it.  As the day got closer I considered strategies for our first encounter.  Maybe I should walk up with a smile and sucker punch him when he reached out to shake my hand.
Sadly, Sebastian spoiled all of my dramatic (pugilistic) plans.  Like a lot of Hollywood stars (particularly action heroes) he was of average height (I slipped my wife a dollar) and worse still, turned out to be one of the nicest, calmest people I'd ever met.  Even more unsettling, he was obviously shy during his reading, blushing when he mispronounced a word, hardly an uberman.  All this made it difficult to hate him, but not, for one trained in the bitter arts, impossible.  Particularly over the next few weeks when the inevitable started happening.  The Perfect Jacket Photo got things stirred up, but then the book itself turned out to be not half-bad.  As he suddenly began appearing everywhere, pangs of jealousy stung more frequently, growing more personal when my wife brought his book to bed and, staying up late, muttered "I can't put it down."  My own book had featured a testicle not a hurricane, and I grumbled something about true art not being appreciated and pulled the blankets over my head to block the light.  Over the following weeks Junger was everywhere: there were Perfect Storm articles, Perfect Storm TV spots, Perfect Storm lunch boxes.  The marketers had found their dream boy, not just looks and dash, but good reviews.  And then he reached literary nirvana: a glowing cover piece in the New York Times Book Review.
By the next time we signed books together, over the July 4th weekend, it was Beatlemania.  I prepared for the book signing by drinking beers on the beach, then showed up unshowered, sand staining my elbows, wearing a loud Hawaiian shirt.  Already slightly drunk, I proceeded to gulp down the glasses of wine the generous store owners offered.  At one point I asked someone to look on the computer and compare sales of all of Shakespeare's plays over the last year to sales of The Perfect Storm since April, and sure enough the Bard was badly beaten.  "He's bigger than Shakespeare," gushed one of the young women in line.  I suggested it probably was due to Shakespeare's jacket photo, what with that pointy, Bozo hair and funny collar.
Sebastian, meanwhile, was as friendly and polite as ever, actually recommending my book to people, and, due probably to the tidal pull of The Storm, I sold a lot of copies that day.  But, always the ingrate, I responded by needling Sebastian.
"Next thing you know you're going to be in People," I teased.
He laughed modestly.
"I hate to admit it but I'm in this week's issue," he said.
I went over to the racks and picked up the magazine. Sure enough there he was with his arms crossed, standing on a dock in front of a half-sunken boat.  This was the real deal: true American celebrity.  Not just a paragraph in Picks and Pans either, but a full-blown article (called "The Muse of the Fishermen") with a full-blown picture.
"Jesus Christ," I muttered.
"I know, it's weird," he said.  "It's like it's all happening to someone else."
I thought about this for a minute.
"That's exactly how I feel," I finally said.