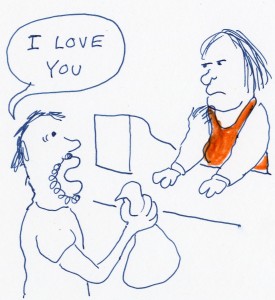 I am writing this from the Doe Branch Ink Writing Retreat in the mountains of N.C.  I'm stunned by how beautiful it is here.  Yesterday my daughter and I took two beach chairs and spent a good hour hanging out on a rock ledge in the middle of a creek. 
Which leads to today's topic, which is love.
1. I once said "I love you" to a convenience store cashier outside of Vail, Colorado.  I didn't love her, in fact, barely knew her, and I wasn't having an illicit affair.  I had just bought some snacks, granola bar or Twinkies and an ice tea I'm pretty sure, for my summer road trip into Utah.  We were going through the usual rote dance of convenience store politeness–"Thanks so much," "Have a nice day"–and had gotten to the part where I usually say a friendly "See ya" or a final "thanks" as I walk away, when something else slipped out instead.   "I love you," I said as I pushed the door open, and then, realizing my mistake, fled.
Let me stress again that it was not True Love.  I had never met her before, she was not particularly attractive or unattractive…..and I did not feel a bubbling up of affection.
It was just that, for some reason, the wrong program ran in my brain.  I had been talking to my wife a lot during that trip, and after the incident I realized that, while we certainly loved each other, the phrase "I love you," could mean a lot of different things, including, during our phone conversations, "Okay, time to wrap up this call."
In other words, I Love You could, in certain contexts, be a kind of intimate version of "Have a nice day."  Could be rote and automatic–which will come as no great surprise to anyone who has ever been in a long term relationship.
Does this in any way diminish the actual love?
I certainly don't think so.  Anyway, why are you saying that?  It's just a funny little story.  That's enough.  Thanks for the Twinkies.  Have a nice day.  I love you.
2. Here's a wacky little game I play when I'm driving alone (or otherwise listening to music.)  I like to substitute the word "drug" or "drugs" for the word "love."  I know it sounds silly but it's actually a lot of fun and works surprisingly well.  For instance, "Can't Buy me Love" becomes "Can't Buy me Drugs."  Try it at home and you'll be surprised at your success.
Of course it is not foolproof and can come out inane (like "Drug is a Drug").  Or troubling. Consider another Beatles' song: "I give her all my drugs, that's all I do.  And if you saw my love, you'd drug her too….and I drug her."
If you want to play, I'd like to hear what you come up.  Please understand that this doesn't mean that we here at Bill and Dave's condone the use of drugs.  Just that we sometiems think the word "drugs" can be funny.
3. That about wraps it up.  Maybe I'm getting better at this writing short posts thing.  But I would be remiss if I didn't add that after telling Bill the anecdote above (#1), he began to say goodbye to me on the phone with "I love you."