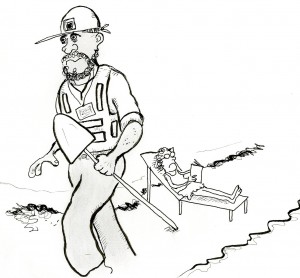 Bill wrote yesterday asking me what I wanted for our anniversary.
And it's true—we are almost one year old. This Wednesday, the 6th, marks a year of Bill and Dave's.  For us it's been a great year, full of dialogue with other writers and the discipline of cranking these posts out a couple of times a week in the midst of school, book projects, family and neck surgery. "What is blogging but writing without editing?" a friend asked me. Of course that friend is an editor.  Bill and I are not looking to put editors out of business, and we still work quite happily with them, but there is a real pleasure in the autonomy, and speed, of having an idea, committing it to (virtual) paper, and hitting the little "publish" button, occasional typos (me more than Bill) and all.
This April also marks a darker anniversary. It was on April 20, 2010 that the Deepwater Rig blew and the millions of gallons of oil started gushing into the Gulf.
Yesterday, the New York Times reported that BP is almost ready to again start deepwater drilling in the Gulf and the Obama administration is close to granting them permission.  The Times writes of the tough year that the company has had, and say of being able to drill again: "It would give BP a boost of confidence."  Oh, good.  I was getting worried about their confidence.
Even if the spill anniversary weren't here, I would be thinking about the events of last summer.  Though the disaster at Japan's nuclear plant is of a different sort, there are some basic philosophical similarities in how it was built, maintained and how the crisis is being handled. We build these things and think "They are built well. They will do well unless something unexpected happens." But something unexpected always happens. Isn't that how the world works?
Why are we going to keep calling these things "accidents"? How about something less succinct but more accurate, like "the logical result of overreaching and hubris"?
Every month something big blows up and the little boys tell us it couldn't have happened.  Couldn't have except for (fill in the blank) that no one expected.  Wouldn't it make sense to start factoring in the unexpected into our equation?  Isn't that what a wise person or a wise people would do?
* * *
As readers of this site know, I spent some time blogging my way through the Gulf this last summer. As you may not know, those blog posts have led to a book, The Tarball Chronicles, which will be coming out this September with Milkweed.  Before the spill I already had a book due out with Milkweed this coming July, My Green Manifesto, which weaves together the story of my wild canoe ride down the Charles river with eco planner Dan Driscoll with some of my thoughts on environmentalism, namely that it should pull the pole out of its ass.  So it's going to be a busy summer, to say the least, a summer of two books.  I will be doing a lot of what authors are always doing when their books come out, waving my arms and yelling "Look at me," and if you want me to come talk at your school or organization just give a holler.
The Gulf book was obviously written quickly, much material taken straight from the blogs. That meant a year spent doing a lot of writing, but also re-living, digesting and re-creating the events of last summer.  At the same time I tried to resist thinking about the spill in the past tense, which seemed to me the great mistake of the mainstream media.    One of the reasons I went down to the Gulf in the first place was that I'd grown tired of sitting on the lap of the national media while they told me their story. When I went back in late October it was educational if dumbfounding to watch the read that there was no oil on the beach the same day that you were looking at oil on the beach.
Even by the time I had gotten back home from my first trip in August the national media had declared the Gulf news cycle officially over.  Anyone who insisted it was not was looked at askance. One night during the early fall I saw Dianne Sawyer interview Billy Nungesser. I remembered the way Nungesser had controlled and charmed the crowd during the EPA meeting I'd attended in Buras, but his sweaty charm didn't translate well to the small screen. He tried to explain that the Gulf isn't quite as clean as was being reported.
"Are you suggesting that BP is covering up what happened to the oil?" Sawyer asked with an arched eyebrow. What a nut, she all but mouthed to the camera.
I noticed how, despite the mounting evidence of great tailing dead zones, of underwater cones of oil, no one really wanted to hear it about it any more. We had exceeded the national attention span. Oil is over, people, we were told, and if you don't believe it you are one of those worrywart kooks.
Bethany Kraft, my friend in Mobile and the director of the Alabama Coastal Foundation, told me that the spraying of dispersants by BP, whatever else it was, had turned out to be a brilliant strategic move.
"Everyone gets excited and angry when they see oil reach shore," Bethany says.  "But only us crazies talk about dispersants."
Another friend, Eva Saulitis, who has spent the last twenty years studying killer whales in Alaska, wrote an e-mail telling me how much what was going on reminded her of the Exxon Valdez.  She wrote:
This is a potent time in the timeline of the spill, when the world turns away, fixates on the newest disaster, and the people in the spill region feel forgotten and lost.  At least that's how it was in Alaska. People still feel that way twenty + years later.
I watched from afar as the Gulf shrimping season finally opened, despite the objections of many shrimpers themselves and the reports of tarballs coming up in the nets. A cry of "Ollie, Ollie, In-come-free" went up. Everyone back in the water.
When I returned in late October I saw a lot of what I'd seen in the summer, including the dozens of workers picking at tarballs on the beach at Fort Pickens.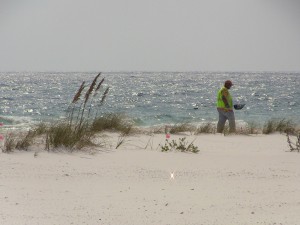 I asked one of the men who supervised a clean up crew what he thought about the state of things and he replied:
"I shouldn't be talking about this stuff but I don't give a shit. I'm ready to go home. It's been five months of working sixteen hours a day seven days a week. It's been a good job and I've made good money here. But sometimes I wonder 'Are they really trying to clean this up or is this just a dog and pony show?  Is this a clean up or a cover up?'"
"Let me tell you something. I supervise a crew of fifty people. But the people above me they don't know what they're doing. Every day it's something different. One day they'll say 'Get your shovels, boys, we're going to dig up the oil.' The next day they'll say, 'Put your shovels in the truck. We can't dig.' Then you've got these environmental advisers. They're good people; I haven't met one I didn't like. But they're a little different. I'm a hunter and fisherman.  Most of these folks would have a heart attack if they stepped on a bug. We got one right now from Alaska.  I said, 'You do understand that this is sand, not snow.'  They'll say, 'You can't dig there or you'll change the whole beach line.' Don't they understand that it changes every day, with or without us? It's just a damn sandbar. When Ivan hit, boats blew through clear to the other side. The landscape changes every day."
"Here's the thing. There's plenty of oil out there. I understand why they sprayed the dispersants but it will end up being worse than the oil. I say let's see what we're fighting. Let's not sink it to the ocean floor.  Jesus Christ. That's the worst thing you can do. Let's get it up here so we can clean it up."
When I returned to Louisiana, I got an even more in-depth report from Ryan Lambert, the hunting and fishing guide who owns Cajun Fishing Adventures, the same man who gave me a tour of the Gulf waters during my summer visit.   When I arrived in Buras he invited me over to his house and gave me a report of all he had seen.
"Where's the oil?" the papers had been asking.
As it happened, Ryan had an answer. Dig a foot down in the sand on any of these barrier beaches and you will still find hidden tarballs.
"That's just one place the oil is," he told me. "Another is out on the islands. Last week I kicked the white sand on the barrier islands to see tarballs below. And on the same day that the networks announced that the oil was gone, I saw slicks deep in the marshes."
"It's been a strange fall," he said.  "I've been fishing and hunting here for thirty years now and I've only seen one fish kill before this year with my own eyes. That was in Christmas of 1989, and it wasn't here but all over the state. So before this summer I've never seen fish kills, and since the spill I've seen nine with my own eyes. Nine massive fish kills. Fish suddenly thrown up dead on shore or floating on the water. Why? For thirty years it didn't happen, not that I know of, so why'd it happen this year?  Coincidence? I've seen algae bad, worse than it is this year but I never seen fish kills.  Now I'm seeing fish kills.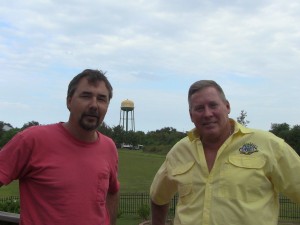 "Now we're here six months into the oil spill and, you know, when you talk to some of the old timer guys they'll tell you something's not right. I'm catching speckled trout right now. Usually in October, when the trout come in, you have ten to twelve boats out fishing which means you're catching a thousand fish a day. But that's not what we're seeing. I've seen only seven boats limit-out since July. Seven boats! Unheard of. Ought to be seven a day. I can understand why we don't have business because of the perception of the oil. But not to have fish. And not to have the birds working in the barrier islands that usually are just loaded with birds. I went out here the other day and there's not a gull. There's not a tern. There's not a roseate spoonbill or egret or crane. Pelicans, nothing. They're completely barren. Why?"
"Down in Venice it's really bad this week and it's all algae. Only time will tell, but as a self-proclaimed expert on the outdoors in this area?  I'm not a scientist, and I won't be able to put my finger on it and blame a certain thing.  But I'm telling you, it's going to be a long time getting better.  Now I'm seeing fish kills. Now I don't see speckled trout. Now I don't see birds. Something is very, very wrong."
The next day I again stopped by Ryan's lodge. The place was empty except for Ryan spooning up a bowl of duck gumbo.
"Yesterday we were cleaning shrimp," he said between bites. "We had 500 pounds of shrimp and I looked at the gills and I could see black inside there. It's just not right; I don't know what that black is but it's not right. Sure enough I get a call this morning from another experienced guide and he says, 'Yeah, I was cleaning 100 pounds of shrimp yesterday and I think I'm hypersensitive  but now the…'  And I said, 'Stop right there. Let me tell you what happened. The gills were black.'  He said, 'That's right, how did you know?'  I said, 'It's not you and it's not me, and  I'm glad we're not paranoid.' Because you know I try to be open minded about all this to make sure that I don't overstep and accuse somebody of something they didn't do. But things are not right. I know when things are right because I been here so long and I live outside. I know when it's going to rain; I know when it's not; I know almost everything about what happens outside and it's just not right."
When we finish, Ryan led me out back to the fish-cleaning tables.
"I'll show you what I was talking about," he said.
We walked out back to the shed where the trucks and boats were kept, and where a mountain of shrimp rose off of blood-stained tables that sometimes saw a thousand fish a day. One of Ryan's workers, who he had brought up from his lodge in Mexico, was sorting the shrimp and cutting their heads off, and Ryan started to speak to him in Spanish. Ryan picked up a few shrimp and flipped them backhanded back into the pile before finding one to his liking. He held it up in front of my eyes.
"Lookit' that."
We looked and saw a fat shrimp in its semi-translucent shell. It looked tasty. Except for the dark black stain where the gill was.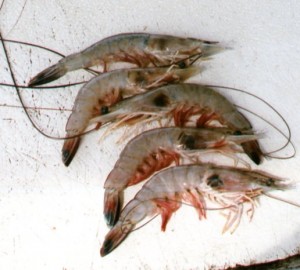 "When we first noticed this we reported the black on the shrimp and they said, 'Well, yeah, that's black gill disease. It's a bacteria.' So okay, I'll buy that, a bacteria. So then I got a question for you. Why haven't I ever seen it before? I mean I've been here thirty years and never seen it. Why did we bring in 500 pounds the other day and almost all of them have it? Now today we got 100 pounds and not all of them have it, but as you can see there are some in here. But yesterday it was just everywhere and why?"
I had no answers for him.
I had been reading articles and listening to reports broadcast from the Gulf all fall. But this, it occurred to me, was a different sort of news.
* * *
If you are interested in what Ryan Lambert has to say you can read my latest article for OnEarth magazine, Free the Mississippi!, or listen to him in this own voice below.
Ryan on the state of things in the Gulf:  MZ000580
Ryan on Katrina:  MZ000582