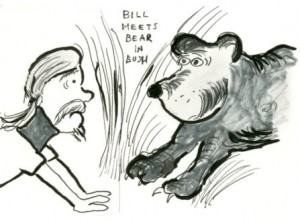 We may just have another Timothy Treadwell situation on our hands. While I (Dave) hold down the blogging homefront, Bill has charged out into the wild, stalking grizzlies in his neck brace.
This is Bill's last known post:
I'm at the Kachemak Bay Writers' Conference in Homer, Alaska, where Dave has been, too, a couple of years ago, and remembered fondly…  I don't know how to upload a photo from the hotel computer, so will have to lean on words…  It's beautiful here.  Sunset was long last night at about 11:00, and the light lingered till 1:00.  Sunrise was just a few hours later, glorious…  Homer, Alaska.  This morning, a boat trip across the bay to a rock called Gull Island, home to some 20,000 nesting birds, including two kinds of puffins and oystercatchers and two kinds of cormorants and kittiwakes and common murres and wow.  Then to another rock, gathering place of scores of sea otters, including dozens of mothers with babes in arms, wow again.  And seals and eagles and clear air and high, thin clouds and sunshine, sunshine, and mountains covered in snow ringing the bay for miles and miles, and glaciers and good food–freshest fish–and really interesting, deep people…  Our hotel, which is the conference site, is at the very nub end of the Homer Spit, some four miles of sand and pebbles trailing out into the bay.  My room is on the ocean, nice little balcony.  Enjoyed a great reading last night by Michael Cunningham, held at the local high school, a beautiful huge building funded in part by oil royalties.  Talks and panels and workshops and meals.  Jennifer Pooley is here, a Morrow editor who really cares about and fights for good writing, new books and authors.  And April Eberhardt, a San Francisco based agent, whose mission is finding and promoting new women writers.  Reading tonight by old friend Dinty Moore, new friend Stephanie Elianzando Griest, and others as fascinating is in town at Alice's Champagne Palace.  Need I say more?  Good stuff…  I'll post more anon, but for now, let me just say wow again.
* * *
Note to Bill's family: I'm kidding about the bear.
But now that I've barged my way into Bill's post I want to say something about  Kachemak Bay, too.  But first I need to say Happy solstice ( every pagan's favorite holiday.)  At 7:30 this morning the sun stopped.  Don't panic.  It was just doing its annual summer about-face.
As Bill said in his earlier post, the couple of summers I was lucky enough to get up to the conference he just attended in the southeastern part of Alaska. My visit made an indelible impression and I still remember my last night there perfectly.  I took a long walk along the shore, my feet clomping on small volcanic rocks that both looked and sounded like jiggling coins.  It was past eight in the evening, but might have been noon for the light.  Across the bay jutted white mountains that could have come off a calendar or out of fantasy.  But the view wasn't entirely pristine. Twenty yards ahead a bald eagle, blood on its beak, ripped apart a halibut that had been tossed on the sand by tourists.
While I have lived most of my adult life by the shore, and have taken almost daily walks by the sea, I had never traveled that far north before.  If it felt like I was walking at the end of the world, it also felt familiar.  Oddly, despite the majesty of Alaska, I found myself thinking of Cape Cod.  The two places were linked not just by the world's water, or the fact that they are places on the edge as that water rises, or even their economy's reliance on tourists and fish, but by a kind of atmosphere to the place, a slightly ragged frontier feel you get when you walk through the harbor or talk to locals.  I even noticed that some Homer residents had the bumper sticker I'd first seen in Chatham on Cape Cod, declaring their home "A Quaint Drinking Village with a Fishing Problem."  Strangely, I felt kind of at home.  I wasn't claiming that Cape Cod, the first place the Pilgrims landed and white men settled in this country, home of Yacht Clubs and Kennedys, could hold a wild candle to Alaska, just that the two places were, in some way I couldn't yet put into words, linked.
Not long after I'd arrived, glancing out my hotel window, I saw a minke whale rise of out of the water.  I had flown to Alaska, not from Carolina, but from the Cape, where we were house-sitting for the month of June (at the wonderful home of Kate and Steve Sidwell).  One morning, the week before my flight, Nina and Hadley and I headed out whale watching.  While we failed to see the usually reliable humpacks, we met with some unexpected success.  We heard a great exhalation—something huge breathing off to starboard—and then saw a finback whale rising out of the water.  At sixty feet long or so finbacks are the second largest creature ever to exist on earth and the moment etched itself in my brain.  Something is always rising up out of the sea.  Is this part of why we homo sapiens are drawn to living near the water?
On Kachemak Bay, I continued my tramp along the rocks, energized by the connections between this place and the place I'd once considered home.  After a while I found I was being kept company by a curious sea otter that swam parallel to me off shore.  While it would be anthropomorphisizing to say the otter and I were conversing in any way, it would be idiotic to say we were not interacting.  It was clearly following me as I walked the beach, and just as clearly checking me out, as it floated along on its back, leisurely eviscerating a spider crab.  The day before I'd taken a bike ride during which I'd watched sandhill cranes glide and stretch overhead, and on that same ride, I'd practically run into a moose.  I let myself revel in the wildness around me, trying to forget that Alaska was the place much of our oil came from and the place that most obviously felt the results of our burning that oil in its melting glaciers.
But it was getting harder to forget.  I thought of my new Alaskan friend, Rich Chiappone, who owned a local company that installed commercial wall coverings. The night before, over beers, Rich had told me about some work his company did up in Shishmaref, a subsistence community on a barrier island further north on Alaska's west coast.  For this community global warming was not a theory or a lecture topic, not something that would happen in the future.  In fact they now suffered such aggressive coastal erosion that the whole town would soon be forced to up and leave, relocating to the mainland.  The reason the town was being swallowed by the sea was tied directly to climactic disruption: melting glaciers, degradation of the permafrost, rising sea surges.  The people had not left yet, however, and last night Rich described the irony of the job his company took on, covering the walls of a new school being built with government funds in Shishmaref.
"Of course the weird tension of pouring millions into a school that is soon going to be under water pervaded everything," he said.  "There's really no place to move the village.  They need a site with water deep enough to get supplies barged in and much of that coast is too shallow.  One of the things they need shipped in is oil for heating their homes.   They are right next to all that oil and they can't get any for themselves.  And of course their problem, all the melting, was caused by oil consumption in the first place. Our oil consumption."
The swallowing sea lapped the shore as I continued to hike, clomping along the rocks.  I reached some tents that had been pitched on the slope of coast across from the harbor.  A few of the campers had built fires and a great chary smell permeated the air.  But as romantic as the smell was, I now remembered that the smell was fuel.
Despite myself, I found my thoughts boomeranging back to Cape Cod.  Earlier in the month I'd driven up to Coastguard Beach in Eastham, the beach I had visited with John Hay and the beach where the writer Henry Beston lived in a shack while he wrote his classic nature book, The Outermost House.  As I walked that beach a dozen harbor seals popped their horse heads up out of the surf and I swam out toward their glistening rubber ball backs.  Until I got about thirty feet away and saw how big they were.  Then I backed up a little, giving them their space, acutely aware that this was their place, not mine.
Henry Beston's adventure had been to spend a year by the sea in a one-room cabin that sat up in those dunes. Day after day on sandbar with no one around but the shorebirds, living to the gruff mantra of the waves.  How was this romantic desire to live by water any different than those of the millions that now erect homes near the shore?
I thought of Beston's focus on what he called "elemental things."  He wrote:
The world to-day is sick to its thin blood for lack of elemental things, for fire before the hands, for water welling from the earth, for air, for the dear earth itself underfoot.  In my world of beach and dune these elemental presences lived and had their being, and under their arch there moved an incomparable pageant of the year.
Elemental things.  Earth.  Fire. Water. And, though Beston wouldn't have included it, oil.
* * *
Out on Kachemak Bay loons warbled while terns danced in the air like white handkerchiefs.  It was my last night in Alaska and by the time I was back from my walk the celebratory bonfire had been lit.  I drank a couple of beers with folks who were attending the conference where I was teaching and then moved down the beach.   I thought I had called it an early night but the light had messed with me again and when I got home I saw that it was two in the morning.
Alaska and Cape Cod are connected by water, but they are also connected in ways I don't yet understand.  The next morning I decided to link them in a more tangible way, diving into Kachemak Bay and then choosing not to shower, leaving the salt on my skin, before heading back to the Cape.  When I got home, almost twenty hours later, I made a point of swimming in Cape Cod Bay, letting the two salts can mingle.
I realize this sounds pretty mystical, and I admit that, despite some pretensions to being hard-headed, I can become fairly soft when talking about the shore.  A week later I found myself walking by the water again, heading out to the bluff at sunset on solstice, every pagan's favorite holiday.  It seemed that, no matter where I was living or traveling, I always ended up back on that particular beach on the year's longest day.  When we lived here I would camp out on solstice night on the conservation land beyond the bluff, a spot where my wife and I made our sea glass shrine to a child we lost in a miscarriage.  Tonight I added a new piece of seaglass and hiked out.  The evening was perfect: pink and white clusters of beach plum blossoms exploded, a swallow swooped by with metallic blue back and wings, a prairie warbler let loose with its xylophone cry.  One of the joys of this solstice walk was the way it united the nonhuman and human wild.  A mile up the beach I saw the flames of a fire.  From a distance it looked like a watchfire lit atop the mountains in Lord of the Rings but I knew it to be the Day family's annual solstice bonfire.  The first year I did this walk on solstice, over a decade ago, I stumbled upon their fire, a cocktail party appearing right in the middle of my nature walk.  In the years since, stopping here had become a tradition.  I interrupted my trek to drink the Day family beer and eat their steamers and roast their marshmallows, and to learn who had died, who had married, who had been born.  Tonight I stayed a little too long, one beer becoming three, then four.  I talked to Greg Day, son of one of my father's best friends, and, with both of our father's dead, we remembered and romanticized.  It wasn't until midnight that I stumbled back across the rocks of the bluff, the moon obscured by the clouds, darkening the lightest day of the year.