Comments Off

on Goodbye to Sundance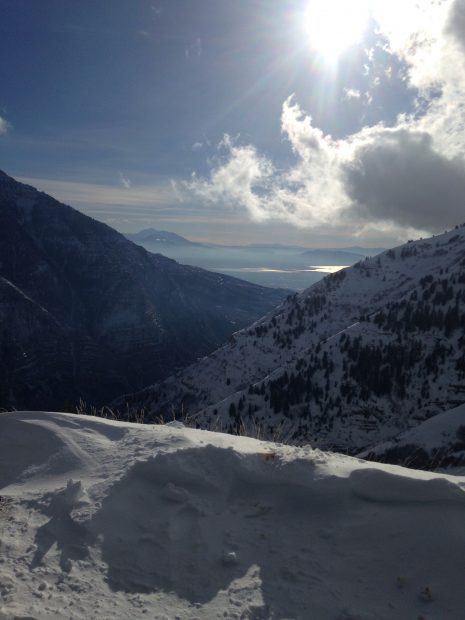 The full moon over the marsh in North Carolina this morning takes a little of the sting away, but I expect the withdrawal to last for some time. On our last day at Sundance I couldn't stop skiing. I had the back mountain practically to myself, and I kept going down, telling myself it was my last run, trying to take my skis off and then saying screw it and heading back up. The day before had been a stronger ski day (Black Diamonds after midday Hops Risings in the Bearclaw lodge up top, though no double Black Diamonds because I want to live).
My last afternoon really wasn't about skiing, however. What was it about?  I was trying to not forget. Trying to memorize the face of Mount Timpanogos like a lover you won't see for a long, long time. The avalanche chutes and the dark slashes of the Douglas firs. The clouds streaming overhead, crossing with other, slower batches of clouds. The wind coming from the west, pushing in the storm and blowing over the top as if trying to shoo the rest of us off the mountain. The raptor that was riding that wind (which was definitely not a turkey vulture and which I first thought a baldy but whose white underbelly said hawk). The slashes of sunlight cutting through the storm clouds.
A few times I skied the easiest runs so I could ski
backward and look up at the mountain face. I know it's strange to feel so emotional about a place you just met. A part of this is the building desire I have had, over the last few years, to get back out West. But it's more than that. I was at Sundance to talk about Ed Abbey and Wallace Stegner who, in very different ways, spent their lives fighting for wild places. In both of their cases what ended as activism started as love.  It's a simple formula: fall hard for a place and you are more likely to fight for it.  That's the history of Sundance, too. Remember, I can hear my more radical friends cautioning me, you are talking about a ski resort.  Point taken. But it is also thousands of acres that have been preserved beyond the resort and a place that has pushed back against the prevailing ethos of more and bigger.
That was what struck me most. For a place of such vast and sublime surroundings it is surprisingly intimate. In less than a week I felt on friendly terms not just with the face of Timpanogos or the view of Cascade as you got off the chairlift, but with the ski school staff who took Hadley in their hands and transformed a frightened North Carolinian who had seen snow 6 times into a skier. And with the generous and amazingly well-read (especially in the Gessner oeuvre) rental guys, including Patrick and Matt 1. Of course if I get started with thank-yous I won't be able to stop. From Paul who drove us from the
airport to Matt 2 who drove us back, to Tristin at the ski school ticket office, who not only made our lives easier but sometimes came out from behind her desk to roam the slopes like a goodwill ambassador, to Ryan and Kelly at the ski school, who took such great care of us and decided that everyone on the mountain would have the word "Hadley" on their ski tickets on our last day, to Mari and Emma, who set up my reading with such professionalism (I do a lot of these things and can tell you they are the best) while doing everything they could to make us feel welcome.  And finally to Chad, Amber, Conor, Shauna, and to all Redfords far and wide, including the head honcho who got us out there in the first place.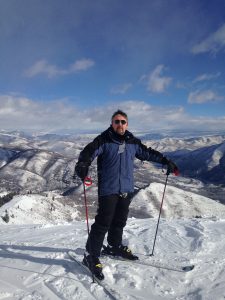 Since this is starting to sound like an Oscar acceptance speech I will shift gears. When I posted the picture to the right on Facebook, all my "real" skier friends gave me flack for not wearing a helmet. I replied that when I started skiing, back in the old days, Papa Hemingway and I didn't need any fancy equipment but would strap some boards on our feet with vines and go bombing down the mountain, drinking as we went. The day after the post, and the criticisms, I posed for another picture at the same spot where we had taken the helmetless picture the day before. This time I took Nina's helmet and looked at it with disdain while Nina snapped the picture.  After she took that one I put the helmet on the ground and pretended to squash it with my ski. The problem is that I put it down top first and before I knew it the helmet had taken off, over the
edge of Bishops Bowl, moving down the slope at about 40 mph and ended up a good mile away downslope and out of bounds. An hour or so of chaos ensued, during which I tried to find a way to cut over to get the helmet without killing myself and Nina and I got separated. Another sign of the mountain's intimacy is how quickly the story spread. At the base of the chairlift I ran into a couple who already knew the whole things and said: "We ran into your wife and she told us that she's trying not to get angry with you." In the end it was the ski patrol who bravely rescued the helmet. By then Nina had gone back to get Hadley at ski school. I thanked the ski patrol guy and hooked the helmet onto the bottom of my coat. In this way I skied the rest of the day with a helmet.