Dec 22
Guest contributor:
Debora Black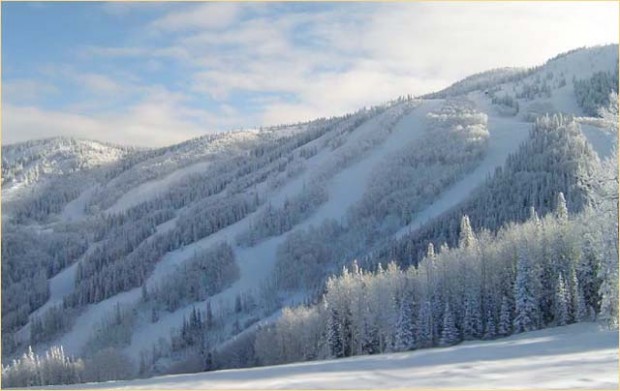 The gondola car, packed full, makes a rough landing at the top of Heavenly, swinging from side to side from a one-handed grip on the thick cable, and bumping at intervals into the long length of dock before settling.  There is a dramatic pause, waiting for the doors.  I adjust my goggles as if I'm an X-Games contender.  It's a powder day in Steamboat, and I'm about to get my feel good.
Smokey clouds are scattered across the sky.  The ski mountain is washed in pale grey.  But the atmosphere is anything but subdued, anything but peaceful.  It feels like pressing and elbows at the start gate.  What it is, as skiers and riders step into bindings and launch into various ski runs, is everyone competing for first tracks, and we all have a strategy.
I ratchet down the last binding strap of my snowboard and push myself up to standing.  I am bound-up in the collective energy around me.  I hop to the edge of the slope and drop into the Fresh, the Pow, the Champagne.  Over twelve inches of new!  I am air.  Smooth, controlled.  I guide my board through the snow, moving from edge to edge through shifting pressures of toes and heels and rolling hips.  I head right and pick up the untracked tree line.  The snow is always deeper on this ridge, and since everyone is hurrying to the next lift, this area is often forgotten.  The snow is over my knees.  It's tricky to stay right, because the slope pulls you back-in to the left, so I ride it like you see a surfer on a wave, sweeping back to the top of the curl, following the momentum down and in, sweeping back up and around and down, and the rhythm continues soft and sweet until I cross the road, and dive into a steep, bowl-shaped run.  Wow.  Snow high up my thighs!  Barks and howls, the cries from the powder hounds, carry across the mountain while I rise and fall over giant mounds carved-out by everyone who beat me down the slope.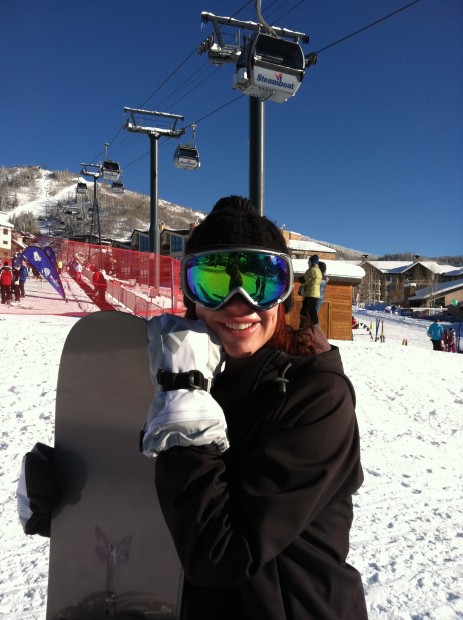 Halfway through the run, I straighten out for speed.  I'm blazin' it.  I pass several people as I cross the expanse of flat that will take me to my three lift options.  Only two count.  Storm Peak Express is where everyone wants to be.  It's a quad, carries four at a time at high speed to the top of this side of the ski area.  The problem is the line gets really long, fast.  If you're not in the first group of chairs, a whole lot of people can get to the runs ahead of you.  My other viable option is Four Points.  It seats three.  It's slower.  It stops at mid-mountain.  Dropping in at mid-mountain means sacrificing some primo terrain.  But it will give me the advantage of getting ahead of everyone already in line at Storm.  Being ahead puts me in the best position for return passes.  My thighs are burning from riding my toe edge for so long, but shifting to my heel edge will slow me down. I crest Rainbow Saddle and get a full view of the lifts. They're just now boarding Storm.  Big Line.  No one at Four Points.  I cut sharply across Rainbow Saddle and come to a sliding stop at the Four Points chair.
I'm the only one on the mountain.  Skiers and riders are just reaching the top of Storm Peak.  All I hear is the sound of the cold, still air.  If this sound were a color it would be as blue as wonder.  This sound of blue wonder fills me.  I take deep breaths of it and release.  I look out beyond the ski area to the distant white range.  It's massive.  I think of all of the wild animals inhabiting that expanse.  Marvel at how they manage and how they love.
The top of Cyclone is steep, but the snow is mid-thigh and has some weight to it.  My turns are shallow, effortless.  I glide through the soft grey sky, and the blue that is inside me, and the deep, sweeping undulations of white.  Inside these colors and the crisp, thin air and the endless expanse of my surround, I know that I can do anything.
White is the color of Lucy's tennis dress.  I can see her as she was, stretched upward to full extension in the middle of her serve. A slight frame that will fool you, an easy five-seven, she is perched on the tips of her toes.  The muscles of her legs are flexed taught and create a shadow that runs from behind her ankle bone to somewhere high up, under the hemline of her dress.  Her back is arched, her breasts are compressed beneath the tight of that fabric.  Her face is lifted to the sky.  Her right arm is poised over her head and bent at the elbow with her racket dropped behind her back.  She is intent on her purpose.  She is complete focus.  She is about to raise that forearm and snap her entire body up and into the ball with a power that will make my skin tingle in admiration and pride.
Cyclone bottoms out, and I cross a flat area where slopes converge.  I ride fast and straight across the flat to take the rise that leads to Vortex and Dropout.  The rise and Dropout have been groomed.  Otherwise I could not have made the ascent with a snowboard.  I head into the un-groomed on Vortex and create small avalanches as I descend.
Lucy is my best girlfriend—my only girlfriend.  She lives several states away.  We talk almost every day about everything.  She likes to hear about all of the things I do in Colorado.  If Lucy saw me ski, if she saw me poised in mid-turn, she would see that I am in classic ski racer position, my inside knee, hip, and shoulder angulated so that a plumb line could drop through each part.  This angulation is exaggerated, aggressive, balancing me on the edges of my skis, which are tipped so far over that the opposite edges are lifted out of the snow and parallel to the angle of the slope.  There is a curve in my skis from the pressure of my turn, which has lifted the snow that is swirling around me.  I am complete concentration.  I feel the strength of my legs holding my edges.  I feel the power of my speed.  I feel every fear of every time I held back in my life.  I feel the loss of the things that might have been.
Lucy would like seeing my aggression as I power down the hill, my body crossing over the top of my skis and dropping into that angulation, crossing and dropping, crossing and dropping as I move from turn to turn.  She would grin in that tight, practiced way of not fully showing herself.  She would say, God Damn, Deb!  I would hear in her voice the thing that would make me grin back.  I wouldn't be able to help myself, because Lucy is always number one in her division, the number one female in the state.  When she comes down on that ball, she will be hitting it with every disappointment of her life.  And every ball that comes back to her, she will hit again, and return it with the power of her will, to say, Huh-uh, no way I'm going down.  So if I can make her say God Damn, Deb, I know that I am making it too.
I am on Storm Peak Express.  It feels good to sit.  It is blue sky, now—and sun.  I look over the ski runs and plan my next circuit.  There is plenty of untracked snow.  I ride Storm Face to Rainbow to Hurricane.  I have first tracks all the way.  I am lost in all those silky dancing turns, all the sticky fragrance of the pine trees, and my own deepest stirrings.  I do two more laps from Storm Peak Express just because I can, and then I head up BC lift to Lightening to the cutoff to Vagabond.  I take the slow way down the mountain, meander through all that bright cold snow.  I am filled with the expanse of the possibilities still in front of me.  My legs will be mush by the time I get to the bottom.  There will be no holding back.