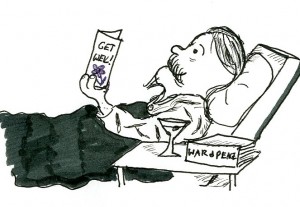 Bill has been in the hospital for a couple of days for spinal fusion neck surgery so I send this note along for all of us (sort of):
Dear Bill,
Get well soon. We miss you down here at Bill and Dave's Blogging Factory.  Just yesterday, our secretary, Miss. Cashdime, made some dated, sexist comment about missing seeing your sexy behind around the shop.  (I chastised her and docked her pay.)  But I'm getting off my point here…..
My point is love, love, love. We are all sending it out to you.  You were always the handsome and talented member of the B & D team (I never admitted until now that you ghost wrote all my posts.)   We are lost without  you (as the quality of this particular post attests.)
We hear the prognosis is good and you will up on your feet soon.  Which is good news, not just for me and you, but for all lovers of   funny, spontaneous, big-hearted prose (and okay poems).
We Love you,Dave
By the way some other folks have been sending cards while you were in the hospital.  I thought I'd pass them along:
Get Well Soon, Billy. I miss our plane rides together.
–Sarah Palin
Happy recuperation, Bill.  I always did like you way more than Gessner
–S. Junger
Ah, the age old dilemma of the neck!
–John Jack (Just having some fun here, JJ )
One of the 50 Notable Operations of the Year.
–The New York Times Book Review
How come you always look so young in those cartoons?  Aren't you, like, eighty or something?
–Anonymous Holy Cross Student
You and your neck can go fuck yourselves.
–W. Churchill
Serves you right.  This is what you guys get for stealing our name.