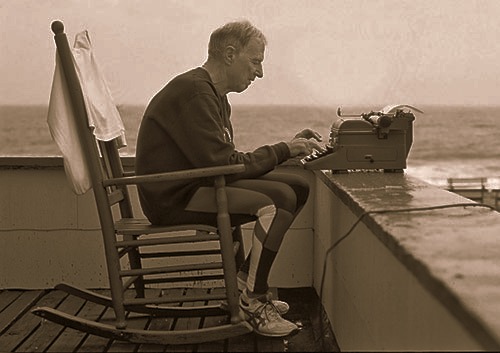 As a teacher, my reading is circumscribed during the parts of the year I call "terms," restricted for the most part to the books I've assigned and the writing of my students. For the most part. The exception comes during the hour or two I spend in my writing shack each night around cocktail hour, a period of time during which I read whatever the hell I want. Often, as I've described in here before, I jump from book to book, looking for chunks of words—sometimes mere snippets, sometimes whole chapters–that inspire me or make me think about my life and work a little differently and that, hopefully, quicken my pulse.
The exception to this rough schedule is the termless times, the periods when school mercifully slackens. Then all reading time becomes shack reading time. Sometimes I read specifically for my own writing. For instance, I'm just now starting to write Ultimate Glory, my memoir and history of Ultimate Frisbee, and so to get my energy up and get in the right frame of mind I've been re-reading David Halberstam's The Amateurs and Tom Wolfe's The Right Stuff, which is a fantastic example not just of high energy writing but of the sort of deep reporting I hope to do. But a lot of my shack reading is less conscious, more ragtag, and I read, as Johnson put it, "by inclination." This doesn't always work and when it doesn't I sit there bored, uninspired.
But occasionally there is some random magic. This happened last week when I dug into an old box of books and came up with Dr. Sheehan on Fitness. George Sheehan was a doctor, runner and a writer who wrote regular essays for Runner's World magazine during the '70s and '80s. I got into his work back in my twenties, when I lived mostly in Boston or on Cape Cod, and began running pretty regularly. Though I had stopped reading him by the time I moved to Boulder in 1991, I suspect his words had a residue effect on me as I began to bike in Colorado. What Sheehan said about fitness I still say to my writing students: make it a priority, do it every day, invest in it with your whole self.
If that last sentence seems a tad more upbeat, inspirational and groovy than my usual ones then that may be the good doctor's influence as well. His essays are casual and personal, but they are also consciously meant to inspire, and, for my money, they do. At times they read like Emerson Lite (there are those who say that Emerson reads like Emerson Lite but I disagree), but more often they create the kind of internal excitement that gets you running for your sneakers or your pen, ready to enter a 5 k or write a chapter. He writes: "The search for meaning needs more. It needs a challenge, a test, and experience for the self in extremity. It needs, as William James says, a theater for heroism, a moral equivalent of war." And: "If we are going to be heroes, and heroes we must be, sports offers us the preeminent arena in which to achieve this status."
Which fires me up. Not just for jogging but for writing. And for living a more consciously elevated life, too, since the subtitle of almost all of Sheehan's books and essays could be "The Art of Living."
Today's bad advice then is listen to your doctor, or at least to this doctor.
As it turns out, there is a good way to do just this. The book I read first was Dr. Sheehan on Fitness (published as a hardcover as How to Feel Great 24 Hours a Day) but this led to The Essential Sheehan, a hardcover compilation that Rodale put out a couple of years ago. If you are feeling blasé about your sentences or your self you could do worse than checking it out.