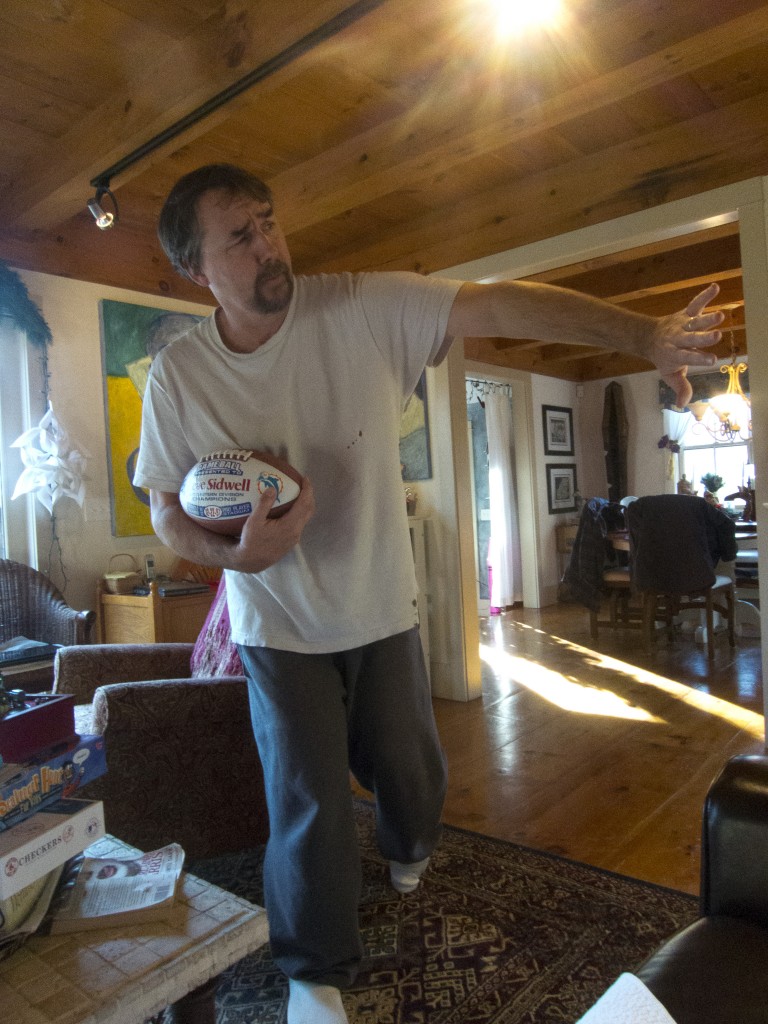 Since moving down to North Carolina eight and a half years ago, we have not gotten back to Cape Cod nearly as much as I'd like.  But when we go, we go in style.  We have lucked into a great house-sitting gig in town of Brewster near Slough Pond.  We stay in the home of Katy Sidwell, an artist, extravagant and generous, and Steve Sidwell a former defensive coordinator for the Patriots, Seahawks, and Saints. While the Sidwells are away, we walk their dog Buddy, watch their art-filled house, feed their cat/s, mow their lawn (in summer), soak in their hot tub.  (When Hadley was young we sang a song that another friend and I made up about this last activity to the tune of Foreigner's "Hot Lovin'", "Hot tubbin' check it and see/ got a temp of 103!")
One other perk of staying at the Sidwells is that I get to write downstairs, in Steve's office in the basement, a space that more than earns the phrase that I first heard six  years ago in relation to it, the now over-used "man cave." But this Man Cave is more manly than most. Who else gets to have two large desks, not to mention pictures of oneself as both middle linebacker at the University of Colorado and with the Saints linebackers?  Steve looks and acts the part of the football coach: he has great charm, the capacity to eat large amounts of food, and the growling resonant voice of a talking bear.  And, since I admire him so much, I have taken great pains to respect his work space, just as I hope some future house-sitter will respect mine. The one exception to this rule has been in my relationship to my favorite piece of memorabilia in Steve's office, the game ball from the Patriots win over the Dolphins on the last game of the regular season in 1997.   
I remember that game, to decide the division title if memory serves, as a bloody battle, a brutal defensive struggle, so it's not surprising that the D. Coordinator ended up with the game ball. But I have since had my own brutal struggles involving that ball, though they usually just involve words, not clashing lineman, as I pace back and forth, working out sentences while tossing the game ball up and down for inspiration.  Only once have I broken the ball out of its home in the basement and that was for this season's last regular season game, which found us at the Cape in the Sidwell's house. I credit Tom Brady and the rest for playing well that day, but I'm pretty sure it was the way I clutched tight to the game ball that secured the victory.  And when victory was secured, along with the first seed in the playoffs, I returned the GB safely to its shelf in the man cave.
I am not a superstitious, but it can't hurt to cling to a relic of past glory, can it?  I'll be rooting hard on Sunday but, lacking my talisman, I am not entirely confident of the outcome.  Hopefully somewhere, a thousand miles to the north, someone will have taken the lucky game ball from its sacred perch and will be holding it tight.