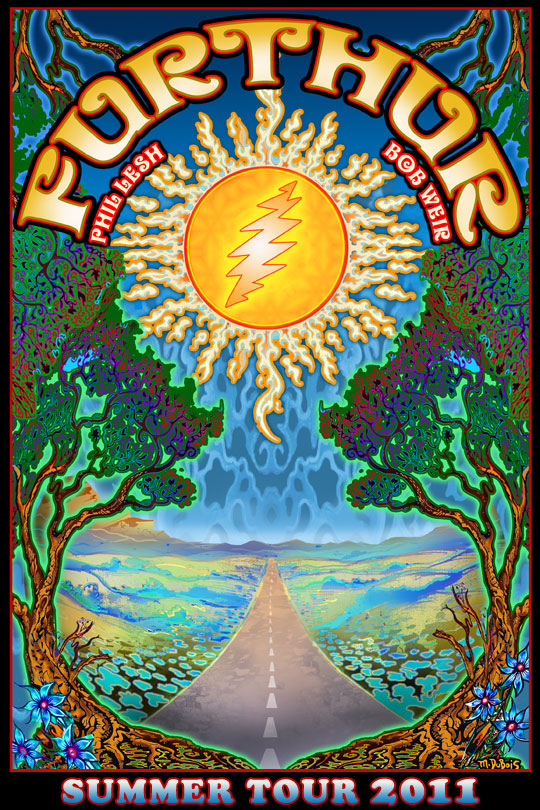 Friday night, Juliet and I and a lot of other people from Farmington (we saw friends and familiar faces on the highway, we saw them in line, we saw them at the concert, we saw them in the parking garage after) drove down to Portland (our Portland, the one in Maine) to see the remnants of the Grateful Dead perform in their latest incarnation.  Juliet's been following Furthur for a few years now.  She collects tour posters, downloads concert recordings, buys t-shirts and tie-dyed trousers, travels all over the country making the "shows," as they're universally called, the focal point and excuse, really, for visits with friends and family.
#
I'd never been.  My worry was that I'd miss Jerry too much.  I've been told (by Juliet) to get over it.  This is a new band.  But they play the old songs!  Is my argument.  I was never quite a deadhead, though I liked them a lot.  I was, though, and remain, a Jerry head.  He was a true genius in several guises, and whatever he touched turned to genius, too, including the Dead.  He was also very funny and lighthearted and a drug addict who died young of exhaustion and diabetes.
We got to Portland early and found there was no line, just a few bleary guys sitting in sleeping bags, surprised to find themselves alone on the pavement.  No one wanted to wait out in the cold, and most must have known the venue was forgiving, open floor, general admission.  This made me happy, as rather than sit out in the cold we crossed the street to a sports bar that could have been in any city in America, especially Denver, but not really Portland.  Sports were on the TVs, but Jerry was on the sound system.  And among the happy-hour crowd were plenty of pony-tailed relics like me, also the new crowd, tie dye bridging the generations.
I never understood how anyone could trip in public.  LSD, I mean.  Forty years ago, the last time I was interested, I'd plan such adventures meticulously so as not to run into parents or cops or any kind of trouble at all.  At the bar beside us was a young couple from Canada, he said.  They just kept gazing.  "You okay?" I said.  "Where is this?" the fellow said.
Both of them could have been at any bar in Ithaca in 1971.  But then again, where was that?
Juliet had made burritos for us, and we had a bite or two at the bar in case they were confiscated at the Civic Center doors.
They were indeed confiscated, an efficient little cop feeling Juliet's big coat till every trace of food was gone.
Inside, the place was empty.  Cumberland County Civic Center, to use the full name.  We walked up to the stage, put our hands on it, could have stayed there.  The floor was entirely empty.  We picked seats at the back of the hall behind the sound board, where Juliet has learned the sound is best.  The place began to fill up.
The Civic Center is a cement shell, one of those buildings built on a tight, tight budget, no frills, no extra cement, even the restrooms packed tight with urinals (and not enough of them), the passageways too small, a claustrophobic feel altogether, architects erasing all but the last necessary lines with each budget squeeze.
And the food, disastrously terrible.  You could not make worse pizza if you tried.  Okay, maybe dogshit and plaster would make a worse pizza.  But not by much.  And that was my dinner in that beautiful town with some of the greatest restaurants in the country.  How did food get to be such an afterthought in this country of plenty?  Actually, I think I know the answer (radical corporatism), but that's a discussion for later.  Next show, if Juliet can get me to go, we're doing what it seems everyone else did–eat dinner somewhere nice, relax, not worry about being first in the doors.
Our friend Jan arrived beaming and found us.  Let's go look at the stage, he said.  He's been to dozens of shows and he really followed the Dead and he's full of facts and memories about them.  We were both at Watkins Glen, 1973.  We talked about that and made our way onto the covered ice rink and maybe three quarters of the way down the floor, the crowd thickening as we went, Juliet in the lady's room.
Then the lights dimmed.  The crowd pressed in, but not too tight, not yet, no patchouli, mostly Shalimar.  Everyone friendly.  Ages diverse: I wasn't the oldest, I wasn't the youngest.  The mean was probably mid-thirties, and that's what I found when I looked inside myself, mid-thirties and getting younger.
I texted Jules.  She texted back.  She'd try to find us.  She was 20 when we met in 1982.  Jan had a white hat.  I was 29.  No one else had a white hat, but rainbows and Cat in the Hat hats.  Pot smoke filled the air.  Cigarette smoke, too.  But pot smoke, thick.
I felt kind of good.
Phil came out at a satisfied saunter.  He's the other genius of the old Dead.  He wrote a terrific memoir called Searching for the Sound that I listened to him read on tape.  He has a pleasing speaking voice.  The book ends just after his liver transplant.  It's the most unflinching of celebrity memoirs.  Things were not always peaceful with the Dead.  He tells it all.  It's the history of an era, and there he is, living history.  He was trumpet player in the high-school band and Jerry befriended him and they hung out and Jerry told him he was going to be their bass player, and that's what he became, fairly simple guy suddenly an acid-head then a rock star, a guy with a level head and a nerd's interest in getting everything out of his equipment, inventing a new bass, six strings and a range down into the sub-basements of rock.
He looks peaceful now.  The whole band is clean now.  Chem free.
Bob Weir strode out off balance like his mustache was going slightly faster than he was and he had to struggle to keep up.  A truly prodigious huge mustache, capable of great speed.  A guy behind me said Bob looked like a Hindu mystic, and it was true.  He looked, in fact, very much like a guy I'd seen a photo of that morning, a 100-year-old Hindu man who'd just finished a marathon and got himself in the Guinness Book of Records.  That is to say, Bob Weir looked like a 100-year-old Hindu man who'd just finished a marathon.
The music was good.  I enjoyed being up close.  I watched JK, the new guitarist, minutely.  He was the guitarist in Dark Star, which is the best of the many Dead tribute bands out there, playing whole Dead shows nearly note for note and certainly song for song.  JK was so good at being Jerry that Furthur hired him to play the part, more or less.  He has a bouncy presence and plucks upward at his axe to get those chords out, rising on his toes.
He's very good, but he's not Jerry.
And I did feel sad.
I'm someone who cried when Jerry died, and I can't seem to let go.
I liked the light show.  Pot wafted past, and more pot, forest fires of smoke.  I felt sad but kind of good and danced and looked around me at all the people.  A pretty girl grinned at me, not as of yore, but as she no doubt grins when her grandpa sings out "Riding that train!  High on cocaine!  Anyway, she grinned and I felt even sadder and even kind of gooder and the pot smoke was dense and I grinned and doubled my dance step.  Maybe she was grinning at someone behind me.  I felt very self-conscious, and very much like I'd like to be onstage.  The crowd grew denser.  A sweaty man too high to dance danced into the space in front of me, once my space, and smelled bad and danced.
Jan swayed beside me, very content.  At one point he turned to me and offered gum, which I took.  Gum tastes really good, I thought.  And I kept thinking that.  "Save the wrapper for later when you want to spit it out," he said helpfully.  We've both got kids.
Juliet never found us, so before the last song of the set I worked my way all the way back and found her in our seats.  She'd worked her way up probably past us and got close to the stage but never saw us, gave up and retreated.  Phil's low-low notes thump her chest disagreeably.  I like that thump, like fireworks finales all in a row.
Second set Juliet and I sat together, a proper date, and watched from way back in the back.  It did sound good back there.  I was happy to sit.  I liked the light show.  I couldn't see much but the colored beams limned in smoke, as I'd forgotten my long-distance glasses.
Furthur!  They played a whole suite of songs from the seventies, lots of the material from the album Live Dead, c. 1969.  I had never cared for the Dead till I found that album in 1971, a new freshman in college.  I tried not to like the album at first–the Dead just did not fit into my eighteen year old's narrow world view–but I was in a band that learned and performed the whole St. Stephen, The Eleven, Love Light sequence, and in the learning had come respect.  Respect for Jerry mostly.
And Europe 72!  That's a great album, a tour de force.  The boys at their peak, I think.
But back to 2011.  I liked the concert, hated the venue, and felt sad but also kind of good.  My wife and I were the old couple who sat and swayed and held hands.  I felt a little like I'd been forced to move back into a house I'd lived in forty years before.  The place had been remodeled on a budget, and though much was familiar, the neighborhood just wasn't the same, the girlfriend dead, my own body in decline; also, I've had better houses since, but being back in the old one, ev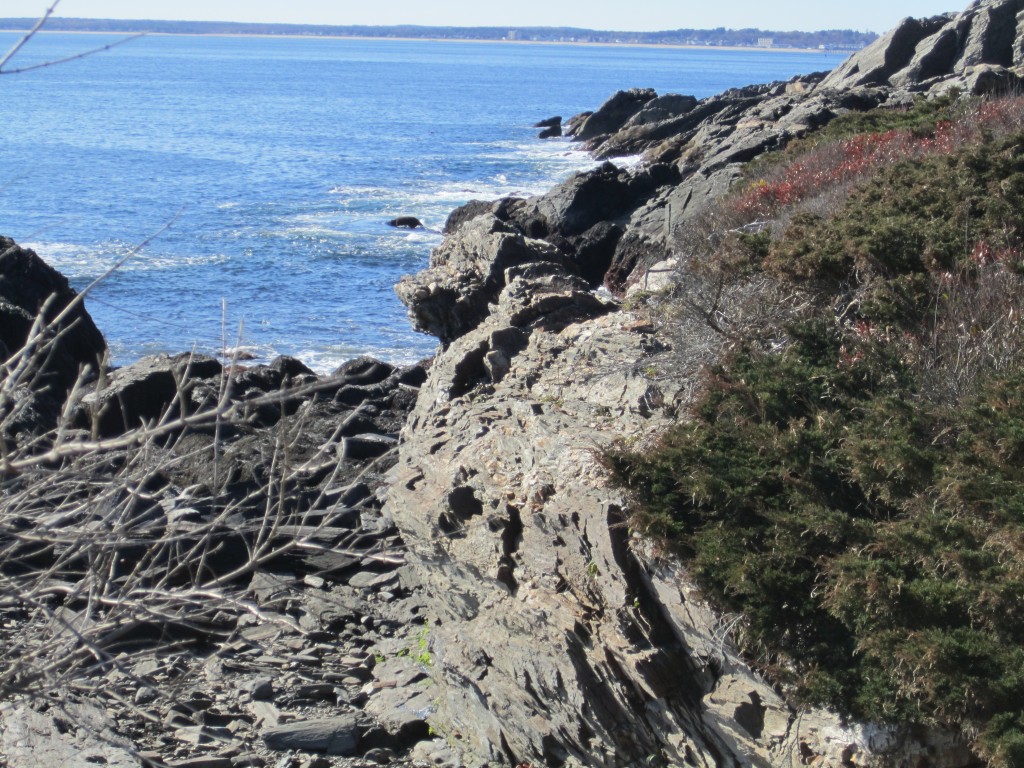 en if just for a little while, seems to have put a fresh experience on top of memory and the fresh experience is shielding me from memory and maybe I'm a notch less sad.  The last encore of the evening was "Touch of Gray."
Next morning a walk on the beach and cliffs in bright November sun slanted low across the swells and making a road of sparkles you could walk on, just as if it has always been that way, and I guess in fact it has….
#
Set list for 11/4 Furthur show, Cumberland County Civic Center, Portland, Maine.
I: Passenger > Cosmic Charlie, Born Cross-Eyed > Crazy Fingers > Come Together, Deal, Feel Like a Stranger, Brown-Eyed Women
II: China Cat Sunflower > The Mountain Song > St. Stephen > Dark Star > St. Stephen > The Eleven > The Other One > Unbroken Chain, Stella Blue > I Know You Rider
Encore: Touch of Grey