Mar 11
Guest contributor:
Kristen Keckler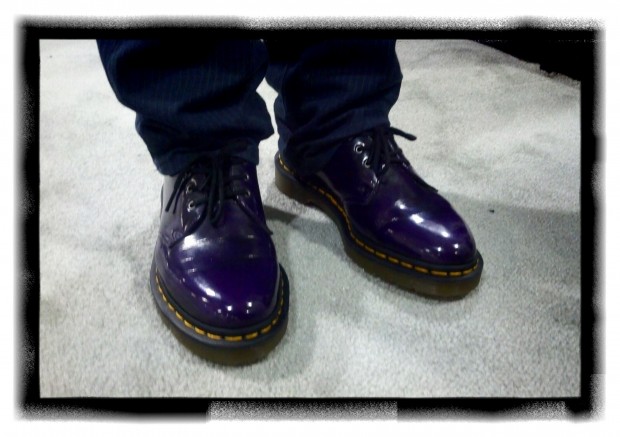 If you were in a hotel lobby full of normal people—business travelers, Mid-western tourists—with one odd poet among them, you'd surely detect this romantic Waldo in a few quick sweeps. It's only when thousands of creative writers are all herded together—snaking, skulking, and skipping through a maze of book fair booths, and stuffing free pens from Linguistic Battery Acid Mag into canvas conference totes—that you discern the slight distinctions in genres and stages of degree acquisition. For example, tenured nature writers tend to look like they just packed up the tent and hiked through ten miles of bramble—poking at fresh, steaming bear scat with whittled sticks—to their mud-studded Subarus. Wrinkled, grass-stained Cargo pants and National Geographic T-shirt under a tattered button-down, Swiss Army knife clipped to belt, and hiking-style brown-on-brown mesh sneakers. Other than the back-to-nature types, the rest of us were a fashionable feast almost-but-not-quite-destined for Page Six.
From the safe vantage point of the Cocktail Hour booth (and dressed, I'll admit, much like the nature writers), I observed an array of styles in our literary equivalent of Fashion Week. The head-to-toe black clad Goth Writer?—an outdated cliché, and one definitely absent here.  This season, for the female writer, classic mid-calf boots were the staple—homage to late winter and New England preppies? There were leather riding boots with woody heels (J Crew bought from a thrift store seasons later) and fancier buckled and studded derivatives with stacked, spike, or kitten heels. Though the weather was cold, wet, windy, snowy, and outright nasty, the female twenty-something MFA student overwhelmingly went leggy, and for the sexy stretch mini: one-to-two inches longer than crotch length, over black or bright-colored leggings or tights, sometimes with a long-sleeved tee and little sweater. Either that or a not-so-ass-huggingly-tight but equally short shimmery see-through waitress dress, also with leggings or tights. And, of course, Zooey Deschanel bangs.
I spied: one Army-green chamois shirt paired with a stretch mid-thigh mini—abstract rectangle MOMA-esque pattern—and paired with a teal messenger bag with brown pleather straps (perfect for proofs/manuscripts!).  Orange, red and purple India henna flowers on a beige above-the-knee dress with loose martini glass sleeves. A leopard print cotton-silk scarf with a hot pink border draped across a fair, freckled neck and paired with a gray cardigan and black pencil skirt. A boysenberry off-the-shoulder dress with buttons up the back. Black tights that looked like a bobcat clawed them—most likely sold with holes included. A vintage (real) mink bolero, dusty attic off-white. Electric blue tights under a brown turtleneck mid-thigh dress with brown braided belt. Black cargo pants, black V-neck tee, charcoal sweater-jacket, black Doc Martens, and glasses, black-rimmed on the top only (a new trend I noticed, the top-only trim as opposed to thick all-around black Allen Ginsberg glasses. I don't wear glasses yet but certainly need them.). Okay, how about that red necktie with one off-center black sheep among a white, fluffy flock? Over a blue button down LL Bean shirt, beige chinos, and a gray sport coat with a slight plaid to it if you squinted (Simmons! You rocked that tie!). Skinny jeans on men with too-tight plaid flannels and mussed-up hipster Muppet hair. Fuzzy felt purple clogs. An out-of-season Martha's Vineyard moss straw fedora, Ann Taylorish, paired with a camo M*A*S*H tee and pink ¾ sleeve cardigan. Slouchy, greasy, frayed-bottom jeans that looked like they hadn't seen the inside of a washing machine since his undergrad days. A tangerine leather zip-up blazer. A tattoo of wings with the red letter "A" in the middle (Adulterer?) Etsy.com-style hemp hats and big silver feather earrings. 70s-style brown and yellow plaid turned on its side to make diamond shapes. Beaded gauzy tops and blouses with open backs of crisscrossed strings. A skirt of raised fleur-de-lis print on thick curtain-like fabric with orange tights and two-tone chunky-heeled Mary Janes. One Baltimore Orioles cap, a few over-sized flat-billed trucker-style caps, and finally—oh joy—one beret! Two matching Ben Affleck Argo beards with Diesel-style jeans, big belts, and dark hoodies. A put-a-bird-on-it owl-shaped shoulder bag! A single pair of gauge earrings stretching a pair of ear lobes toward the shoulders. One large peach fabric rose clipped to flowing raven locks. One pair of bunny ears—worn not for better WiFi reception, the woman explained, but so her friends could easily find her. And a pair of rockin' purple Doc Martens oxfords—vegan!—purchased that very day on Newbury Street.