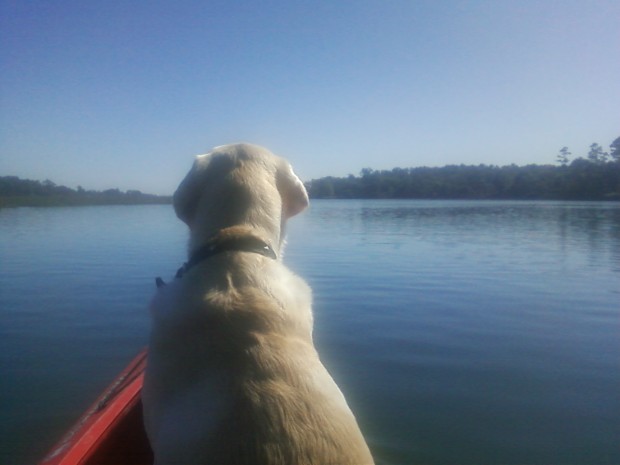 This is a short essay, in part, about Titan Cement, which I should say right up front that I oppose.  I don't like the idea of this company coming to town and dumping poisons in our river while spewing them into our air.  For regular readers this is not surprising.  But if it's statistics and facts you are after–the much-debated number of jobs gained, the impact of mercury on human health, the testimony of others from towns where cement has made its mark—you should look elsewhere. Today I am instead interested in talking about something bigger, and, to some, perhaps softer.  Rather than cement, I want to talk about water–water and love.  And even more I am interested in talking about identity.  Both my own and our town's.  
            My own relationship with Wilmington is complicated.  I come from a tribe of nature writers, a tribe that, as a rule, spends a lot of time braying about the glories of wherever they happen to live. Back when Cape Cod was my home I celebrated it fiercely, with the sort of regional pride recognizable to Southerner and Yankee alike. In fact I wrote a book, a kind of love letter to the place, that ended with my proclamation that I would stay on Cape Cod forever.
                Which is how, as I have been telling people for the last nine years, I ended up in Wilmington, the book helping land me a job in the creative writing department at UNCW.   Which is all to say: I am an outsider here, a relative newcomer.  I have no plans to climb up to the top of a live oak and holler out that I will stay here forever.  Mine is a marriage of convenience.
            But it is still a marriage, and one I have committed to.  For the last nine years I have made good friends in this place, have become involved in my community, and have even put down some cautious roots.  And while I might never call Wilmington my true hometown, my nine-year old daughter has no such qualms.  As the math tells you she has lived here her whole life.
            As for me, burned by romance before, it is hard for me to use "love" in the same sentence as my hometown.  But there are things I do love.  I love that the creek I live on connects me to the Intracoastal and to the Atlantic and that I can paddle a kayak from my backyard down that creek and out to Masonboro. Once I get there I love the walk from the lee side of that island to the ocean side, through the dunes and waving sea oats, love the moment when you first hear the ocean's roar, and especially love this moment if you just happen to be bringing an unsuspecting guest along, one who will no doubt be shocked to find that we suddenly have eight miles of beach to ourselves. Water defines us here, and I love the way the river surges through the town like a great artery, in a rush to greet the sea.  I love all the life that occurs in this special place where river and sea meet, the ospreys and skimmers and eagles (yes, eagles!), the otters and dolphins and rays, the schools of fish so thick they can turn a wave solid.  I love that here we are never that far from water, and that many of us live close enough to it that, with a quick glance, we can determine the tide.  And I love, and am occasionally frightened by, the way wild weather sweeps through this place.
            I don't think I'm alone in this.  I believe that even those who spend their life commuting our cluttered streets are aware that we live in a special place, a place of river and sea, a shifting place that, through its water and winds, overspills with an abundance of life, both human and otherwise. It is what makes this place this place, and even if we don't give this much thought, we are aware of it at some level. 
            Which brings me back to Titan, or the possibility of Titan.  We can fight about jobs all day long: the backers have long claimed it will bring in 160, while those who oppose cite what has happened in other towns, where most jobs go to outsiders, putting the  number of local jobs at closer to 20.  This is open to debate.  What is not open to debate is this: we are a water town and the plant will sit upstream of us, drawing on that water, using it, thousands and thousands of gallons, dumping it out again into the river, an altered substance.  Like us, Titan is drawn to our town because of the river, but their uses for it, and the reasons they want it, are quite different than most of our reasons. They are drawn to the river as a coolant, a dumping ground, a place to expel waste.  Remember: this is our river we are talking about, the river that heads to the sea, that runs through the city like an artery of life.
Which means that what we are talking about is not just the gain or loss of a few jobs.  What we are talking about is an issue, not just of economics, but of self-definition.  Our choice is no less than what we make of the place where we live. Who are we?  Who do we want to be?  My hope is that the Wilmington we chose to be is the same one that I have—slowly and grudgingly—come to love.  My hope is that we continue to see ourselves as place of river and sea.  A place encircled, and defined, by water.