I wish I could say I was all fixed and ready to go, but two months out, physical issues remain.  The nerve that runs from its root in my neck out to my left thumb and forefinger was damaged before the operation and remains irritated.  Thumb still numb, all sorts of random pains and muscle tightness and odd sensations.  Similar to before the op, except that now I know it's going to better and not worse, which is a big deal.  To some extent, this is a writer's injury–if you're using a keyboard and monitor that makes you look downward all day, and if you read with your head down a lot, you may be heading my direction.  Especially if you used to be a plumber and a sometime builder, drove a car into a telephone pole at age sixteen, had multiple ski wrecks over 50, and so on, a long list once you start compiling it, including a fall onto a pointed rock in a lake in New Hampshire a couple of years ago (just remembered that one) that left me lying face down in the water!  (My brother came running
and pulled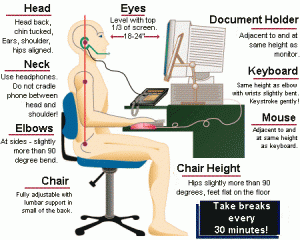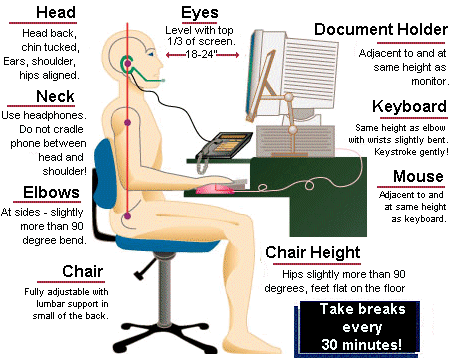 me out…).  My sense is that human males aren't supposed to survive past about 45 years of age, and that's with the extended warranty!
In my neck x-ray (appended) you can see the titanium plate and three of the six screws that hold it in place.  You can also see the fusion beginning, if you know what to look for, also, slips of cadaver bone where the discs used to be.  The bone is sterilized before it goes in, serves as a growth medium (they used to get it from the pelvis of the patient, leading to possibilities of further complication).  I've been wondering who died to give me and many others these little bits of thigh bone.  I dreamed under the influence of pain meds that it was a teen girl named Whitney in a car wreck.  I must improve my posture for her, be worthy.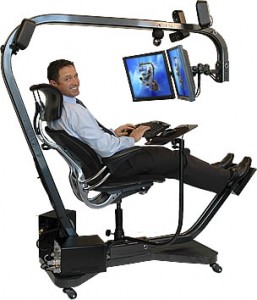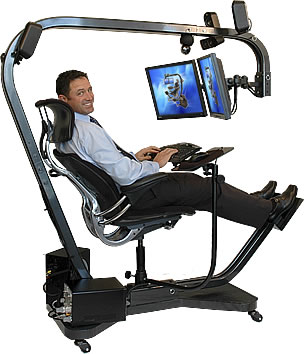 My chiropractors are also friends of mine, very generous, and recently came over for lunch and to evaluate my work stations from the spinal point of view.  My studio is all wrong–desk too high, chair too low, lighting poor.  I'm going to have to invest in a really good office chair, for one thing (my pretty good one, already near ten years old, cocks my hips forward, Jason pointed out).  And, as I'm due for new computer equipment anyway, maybe a big monitor that I can look at straight on (Jan pointed out how far I had to bend my neck to use my habitual laptop).  They both talked about voice-recognition software so I could write by dictation, straight from speech to text.  Has anyone out there tried this?  Today I wrote a while at my lectern, a handsome old tall thing I bought surplus from Ohio State.  Normally it's my dictionary stand, corner of my studio, but I propped laptop on it just to change my position.  Ernest Hemingway used to write his dialogue standing at a lectern, but with number two pencils….  I can't hold a pencil very long, but that's a different story–long term heavy-tool use.  Right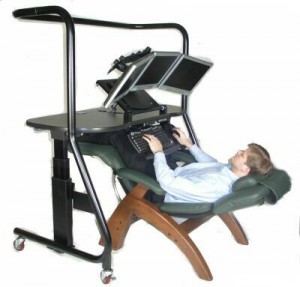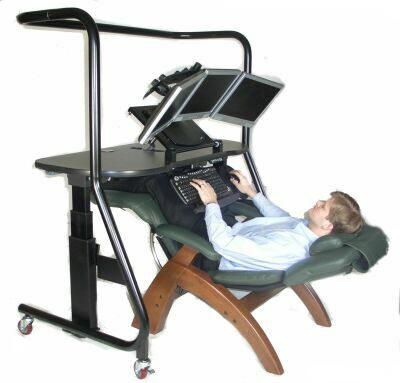 now I'm in the house at the desktop, but typing with the keyboard in my lap.  Sitting is misery.  Standing and lying down, fine.  Walking is wonderful.  Sitting, did I say it sitting hurts?  What's the best reading chair in the world?  Will you buy it for me?
Anyone have any writerly ergonomic advice? Know of software?  Want to be my secretary?  What's the best desk chair?  How best to set up a desk?  How best to read?  I mean a book.  I've been lying on the floor on my back and holding books straight up in the air with both arms.  Works for a while.  There must be some kind of reading stand available.  I was reviewing a friend's manuscript recently and used my music stand, kept my hands in my lap as much as possible.  My job is all reading and writing, and I'm going to have to find new ways to do it.   I'd love to hear any and all ideas….