Comments Off

on Dummy Downhill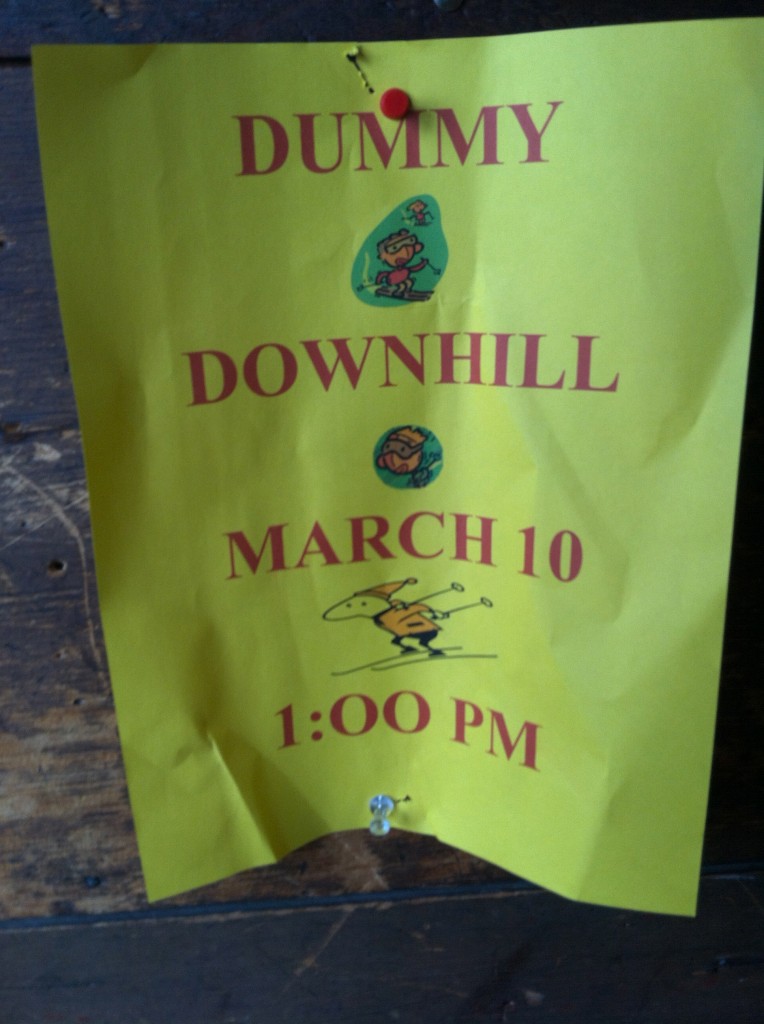 .
In my ongoing coverage of small town events, I can't forget to offer a glimpse of the annual Dummy Downhill race at Titcomb Hill, the terrific little ski area here in Farmington.  It's a community treasure, not three miles from our house.  Various endowments fund free downhill lessons, free cross-country lessons, free racing lessons, a kids' race team (F.A.S.T: Farmington Area Ski Team).  Little wonder that the Mount Blue High School are state ski champs more often than not, and this year once again.  The lodge is a simple barn of a building with volunteer-staffed snack bar.  The hill is steep enough for some fun, big enough for a number of trails, and sports a really great system of cross-country trails off the back side.  And the view is great.  Two t-bars, one pony lift, special after-school prices, and
you've got a ski party every day.  And Olympic skiers in the making.  And boarders.  Seth Westcott is from here, for example.  I love going up the t-bar with a drippy-nosed kid this trip, a cool teen next, my doctor next, the guy from the stove shop after that, and hellos on the trails.  Best of all, kids can ski every day if they want, and they're not on vacation.  They're home.
But this is about the Dummy Downhill race.  Kids build dummies of all kinds and put them on skis.  The dummies are brought to the starting line by kid strength, about a third of a way up the main slope.  And one
at a time given a shove.  There are points for distance, beauty, and most spectacular crash, and of course different builders shoot for different prizes.  Some years ago I was there when the Prentiss boys made dummy that included fireworks.  The fireworks set the foam insulation they'd used as part of the structure ablaze, and by the time the dummy got to the finish line it was a ball of orange flame running a tail of black smoke.  They'd built well, and having just missed the t-bar house
the dummy kept going, clear across the Nordic basin and under a small balsam fir tree, which burst into flame, too.  First prize!
And now a strict no-flame rule.
This year's entrants including Death on Skis, Devil Princess, a tinfoil dog, Half Man (just legs and waist-pretty
eerie), Mini Titcomb Lodge, a huge baseball, a large-scale fighter jet, and a number of human forms. I like the human forms best because they make these wonderful inadvertent gestures when they ski and then when they crash.  And
they just keep smiling.  Except for death, whose head popped off to cheers.
After the first run, you put your dummy back together as best you can, drag it back up the hill, and send it over the jump!  This is nothing short of awesome.
This year's winner was the jet, which was wired for radio control, ailerons, jet noises, exhaust sparks and all, such that mid-jump it was able to leave its ski-base and fly thirty or forty feet before crashing and breaking its nose.