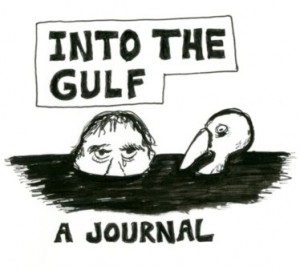 The guy from Texas is taking the giant tarball that the guy from Pensacola wants.  The guy from Pensacola, a good guy named James who I met about an hour ago, thinks he should collect the tarball, which is the biggest one he's seen, and bring it to the attention of the EPA officials.  But James is a peaceful man, a surfer whose skin has been burned a crisp brown over the years, and he simply shrugs when the Texas guy picks up the lump of oil, a lump that is definitely bigger than a bread basket, and carts it off.  The little girl, the Texas guy's daughter who had been swimming in the oily water (holding hands with her Mom) a few minutes ago, turns defensive when I suggest that James has rightful claim to the tarball.
"If he touches that tarball my Daddy will kick his ass," she says.
She can't be older than eight and she follows her father back to their truck, where they place the tarball, a toxic prize to bring home with them (though now Texas has tarballs of its own).
"They're real good on the grill with a little paprika," James yells after them.
After the commotion, James and I settle back in our beach chairs and do what we have been doing since we met: watching birds.  I had other ideas for the afternoon but I pulled over at this empty beach lot because I saw an osprey working the line of surf, and ospreys have a way of scuttling my best laid plans.   I kept trying to leave but the bird kept returning to hunt, hovering above the crashing waves, its black and white wings semaphore flashing, its yellow eyes burning behind a black bandit mask.  When James showed up to take pictures of birds, he noticed that I couldn't take my eyes off the osprey and said as much.  Then he added what many people have said to me over the years:
"You really seem to like those birds."
I could have said, "Little do you know, James, that I have in fact written two books about ospreys."  But since I'm not a giant dick, I went with "yup."
We pass the afternoon sitting in our fold-out beach chairs, drinking beers and watching the osprey, along with diving terns, a couple of pelicans gliding through the trough of waves, and– the highlight—a black skimmer with its dazzling candy corn upper bill and its lower mandible dropped so that it cut a wake through the surf.   James reminds me a little of the actor who played Dan-o on Hawaii 5-0 (who my father knew in college), maybe because of his amiable way, short stature, and the fact that that show featured surfing during its theme song.  He tells me that the local surf report specifies where the oil is and isn't each day, but that once when he went to one of the spots where it supposedly wasn't his wife's white bathing suit turned gray.  Still, he is relatively optimistic about the spill.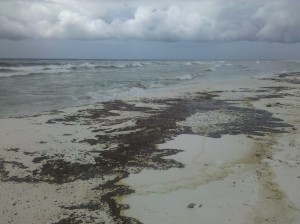 "That's a big body of water out there.  Everything in there gets diluted.  And nature's resilient, you know.  The winter storms will help clear it off the beaches."
Surfers, almost by default, become amateur naturalists, and he does admit that he has seen fewer dolphins and far fewer jumping fish.  We speculate on whether or not the oil is hindering the diving birds, like the osprey, and whether or not they know something is up.  Can they taste a difference in the fish or see it in the viscosity of the water?  If they are aware of what is going on, they must be thinking—and of course I'm anthropomorphisizing here—the osprey equivalent of "Not again."  After all, this is a species that was all but eradicated, along with the local pelicans and bald eagles (which James says are now making a comeback ), by DDT not too long ago.
The Rachel Carson story, and the story of the banning of DDT, are old chestnuts of the environmental movement, anachronistic in a hopeful way that may not seem applicable in these darker times.   But as I spent the morning reading articles about BP's use of Corexit and watching marine toxicologist Chris Pincetech talk about how using the dispersants was turning the Gulf into one giant science experiment, I found myself thinking again of DDT and the old story seemed newly applicable.  The story, which most of us know by now, begins with the spraying of DDT on fields and marshes, with the non-malevolent goal of eliminating pests (insects). But what the chemical proved, in a giant science experiment not unlike the one we are undertaking right now, was that "the web of life" was not some fanciful notion that a groovy ecologist invented.  In fact the way that DDT moved through that web, killing the insects, sure, but also moving up through the food chain to the vegetation and smaller fish and then, through biomagnification, settling in larger quantities in top predators like ospreys and eagles, was almost as miraculous as the web itself.  Almost.  But while the web created life, the chemical created death.  The way it killed off ospreys was particularly cruel: it caused a thinning of the egg shells so that when the parents sat atop the eggs to incubate they killed their own offspring.
And now we are at it again.  Look, the companies who made DDT and the people who sprayed it were not evil people.  Who wouldn't want to get rid of mosquitoes on a marsh?  They weren't evil, but they just believed, in the manner of little boys, that they could control things.  They believed they could make things better than they were and could always fix what was broken (never thinking that some of the things they might break had taken a million years or so to make, in concert with other creatures and ecosystems).
As tragic and awful as the oil spill is—and it is truly horrific—the use of dispersants could end up being worse.  You can at least argue that the first mistake was an accident, an accident born of colossal arrogance, but still an accident.  The second mistake grew out of opposites: conscious decision and panic.  My contacts down here tell me that the BP people operate with eyes wide from fear, and fear has quickly led to a desperate need for the illusion of control.  I don't claim to know what Corexit or other dispersants will do, how it will infiltrate and affect  the web of life of fish and birds.  I am no a scientist.  But I know that good science is born of skepticism, and that those who claim with confidence that they know what the Corexit will do are thinking the thinking of little boys. Which means they are thinking that you can fix nature like you fix a carburetor.  And forgetting that everything is connected in way that surpasses any sort of human conception, let alone human engineering.  "When you pick up one thing, you find it connected to everything else on earth," wrote John Muir.  Exactly.  And when you spray, pour, poison one thing, you will quickly find that you are doing the same to all.
* * *
Lecture over (for today).
James and I watch ospreys and drink beer until the sun starts to set.  I smoke a small cigar I bought at a store called The Tobacco Exchange back in Gulf Shores.  We say goodbye, (and James promises to send me the pictures that I've attached here), and then he tells me where I can get a good look at an osprey nest from up close, at a picnic area farther up in the park.  It is a perfect way to end the day and not just because the nest is one of the most beautiful I've ever seen, a nestled cup of sticks in the upper branches of a dead live oak, a tree killed that was likely killed by the salt overwash from hurricane Ivan.  Three young birds—indentifiable as immatures by both their size and checkered wings—perch around and on the nest, illuminated by the last shafting rays of sun.  They let go with high pitched warning cries that tell me not to get any closer.  But what makes the scene so apt is not just its beauty, but the fact that the osprey cries mix with another sort of music: the backward beeping of trucks.  And that is because the picnic area has become mission control for the clean up efforts, and the birds now share their habitat with trucks and the dumpsters and the fluorescent-vested workers and dozens of porto potties and hundreds of all-terrain vehicles.  It looks like a scene out of Spielberg: the military trying to keep the discovery of aliens under wraps.  But what might be too cliché for a movie is the fact that above it all the ospreys nest, the whole scene watched over by a bird that came back from the dead.
P.S. If you are interested in the nature of this beach, here are some nice bird photos by a local blogger. 
P.P.S. If you want to scare yourself abour Corexit (corrects it!), there are plenty of great articles to read.  But maybe the simplest way is to just read the brief Wikipedia entry.  Last I heard, Wikipedia was not a radical environmental operation.