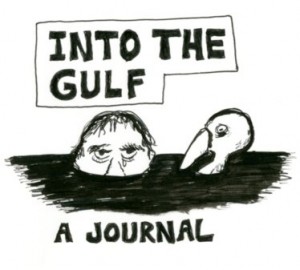 I meant to get to Texas, I really did.  And I would have made it were it not for the little blinking red light on the dashboard winking up at me like a creepy one-eyed man.  Not only would I have made it but I might have kept going and going and right now the Rav IV might be floating in the Sea of Cortez.  As it was I was so enjoying driving through the Louisiana lowlands of shaggy trees and egrets and herons that I ignored the light as best I could, putting my faith in Ali, the smiley chain-smoking mechanic who had replaced the coil on the cheap the day before in the Araby section of Challmete    But the anxiety I was already feeling ,which had been free-floating, now became less so, clumping into a knot in my chest that wouldn't go away no matter how I squeezed my blue EPA stress ball.
And so I finally let good sense, a rare visitor to my mind over the last few weeks in the Gulf, get the better of me and I turned around and headed home.  Galveston had been my goal but now the town of Grossetete, Louisiana became my end and westernmost point.  I will remember Grossetete for the ramshackle little building called the "Doc-Your Dose Pharmacy" and the older white woman I chatted with by the river who assured me that the destruction of the mostly African American  lower 9th Ward had been "God's will."   The day had begun with grand intentions but I would now spend it driving what amounted to a 160 mile U-turn, heading back to New Orleans, where I'd started.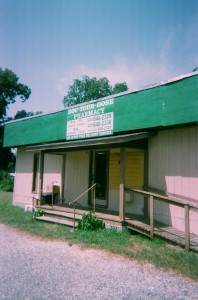 Of course I won't let the fact that I didn't reach Galveston stop me from telling you about the city.  It is the city that drowned first, a century before New Orleans.  The story of that drowning, and the recent re-drowning during Hurricane Ike, is as simple and powerful as a fairy tale, though a grim old fashioned fairy tale of the sort New Orleaneans might read to scare their children.  It is the story of a people who believed in straight lines, a story of a people who built high walls, thinking they could stop the sea, and how those walls ultimately doomed the city, and it is a story that has great resonance today as we try to force our will on events beyond our control.   In the summer of 1900 Galveston, which was then a thriving port town, was struck by a storm that remains the deadliest hurricane in United States history, killing twenty percent of the city's people and destroying all of its buildings.  The town responded by vowing "never again" and constructing a massive sea wall.  But the wall ultimately acted, as geologists like Orrin Pilkey and others predicted, by destroying Galveston's beaches, its natural buffer and protection, leaving it defenseless and setting up this decade's disaster when Ike struck and destroyed the city again.
* * *
          This trip began with my swimming at Tarball beach.  It ends with President Obama swimming at Panama beach, telling us all is okay.  This is a lie of course.  (Here is a link to my letter to Obama that OnEarth magazine just published.)  Dig a foot down at any of these barrier beaches and you will still find the hidden tarballs.   Where's the oil?  Right there, and plenty of other places.
           Last night, before my aborted trip to Galveston, I toured the city of New Orleans with Kevin McCaffrey, a filmmaker who showed me neighborhoods that had been underwater and walls that hadn't worked (and likely wouldn't work again).  We wound up eating good greasy food (I had a great chicken fried steak) at a place called Frankie and Johnnie's.  I taped many of the profound things Kevin said about Katrina and the oil but right now I am too tired to get those words off the tape (my apologies, Kevin), though they will eventually make it into the book I will write about this trip.  What I do remember was talking about football and football, it occurs to me now as the trip ends, has been a kind of leitmotif of this journey.  One thing this trip has done is dislodge my regional prejudice that the Patriots victory in January after 9-11 was the most emotional win in Super Bowl history.  I now concede that last year's victory by the Saints meant more, since as you tour this beautiful, doomed city, you begin to understand just how much it meant to the people here.
          It makes sense that Kevin and I talked some football since the way we knew each other was through Kate and Steve Sidwell.   For several summers my wife, daughter and I house-sat for the Sidwells in Brewster on Cape Cod.  Kate is an artist, extravagant and generous, who loves New Orleans and came back here to help re-build the city after Katrina (and found a terrific dog named Buddy).  Steve is a former pro football coach—once a defensive coordinator for the Patriots, Seahawks, and Saints–with a big heart and great charm, the capacity to eat great amounts of food, and the growling resonant voice of a talking cartoon bear. While the Sidwells spent the month touring the world we would watch their art-filled house, feed their cats, mow their lawn, soak in their hot tub.  Anyway, Frankie and Johnny's was a place that Kevin used to visit with the Sidwells and so we talked football and art and I thought "Thank God the Saints won, but that isn't going to stop this place from flooding again."
          But that was last night and now it was time to truly head home.  In fact, I almost managed to do that and drive right past New Orleans until something made me tug and wheel to the right and, before I knew it, I was driving back down into the French Quarter in search of French 75 and one last Daisy for the road.  To counteract or complement (depending on your take) the drink, I also requested a road cigar, and Cindy (who seemed every bit as professional and a whole lot nicer than the famous bald-headed Chris) promised me that the cigar she handed me
would be a "long burn," as it indeed proved to be since I smoked it, on and off, most of the way home.
I drove up and across Mississippi, sleeping in Meridian, home of the great Brad Watson (whose wonderful book, Aliens in the Prime of Life, came out this past spring.)   It would be vainglorious and egomaniacal to compare myself to Ulysses heading home and it's true I did not have to slay any suitors when I finally limped back to my Ithaca (Wilmington.)  But I did have a brand new house on a salt marsh to move into, the first that my wife Nina and I have ever owned, and I did experience an unfamiliar feeling settling over me, that of settling and settledness.
But I'm not a settler at heart and these are not settled times.  We are coming into hurricane season and our home is one of the season's bull's eyes.  I don't need to tell you where one of the other ones is and how winds might whip up the oil.   I find my thoughts already boomeranging back to the Gulf as I picture the billions of migrating birds that are already streaming down toward the degraded marshes and waters.  When we walked deep into the marsh in Alabama, Bill Finch suggested I come back in the fall to witness the migration of the white pelicans.  That, it seems to me, is a hard offer to refuse.  I suspect that mine, like most of ours during these tattered times, will be a most unsettled settling.