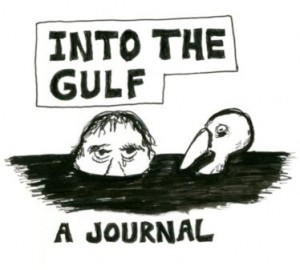 I knew pelicans before they were famous.  I started studying them when I first moved to the South, seven years ago now, and after a couple of years here I wrote an essay about the birds, and about my daughter and learning to surf, for Orion magazine.  As I observed and read about pelcians, I learned how much water their enormous gular pouches can hold (21 pints or 17 and a half pounds), what they sound like (nothing, they are more or less mute), and even got to see a newborn emerge from its shell (disgusting and beautiful at the same time).  What I didn't and couldn't know was that some years off in the future, pelicans, particularly the oiled variety, would become the media darlings of one of the worst eco disasters in this country's history.   What I didn't know was that, while the egrets and laughing gulls andtricolored herons bristled with resentment, pelicans would claim center stage.
I've got nothing against my old friend, Pelecanus occidentalis.  It's just that the problem with telling the story of the spill in broad and simple strokes, as the national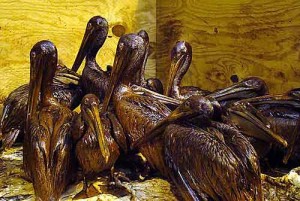 media has almost laughably done, as a kind of adventure story fit for Boy' Life—will they cap the well?  Will they fire the evil BP guy?  Look there's lots of oil!  Oh, now there's not so much oil– is that once the obvious symbols go away the media can too.  They can say "Look there aren't so many oiled pelicans anymore," and then do exactly what the New York Times did a few days ago, and announce that it turns out the whole oil thing isn't so bad anymore.  Okay, back to business everyone.  Maybe a better, if less sexy, symbol than pelicans would be those periwinkles I saw in Grand Bay with Bill Finch.  They may not look good on the cover of a magazine but they get at the point of what this whole thing is about, what Finch called "connectivity issues."  The latest news on the connectivity front is that oil and dispersant droplets have been found on almost all the blue crab larvae that scientists have studied in the Gulf of Mexico.
* * *
         From Buras I headed north to New Orleans, which is kind of an oiled pelican in its own right.  If I was joking about egrets resenting pelicans, then I am deadly serious when I say that Alabamans and Mississippians resent Louisianans for getting most of the media attention, and therefore most of the money, and that within Louisiana itself the rest of the state resents New Orleans for the same reason.  It took me almost two hours of driving north to reach New Orleans, which gets at one of the most common misconceptions about the place.  If you are like me you picture the city as a whole lot closer to the Gulf, and the oil, than it really is, and though I don't want to take anything away from a citizenry that has endured more pain than Job, the consideration of the spill seemed somewhat more theoretical than it did down in Buras, despite the obvious impacts on tourism and seafood.  I stayed at the first hotel I saw after pulling into the French Quarter,  The Maison Dupuy, and soon found myself having a drink at a wonderfully cool (I still wasn't using air conditioning in the car and before I changed my sweat-stained shirt it looked like it had been tie dyed) bar called French 75.   There I discovered a delightful drink, white rum and fruit and herbs, that I would order every night of my stay and then sit back and savor it, imagining myself to be a kind of Hemingway figure, masculine and romantic.  When I asked what it was they said something like "Pisco," which was actually the name of the rum, and it wasn't until the last night of my trip that I learned the real name of drink, a name that quickly burst my macho pretensions.  My drink was called a "Daisy."
        My host at the bar was an outgoing and generous man named Kristian Sonnier, who was a regular and was therefore a pal of French 75's renowned bartender, Chris, a bald man with thick black framed glasses who strutted about the place in a white suit coat and black bow tie.  (For those with a UNCW connection, he looked almost exactly like a hairless version of Bryan Sandala.)  Chris fed me my Daisies and then my delicious Cornish game hen and these perfect little fries (excuse me, pomme frites) that looked like their middles had been inflated with a tiny bicycle pump.  I probably weighed about fifty pounds more than Kristian, but I noticed that as we shifted to beer and I started slowing down, he started picking up the drinking pace, something that I noted in every New Orleanian I encountered.   We took "walking beers" through the French Quarter and headed down to the river in search of the King of the Oiled Pelicans.  Kristian said the King was to be found in his natural spot-lighted habitat by the water, espousing about the spill, which the locals found comical since the oil was nowhere near their city.  But the locals also loved the King, and the attention he shone on their city, and that love was apparent as we closed in on the CNN truck.  Near the truck a small crowd had gathered to watch the white-haired man in the too- tight black T-shirt as he delivered his newscast.
         My host the next night, who was somewhat more cantankerous than Kristian, would call Anderson Cooper "the biggest shit stain on the water."  I could see it, the whole phony baloney, superstar, simplistic take on  complicated issues.  But Kristian was more philosophical: "Of course it's kind of funny that he's broadcasting from the river, a hundred miles from the action.  But he gives voice to the people's anger.  He has Billy Nungesser on quite a lot for instance."  And, to his credit, Cooper, when he finished broadcasting, came over to where our small crowd stood and shook hands with the men and hugged the ladies.  If there was an edge of Beatlemania to it, the man did his best to conduct himself with dignity, signing things and getting his picture taken and when asked about a good place to get a drink suggesting a street outside of the Quarter (which, after all, is the oiled pelican of the city's neighborhoods) that Kristian said was a good, insider's  call.  The only truly embarrassing moment was when some college kids began to slather over the poor man.  One particularly enthusiastic (drunken) boy went on and on about how much he loved "Anderson" and how he wanted to be him when/if he grew up, and after he got his picture taken next to his man went skipping off down toward the river, lifted on the wings of celebrity ecstasy.  That's when I saw my chance.   "I can't profess my love for you," I said.  "But how about a picture?"  At which point, just like the college boy, I threw my arm around him.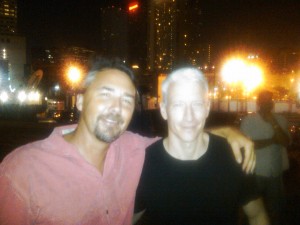 * * *
I worry about the disconnect between our stories and our realities.  I think of watching TV in the Cajun Lodge in Buras with Ryan, the Ocean Doctor and his brother Alan, and the Cousteau gang.  We were kind of embarrassed to be sitting there, after having spent the day out on the water, but there was also a kind of unacknowledged giddiness: would our story of heading out in the boat and sampling oysters and fish for contaminants, a story that had after all just happened, also be the lead story on the nightly news?  When the first couple of segments passed, and the focus turned to Chelsea's wedding, their was a palpable deflation in the room.  Our story wasn't the story.  We hadn't made it.  Had the whole day been a waste?
It was the only time since I've been down here that I watched a network news show and I did so with fascination.  First of all it was kind of funny, the whole over-the-top primary color thing, as if they were talking to children.  But more than that was the fact that what they were saying bore almost no resemblance to any of the stories I was finding as I explored the place.  In that way it was truly extraordinary.  There is a particular danger right now since the new oiled pelican is that there are no oiled pelicans.  It's dumbfounding to watch the media nod and accept BP's magic trick of disersants, as if oil out of sight means no oil at all. 
But now I must end with a confession.  It's fine and healthy to mock simplistic thinking and all things cliché, but one danger is in building up calluses and no longer recognizing the authentic.  Because, as it turns out, my most authentic moment down in Buras, the moment when I felt the deepest empathy for the animal victims of this tragedy, came when watching none other than oiled pelicans.
It happened on my second to last night in Buras, at the animals hospital not far from where I was staying, an impromptu MASH unit in a large aluminum shed where everything—trash cans, barrels of fish to feed the birds, towels, and the boxes that held the birds themselves—was labeled either "oiled" or "not oiled."  The Cousteau crew was there to film their rescue of a tricolored heron, and they had let me join them, though I soon wandered off on my own down the rows of plywood boxes that held the birds.  On the first box was a sign that said "Escape artist—be careful," though I couldn't see inside to determine who the avian Houdini was.  But it was the second box that stopped me in my tracks.  Inside were five or six pelicans, huddled together, obviously stunned with fear, their great sword-like bills pulled into their chests.  They had come in just that afternoon, it turned out, and they clearly didn't know where they were, though they knew it was terrifying.  Their excrement mixed with oil stains on the white sheet below them and a small tub of fish went untouched.   They were too black for pelicans, and when one stretched out its three foot long wing, it looked more like the wing of an osprey or eagle.  I stared into one bird's black eyes.  I had always seen pelicans as a kind of symbol of imperturbability, since they seemed so much more stolid than the other birds I spent time watching.  But this bird was clearly perturbed.  It made a point to keep contact with another of the enormous birds, its fellow prisoner.  It's expression seemed to say "What the hell has happened to me?"
I stayed with the birds for a while, until one vet, tired of writers and photographers and camera people, decided it was time for us all to leave.  I had been surprised before how accommodating the vets had been when we first arrived, explaining what they were doing and answering questions while cleaning off oiled birds with Q-tips.  But now they, or at least this one vet, had had enough.  The Cousteau crew had been trying to film the triage being performed on the tricolored heron they had brought in, and they were the most polite and least obtrusive of crews, but they were now being hustled out of there.  And while it would have been nice to film the complete journey of the bird that they had rescued, you couldn't help but empathize with the vets.  By that point everyone in Buras must have been sick of being filmed or written about.  It could be fun at times, energizing, like drinking six cups of coffee and running around in a house of mirrors.  But the vet was right: enough was enough.  It was time, at least temporarily, to expel those of us who were stalking the oiled pelican, and get back to the real work of tending to actual birds.