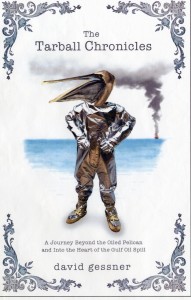 The other day I got the cover for my new book, The Tarball Chronicles.  Here it is–over there.  I hope you like it.  I do.  I'm actually very pleased.  I think those of you who followed last summer's posts from the Gulf will agree that it gets across some of the sheer strangeness of the experience, of the tragic aspect of the BP spill but the black humor, too.  At least I think it does.  If you don't agree, please don't write me about it.  I'm too fragile at the moment.  Somewhat close to cracking up in fact…..
There is this anxious time in the life of a writer (um, when isn't an anxious time?), when you are done with a book but before it comes out.  You await the Day of Judgment, fearing, not so much being consigned to hell–hell at least is active and participatory–as nothingness.   Here is Ed Abbey, for instance, describing his book, The Monkey Wrench Gang, and the quiet reaction he imagined:  "Another drop down the well of oblivion."   (Of course, Abbey's worries proved wrong and any writer would like to have their book attain the level of non-oblivion that Monkey Wrench did.)
There is very little that is solid to grasp to during this phantasmagoric time, the time in-between being done with a book and it being done with you. And then they send you your cover.  They used to send it to you in the actual mail but now, as if to add to the airiness of the time, they send it through the ether as a link.  Though you, if you are like me, try to make it immediately corporeal by printing it out.   Then you hold it, pick it up, look at it from all directions, tack it to your bulletin board, tape it to your computer.  You look at it more closely than anyone else ever will, and you look at it more often than all the rest of the people who ever will see it combined.  You love it.  You hate it.  Despite the old saying, you judge your book completely by it.  One day it's a talisman, the next it's tea leaves.  This is what a bestseller looks like, you say in one mood.  This thing will surely flop you say in another.  I love it!  I hate it!  I love it (said more firmly).
But enough with that, Gessner.  Pull your mind together.  Regulate yourself (as Samuel Johnson would say).
One thing I do know.  No matter how my relationship with the above pelican in the HAZMAT suit develops, it will never achieve the intensity of romance that I had with my first cover.  In those days, pre-internet, I think the first time I saw the fully realized cover of my first book was when the book itself arrived in the mail.  There are a lot of cynical things I'll say about writing if properly nudged and lubricated.  But that moment was beyond cynicism.  It was incredible.  I always tell young writers that, whatever other demons might beset our writing tribe, and however incorporeal so many aspects of that life might feel, there is nothing like that purely physical moment of holding your first book in your hand.  Fuck Kindles.  Give me the heft of a finished book.  I can't remember what I did when I opened the package that finally had a book with my name on it (I was 36 at the time) but it surely  involved a jig.  And a yawp or two.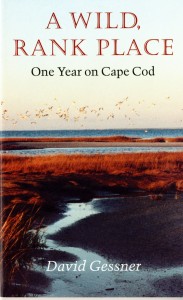 As it turned out that first cover would also be the one I've had the most input in so far.  They used a photo a friend of mine had taken while we were roaming the Cape Cod beaches one fall.  I think my friend did a great job, which is particularly impressive considering the psilocybin pulsing through his bloodstream at the moment he snapped the picture.
I love my Hazmatted pelican, and I wish it well in the world.   But there can only be one first love.  I hope every writer reading this has had, or will have, the experience of looking down at a book with your own name on it.  It makes all the madness worth it.
P.S. Sorry Kindle users, especially Kindle users who are viewing Bill and Dave's.  I got carried away.  We still love you.