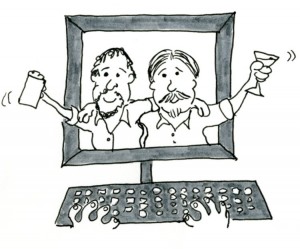 We are coming right up on the six month birthday of Bill and Dave's (as good a reason to have a drink as any) and I thought it would be a good time to check in with you, dear reader.   Sometimes it's a little lonely out here in the blogosphere.  There are days when it feels like the cocktail hour is raging and it's–as Homer Simpson once said–"the wittiest jig of the season."  On other days I'm alone with my beer in the corner.
You may have noticed that while Bill has taken up the slack,  my posts have slowed down a bit of late (after the Gulf mania), and there's a reason for that.  One result of this blog was my trip to the Gulf and one result of that trip was selling a book called The Tarball Chronicles.  In an effort to get that book together in record speed, I have been in crazy, hermit writer mode of late, only coming out of my writing cave to eat, urinate, or sleep.  During that time I sported a kind of Unabomber look, electing not to shave or shower, but last Saturday I emerged, bloody but with book in hand.  I then sent it off to my brilliant editor at Milkweed, who has headed into his slightly more modern editing cave to do his thing.  Obviously the book grew directly out of Bill and Dave's. I also felt that this community was with me while I traveled and so was part of the book.  So thanks.  And here's to you.  (clink, clink)
Oh, and though I'm not allowed to say anything official yet, there is a rumor that Bill may also be doing some toasting with you soon.
* * *
Here, by the way, is a compilation of all my Gulf articles and blogs, courtesy of OnEarth magazine and the NRDC.
Overall, it's been a good couple of months and, as well as great comments from you, we've been quoted in The New York Times lit blog, Paper Cuts,  toasted by Brevity, Broadsided by Beacon, and twittered out into the world by the folks at Orion magazine and Ron Charles from the Washington Post Book World.  (We have even, god help us, opened our own Twitter account under the name BnDscocktailhour.  So far we have either two or three subscribers and we're not yet sure how to get more despite our friend Daisy's help.)  We have gotten comments from many great writers, including Jonathan Franzen before he was appointed King of the World by Time magazine.
And we've had more than a couple of visitors.  Though we didn't get Google Analytics until fairly late in the game–I'd already taken off for the Gulf–we learned that by July we had a stretch of days where we had close to four hundred visitors a day and thousands a week.   Overall, we've had about 9,000 visits, 17,000 page views, and 4,000 visitors.  We don't know how that stacks up in the blog world, but to us it felt like the party was going strong.
Still, there's a bit of fine-tuning to do.  First we need to re-design a little (where are those little cartoon heads I promised I'd draw for everyone who commented?)  Our original idea was to make this a lot more interactive–between Bill and me, and between the two of us and you.  Bill has been great about responding to comments while I've been a little lame.  (Sorry Monica, for instance, and thanks for the nice words.)
Then, there is the question of content.  Part of the impulse to start this blog came from the fact that Bill and I greatly enjoy our cocktail hours together, but, living over a thousand miles apart, had to settle for its on-line equivalent.  That this tradition brought in other people who I have had virtual cocktail hours with, like Jim Campbell all the way up there in Wisconsin, made it all the better, and, since so many of us are writers, books were a natural subject.   In that spirit we created Reading Under the Influence and I started my series of cartoon lit pep talks, Talking to Ghosts.  I had imagined that Talking to Ghosts would be a monthly feature, but that was before I decided to take off for the Gulf.  And so my posts took an eco turn……
So, that is another question for you, dear reader.  Though both Bill and I bristle at the term "nature writer," we do like nature, have we gone a little too far down Daisy Lane?  Are you coming here to read more about the writing life?   By going eco, am I taking my eye off the lit ball?
Feel free to chime in about these, and with any other ideas.  And thanks again for keeping me compnay during the trip to the Gulf.