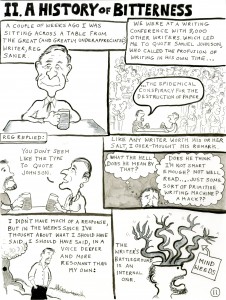 So here is the second installment of my cartoon serial, Talking to Ghosts.  I hope you like it, because, frankly, it kicked my ass.  I'll never whine about how hard writing is again.  At least with writing the process, even to some extent the revision process, is electrified by thought, by the fact that your mind is connected to the marks you are making on the page.  With cartooning, you have the idea and sketch it down but your work is just getting started.  Inking in and crosshatching, for instance, are about as scintillating as cleaning someone's teeth.  In fact, the whole process reminds me of practicing dentistry (no offense, dentists.)
That said, there was a deep pleasure in living in the world of my second "ghost," Samuel Johnson, for a couple of weeks.  As it turned out, these were hard weeks (a dear relative died suddenly, the house we were living in, which we had hoped to buy, was sold to someone else, so it was good to have S.J. around.  He is a tough-minded, non-flowery type of ghost, and he acts as strong medicine against the easy temptations of envy, worry, and whining in the writing life.  (And, no doubt, in the cartooning life—he wouldn't have liked my griping above.)  So here it is.  A peek into my particular sort of literary craziness.
P.S. During my weeks with Johnson, I naturally returned to my favorite books by and about him, and I've written a round-up of these at Reading Under the Influence.