Mar 10
Guest contributor:
Vasilios Asimakos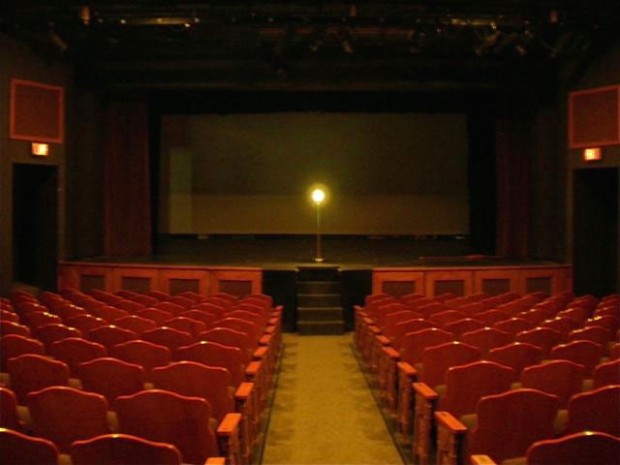 Scooby-Doo Live rolled into town recently, and a friend I'd acted with in college was part of the cast.  We got hot chocolate after the show at my favorite downtown cafe, and it was there, while grabbing some napkins, that a harmless little poster for a local community theatre production made my stomach clench up and my breath stop short.  We sat down and I explained:
A few months earlier I'd heard from a friend that a show was being put on in my hometown.  I jumped at the chance to audition, every other thought drowned out by my inner voice comically yelling "THEATRE IS AWESOME!  STAGE ACTING IS PURE!" like some unbalanced naked hobo with a sign hanging from his shoulders.  I dusted off my Long Day's Journey Edmund monologue, unfolded an understated blue shirt that hugged my pecs and bis, and headed in to rock their world.
The director had me at "Come on in."  Professional, articulate, with gorgeous sharp blue eyes and a love for the material that showed.  She worked me.  For two hours she had me there, cold-reading monologues, scenes.  When scene partners didn't show right away she just had me keep playing.  She encouraged.  I ad-libbed.  She asked for more.  I made stronger physical choices.  I braved an accent and did a halfway decent job.  I got a callback.  I went in again.  It was snowing heavily, the roads were dangerous, and I was forced to take my mom's car which was leaking power steering fluid.  But I made it, blew on my hands, and got to work.  I read a lot more with others this time, but always the same role.  When scenes or monologues would end, I felt like I'd really created; a far cry from expatiating about marketing software solutions or extolling the virtues of a bank I'd never heard of into the cold black eye of a camera.  This was storytelling.  This was acting.
After two hours, the director thanked me for braving the elements and told me she'd be in touch by the end of the night.  I couldn't stop my eyebrows from shooting up.  Subtle, Vasilios.  I played it off as being impressed with how put-together they were.  Or tried to.     I had to confront the reality of making a choice now.  As in NOW.
I drove home.  My red, wet hands burned as they clutched the steering wheel; I'd used them to clean the snow off the car.  The heat blowing through the vents made me sweat uncomfortably but refused to defog my windows.  I squinted, struggled to see the lane markers through the fog and snowfall.  The wheels of my mother's little sedan spun out repeatedly.  A puny, hazy, mobile hell.  And all the while, a nauseating realization… I estimated the role would be an unpaid, twenty-five hour a week commitment (memorization, dialect work, rehearsal, and performances).  What would have to get squeezed out of my schedule?  Writing?  Auditioning?  Working out?  Sleeping?  Eating?  My job?  Once home, I stumbled out of my car a literal hot mess.
I remember pacing around around my kitchen table and drinking a lot of water.  Finally, fearing the sound of my phone ringing would actually stop my heart, I called the director myself.  My voice shook as I took myself out of the running.
"I'm sorry to hear that.  I was going to offer you the lead," she said after a long, heartbreaking pause.  You worm, she probably should have said.  You wasted five hours of my time and a callback audition I designed around you and convinced me you were a great fit for this company only to bail?  What kind of sick pleasure do you get out of that?
"I'm really sorry.  You don't know how bad I feel…."
"Is there anything I can say to change your mind?"
"…can you pay me?"  Interesting how I felt like a horrible person asking that.  Exchange of goods for services?  What are you thinking, Tweedle-Dumber!  We are artists!
"Unfortunately no-one is taking money for this production."
I apologized again, we wished each other luck, and I hung up hating myself.  The rehearsals and performances would be ten minutes' drive from my house.  The role would have stretched my range.  I would have gotten to learn one of my favorite accents.  The call for partial nudity would have pushed me to get into even better shape.  It would have kept me sharp in-between other auditions and gigs.  And I'd said no.
I'd love to tell you that the regret from the decision forced me to put in my notice at my job, label myself a full-time artist, kiss the sky and hope it kissed back.  Didn't happen.  What followed the tough decision to turn down the role was the just-as-tough decision to keep my job.  Turns out I'd made the right call.  At the time of the audition, I had gone nearly a month without booking anything, and when I finally did book something, it took six weeks to get paid.  Too many bills to not have guaranteed income.
I can't reap the artistic benefits of being in that show.  But what I've realized, swimming in the murky waters of the gray area, is that looking at something from all the angles (or manipulating your perspective to force a positive outlook, whatever) is absolutely necessary.  I retreated today so I could continue to fight down the road.  Sometimes, there's only one acceptable response for "Can you pay me?", and it comes not from the arts.  You have to forgive yourself for being an adult, and promise that naked sign-bearing hobo that you'll be back to drink his Kool-Aid in a bit.