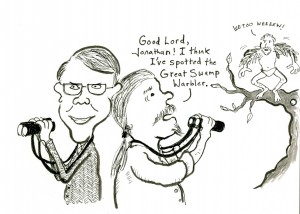 I sent Jonathan Franzen the link to my last post, and he sent along a nice note, saying my piece had been "even-handed," and he made only a couple small digs at me for taking thorough notes on our birding excursion.  He claimed to have never read the vicious Times reviews before—hard to believe but perhaps he was warned– which made me the bearer of ugly news.  One other afterthought on the piece: a few people said it read like a defense of
Franzen, and I suppose it is, but I should add that one of my favorite essays in the last decade (and one that I would include were it my job to anthologize our best recent essays) was a frontal assault on Franzen by Ben Marcus in Harper's called "Why Experimental Fiction Threatens to Destroy Publishing, Jonathan Franzen, and Life as We Know It." Even when I didn't agree with the content of the essay, which was often enough, I loved the feel of it, the military build-up, the energetic argument, the thrill of attack.
* * *
A few more bird-people notes.
* This past Sunday I reviewed Sy Montgomergy's Birdology in the Washington Post. The word length was somewhat restrictive, and I'm not sure if I got my general feeling about the book across.  The feeling was this: I learned a lot, felt the author could write well, and that she was an amiable and occasionally inspiring guide.  What I felt was missing was any crazy Thoreauvian excitement, any sense that what I was reading could be "put to use" in my own life.   (I will tackle this idea in my next blog, "Against a Literature of Fact.")  This thorny sort of writing is exactly the sort that gets weeded out by New York as interesting, idiosyncratic writers are suppressed.  And it was what I missed in this otherwise admirable and enjoyable book.
* Before I end, I want to mention a few people who roam the ecotone of birds and literature.   The first is Nick Neely, who has done some great blogging for the High Country News, and who edited (edits?) the [LBJ Journal,] which features writing about birds.  The second is John Hay, the great nature writer, who is in his nineties and lives in Maine now, and whose book about terns, The Bird of Light, should be required reading for anyone who aspires to make lit out of feathers.
Two other writers I need to mention are Katie Fallon and Chris Cokinos.  Katie recently finished a beautiful book on cerulean warblers, and Chris, known to bird people for his great book, Hope is the Thing with Feathers,  just edited the last issue of his journal Isotope(shed a tear.).  Chris also has a -piece in the new anthology, Flights of the Imagination: Extraordinary Writing About Birds (where, by way of true confession, I must admit to having a piece on pelicans called "Learning to Surf.")
Hate to end a self-promotional note, so let me say this: yesterday I saw some great (not "great swamp") tanagers down at Carolina Beach State Park.  Crazy orange-red.  Like shards of flame flying through the live oaks.
P.S. I almost forget to mention Alan Poole.  He can't be neglected, particularly during osprey breeding season!   As a biologist, Alan's dark secret is that he was once an English major.   This might be professionally embarrassing, but it sure came in handy when he crafted the lucid sentences in [Ospreys: An Unnatural History,] a book that has become a classic of the genre and one that I leaned on heavily when writing my own osprey book.