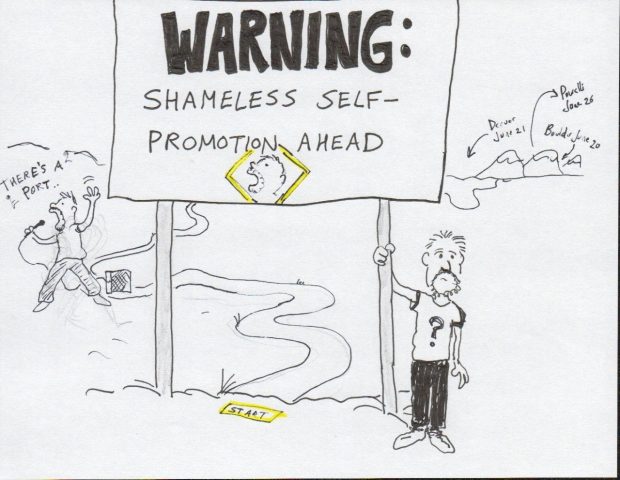 I spend a lot of time alone.  Writing. Walking in the Woods. Brooding. The usual writerly stuff. It's part of my job.
But there's another part of the job. The part that involves waving my arms and yelling "Look at me!" The part that, unless you are Franzen or Diaz, you better do if you hope to sell more than six books. The part that many writers, myself included, find onerous at times.
Of course I understand that I am better suited to this aspect of the work than many of my flock. I have always been part Carnival Barker. That is, I've always liked to talk in public and sing at parties and while I sometimes feel acutely embarrassed the next day, others, including my wife, seem to think I am lacking a crucial embarrassment gene. I have heard the word "shameless" more than once. When I do, I counterbalance it with another word: fun. Why do we writers have to be such profound and dire drips? Why do we have to act like we hate the spotlight we crave?
These thoughts are bubbling up now for a simple reason. I've got a book coming out in June. For the last few months I have been relatively quiet, by my standards, not doing a lot of posting, publishing or public speaking. Part of that has to do with the fact that I became Chair of our creative writing department last summer (something I've also been pretty quiet about) and there is a lot of non-writing work to get done. Part of it is that I am gathering my internal forces for what is to come: a very external time of speaking, promoting and arm waving. During my last book tour I briefly re-defined myself to keep sane. I was still writing in the early morning but I stopped calling myself a writer and re-christened myself an "Impresario."
And an Impresario I will soon be again. I need to warm up my vocal chords for singing Brandy and spewing about Ultimate. I'm not quite ready yet. But I know it's coming….
See below for rough draft of tour schedule….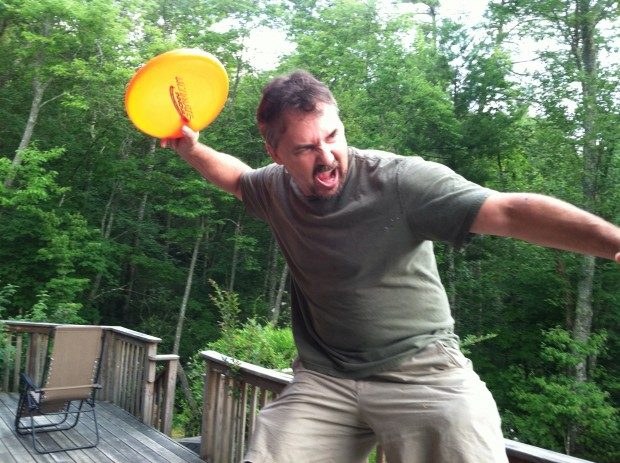 Events
TUESDAY JUNE 6, 2017
WRIGHTSVILLE BEACH BREWERY 6201 OLEANDER-
EVENTS ROOM
7:00 PM Event HOSTED BY POMEGRANATE BOOKSWEDNESDAY, JUNE 7 – DURHAM
THE REGULATOR BOOKSHOP
7:00 PM Event 720 Ninth Street, Durham, NC 27705SUNDAY, JUNE 11 – ALBUQUERQUE
BOOKWORKS ALBUQUERQUE
3:00 PM Event 4022 Rio Grande Blvd NW, Albuquerque, NM 87107MONDAY, JUNE 12 – TELLURIDE
BETWEEN THE COVERS
6:30 PM Event 224 W Colorado Ave, Telluride, CO 81435• They would like to organize an outdoor Frisbee mini-match or demo or interactive target throws in the pocket park near them. The reading itself will likely not be in their shop.
• They are thinking that the interactive part would start at 6:30pm and the reading will start at 7:30pm.
THURSDAY, JUNE 15 – EDWARDS
BOOKWORM OF EDWARDS
6:00 PM Event 295 Main St, Edwards, CO 81632
TUESDAY, JUNE 20 – BOULDER
BOULDER BOOKSTORE
7:30 PM Event Pearl Street Mall, 1107 Pearl St, Boulder, CO 80302
WEDNESDAY, JUNE 21 – DENVER
TATTERED COVER BOOKS
7:00 PM Event 2526 E Colfax Ave, Denver, CO 80206
Contact: Daniel George (303.322.1965 x1737)
• This will be a reading and/​or discussion with a Q&A and book signing.
THURSDAY, JUNE 22 – FORT COLLINS
OLD FIREHOUSE BOOKS
6:00 PM Event 232 Walnut St, Fort Collins, CO 80524
MONDAY, JUNE 26 – PORTLAND
7:15 PM Arrival POWELL'S BOOKS ON HAWTHORNE
7:30 PM Event 3723 SE Hawthorne Blvd, Portland, OR 97214
THURSDAY, JUNE 29 – SEATTLE
6:45 PM Arrival ELLIOTT BAY BOOK COMPANY
7:00 PM Event 1521 10th Ave, Seattle, WA 98122