Nov 28
Guest contributor:
Kristen Keckler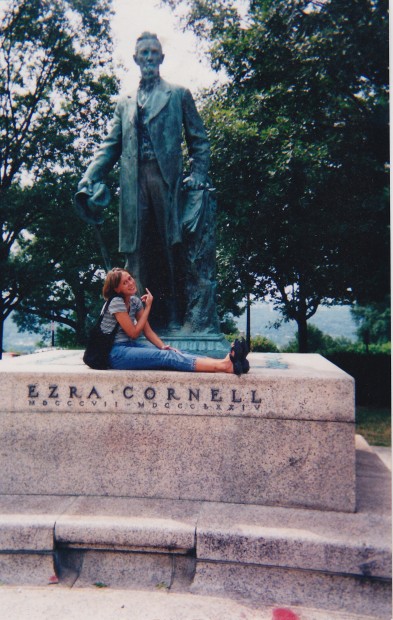 I am most definitely a "nostalgiac." I find myself looking back, quite fondly, on those days as a twenty-something when I changed jobs like I did outfits before a night out of barhopping. Okay, yes, it was years, an epoch my mother referred to (then and now) as "Floundering Up in Ithaca" her lips pursed in distaste, as if she'd just gotten a whiff of ripe flatfish.
It was the 90s. I had my college degree in hand and was in no hurry to commit myself to anything that would interfere with my newfound bohemian freedom, especially more school or a job that required business attire and heels. Cornell University had quenched—saturated—my thirst for knowledge, and my brain needed a siesta. My ego too. I wanted to just live, just exist, man, you know, get a little job, pay my bills, have enough left over for a couple beers, CDs, thrift store cardigans, and a pot full of lentils.
At Cornell, I'd taken as many creative writing classes as I could without actually being an English major—not that there was anything wrong with being an English major except that it cost about twice as much as "communications" (read journalism) major, which was in the Ag School, half-priced tuition for New York State residents, which made Cornell "the deal of the century," also something my mother, a serious stalker of sales, liked to say.
I loved the creative writing courses, but didn't think of myself as a writer, was only starting to think of myself of an apprentice, figured maybe one day I could think of myself as a writer, once I'd written more, and secretly dreamed of the day my spiral notebooks filled with self affirmations, recipes, to-do lists, break-up poems, vignettes, and daily nonsense would all add up to something.
But first things first, I needed to pay the aforementioned rent. Having snagged myself a "townie" boyfriend and a bunch of townie friends from my senior year barista gig downtown, I decided it would be fun to stay in Ithaca, to live in a college town without actually having to go to class. In 1997, my half of the rent on the basement one-bedroom I shared with my boyfriend was $225 a month.
After tooling around cross-country with my boyfriend for four months, living out of my car, hiking National Parks from Badlands to Zion, and landing back in Ithaca, I got hired at the first job I applied, as a hostess at an Italian restaurant frequented by college kids and their parents, their claim to fame bottomless salads and greasy, garlic-powder encrusted breadsticks. Hostess! How hard could that be? I could be charming, hand out menus, wiggle my hips along the catwalk from podium to table. Halfway through my first shift, though, I realized that in this restaurant's vernacular, "hostess" translated as "busgirl"—cleaning the slop off tables at record speeds while a manager hovered nearby with a stopwatch. WTF? I mean, I was sort of desperate, but still retained a few ounces of Ivy League chutzpah. I didn't survive the suicide campus of the world for this shit.
Within about, oh, four days I'd walked out, and through a connection with my vegan Australian nanny friend, sweet-talked my way into a job cooking and prepping at a vegetarian café: picture a meatless, small-town Seinfeld diner with a staff of dreadlocked jam-band enthusiasts. I had some sandwich skills (mostly nuked chicken breasts on croissants) at my barista job, and in my cappuccinos, produce froth with meringue-quality stiffness, and but I had no actual cooking experience. In fact, I was a newbie vegetarian and had been cooking for about a year, four months of that over fire pits in campgrounds. But in that year, I'd cooked passionately and obsessively and constantly, practically memorizing the Moosewood cookbook with its cute hand-sketched vegetables and thorough explanations of legumes.
Turns out I was pretty good at kitchen work. The café didn't have a particularly difficult menu, mostly burritos and sandwiches and salads, but we made almost everything from scratch: dressings and soups and even burgers crafted from pressed tofu. I rotated through the hot side and cold side, short order and prep shifts, following the stained hand-written recipe cards and sailing over the steep learning curve, a sort of serrated roller coaster, mostly unscathed—a few minor burns and nicks
But the boss was one of those unpredictable moody musician types, and drunk one night, he left me a stinging misogynistic note on a guest check (I was developing a bit of a cook's temperament, for sure, but still, the note was inexcusable. Of course I'd wind up dating him, eventually, much much later.). Plus the work was physically taking its toll on my body: my arms stung from wrist to elbow; my back ached; my clothes, skin, hair, were always infused with peanut oil. I'd get home at 2 am and need ten to twelve hours to sleep it off.
Somehow, luckily, I had a couple of moonlighting gigs going: one was working for this cantankerous, crusty old bookstore owner who was a regular at my boyfriend's restaurant. He ran a used bookstore in collegetown and did mail order out of his "house," which was another bookstore really, a desk with a computer, a small kitchenette, and a bed wedged between huge, industrial stacks of dusty volumes. Basically, my job was to clean records—hundreds, many valuable classic jazz. I dabbed a little cleaning goo and then ran each through a special record-cleaning machine. Sometimes he'd make me French press coffee and chat, and other times he would just watch me from his bed—creepy.
By now, the psychiatric group home sounded like a not half-bad idea—I had a friend who worked for the agency, and there were all kinds of perks like sick days and a union and health insurance. I'd gotten a C+ in the only psychology course I took but the job was more about direct-care, helping people get to appointments, manage their medications, do laundry, cook. Since I had a clean driver's license and no criminal record, I was hired as a Floater—a sub that filled in where needed—and after a few months, I slipped into a full-time opening at a program house out in the country, where the residents were all over 55. Helen, a sixty-five-year-old retired nurse with Bipolar disorder, and I would sit on the porch, smoking, and I'd listen to her recount her life story, spiraling arcs of betrayal, illness, and heartbreak. She had a contagious hyena laugh and wore a Rue McClanahan style wig because decades of lithium had made her go bald. Helen nicknamed me was "Mother" because I was young enough to be her granddaughter. "Oh Mother," she'd say dramatically, wig askew, "won't you please do something about the vacuum cleaner?" (When she was manic, she'd obsessively vacuum, which in turn, led it to get clogged.) Two months in, though, the agency started to downsize, and the program house got re-classified as an "apartment," which meant it could get away with much less staffing, and I went from working with at least two seasoned veterans per shift to working by myself. The natives got restless, and so I ran. I resigned and resumed floating, covering a lot of my old hours until another position came open at my favorite around-the-clock staffed house downtown.
I loved it—for the first two years. I still love those folks I worked with and served. My specialty wasn't exactly crisis management, but I was a professional worrier, and did my best to ensure that no one got hurt. I was a paperwork dynamo—and we had to fill out forms, it seemed, every time we did so much as change a light bulb—and I did my own paperwork and often that of my slacker coworkers just because. I was in charge of menus and house outings. Salvation Army trips for half-price night. Drives around the Fingerlakes on weekends, stops at whatever apple or strawberry festival or antique car show happened to be going on. Pumpkin picking in October. The Christmas tree farm in December. I even took my residents the Jersey shore and to Niagara Falls. But in the meantime, during my years in Ithaca, I'd accumulated a large social network of foodie friends, and I was getting antsy, wanted to cook again.
I resigned the group home to take a job making seitan (wheat meat) for a feisty Cuban lesbian who did my astrological chart on my first day. Through her, I got a catering gig on the side and cooked lunches for a massage school, which was lucky for me. I'd never had a formal massage before, and here were all these dexterous students who needed guinea pigs to get their certificates. So after spending the day mixing, molding, and steaming, sticky gluten into something that resembled ten pound pepperoni logs, and slicing it to package as sandwich "unmeat" to be distributed across the Northeast, I could spend my evenings face down on a table, the aches and pains being kneaded out of me for free.
Then came the thief in the night: I developed carpel tunnel syndrome in both hands—imagine an electrical fire in your nerves, burning pain from fingertips to elbow. I could sleep two or so hours at a stretch before being woken by the pain. My hands so stiff in the mornings I couldn't open a can of cat food. I drove to work with my thumbs.
Back to the group home—my very cool boss, a lady who collected fossils and looked like a sort of hippified Sigourney Weaver, had somehow had the 6th sense I'd be back and hadn't hired anyone to replace me. (In fact, while I was making seitan I'd been filling my old group home shifts as a floater.) Another year, another agency take-over, this time a big one as the agency had been overpaid by Medicaid by hundreds of thousands of dollars and hadn't caught the mistake. By this point, I had some half-baked plans to go to grad school for a social worker-type degree, or to buy into the vegetarian café I'd worked at previously, but instead I packed a few notebooks and took off to Australia and Asia. Then debt, then bartending, and let's see, a juice bar whose smoothies and juices were named after neighborhoods in Jamaica—by now I'm in Denton, Texas (long story). Then a stint as a legal assistant. Also a Notary Public, which is a cool thing to say you've been—I loved my little stamp. I talked on the phone to incarcerated people, desperate people, divorcing people, delusional wanting-to-sue-school-district people. I printed motions for continuance for nice-but-in-the-wrong-place-at-the-wrong-time people, domestic abusers, hapless check bouncers, friendly tokers, and watched hundreds of DWI videos—those cop cars are equipped with cameras, folks, and it's not a good idea to call an officer of the law a prick. The firm represented a co-defendant in one of the most brutal murder cases the county had ever seen, something out of a sick teenage horror flick, a case that still haunts my dreams. And in the meantime, I went back to grad school for creative writing, started teaching, and since then, have pretty much stuck with the writing-and-teaching thing, some editing thrown in there for good measure.
I'm happy, not complaining, but every once in a while find myself scanning the local Pennysaver for garage sales or a pet to adopt and I find myself fantasizing. I love the shows American Pickers and Storage Wars—I'm a Craigslist and tag sale junkie—and often look at the empty storefronts in my neighborhood, thinking: what if I opened a thrift store, maybe one that sold coffee too, and soup, and maybe quiche? Maybe I could be a "flight counselor"—a specialty therapist for people who have a fear of flying? Maybe I could be a foot model (ok, twenty years ago—I have high arches.) Or design systems for organizing home kitchens? Because writing—at least for me—springs from doing something totally unrelated to writing. And something about a job offers a way in, an inside look, a new identity, an opportunity to be a totally new character. You push yourself to do something you'd never thought you could or would do, plus there's a sense of repetition and completion—and afterwards, something to bitch about.
So my bad advice is to treat your life as if you were a twenty-something in the late '90s. Grow some fins and flounder. Quit your job, get another, quit that one, and tell us about it.  That's what I'm fixing to do, once I finish grading this stack of essays.