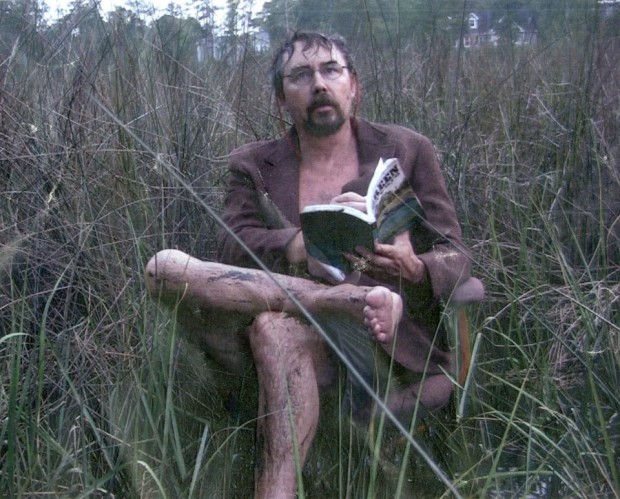 I've grown pretty weary of teaching workshops in recent years. There's a rhythm to them, a sameness, that has started to wear on me. On the other hand, I have a job, and when I was assigned to teach a grad workshop I couldn't really say: "I've grown weary of teaching workshops in recent years."
So I've tried to un-workshop it a little. Below is my rough syllabus, an attempt to come up with a new model, or at least a brief break from the old. I'd like to know if other teachers and students are trying to mess with the old model. I think some messing is long overdue…..
Workshop in Creative Nonfiction
Overview:
 This workshop is going to be a bit of a strange beast, really only half workshop, half something else. You will only have one traditional workshop each and therefore only one complete piece required. All of these traditional workshops will occur after the break in the first week in March. The rest of the writing you do will be a series of assignments in different forms during the first half of the class. These will be work-shopped in small groups in the classroom, groups run on more of an editorial model.
This is an experimental class, but it is an experiment with a purpose. For a long time now I have come to believe that the traditional workshop is a pretty limited thing, and that it doesn't focus enough on really teaching new possibilities, new modes, new types of writing.
 Forms, Shapes, Modes:
             When you write a letter of condolence, a Facebook post, an editorial, or a journal entry, you are writing in a form.  You are also doing this any time you are writing an essay or section of memoir, not just as a whole but within the piece, operating in different modes: scene, condensed scenes, explication, thought/idea sections, lyric descriptions, etc… My goal with this class is to challenge you to become aware of your own prevalent modes, and to perhaps prod you toward not just more awareness but more variety. We will do this through specific assignments, through our reading, and through one-on-one conferences.  
 Jan 15-Feb 19: First half of class:
             You need to complete the short assignments. And you need to do the reading. Neither will be onerous, but the class doesn't work if you don't.   
            We will discuss the pieces in groups of four within the class.
            For each piece reviewed by each group of four there will be an editor, a heavy, and a civilian.
            The editor's job: to get the piece ready for publication, to come in as a professional and suggest changes, deletions, thoughts.
            The heavy's job: be critical.  Don't be scared about being mean. Everyone knows it's your job.
            The civilian's job: regular bland workshop participant.
            The roles will shift with each piece.
            And the foursomes will vary (though if someone is being a particular help to you let me know).
            These pieces need to be e-mailed to your small group on Sunday by 6.
 Books:
 Required:
Pulphead by John Sullivan
Wild by Cheryl Strayed
Temple Stream by Bill Roorbach (who is this guy?)
Suggested (on form and genre):
Samuel Johnson and the Art of Writing by Paul Fussell
 Schedule:
 1. January 15:  Class introduction.  I go on and on.
Description of Coda or Open Space
In class reading of Feet in Smoke
Journalism and personal linked in "Upon This Rock"
January 22: 
Reading to have been done by today: Read my two versions of "The Wired Woods." 
John Sullivan's "Upon This Rock"
Writing due today: 
*E-mail your example of a Coda or Open Space to your mini-class. In this piece you will have taken some of your own long material and condensed it to fit the space. 1000 words max. 
*Have rough notes ready for a piece based on "Upon This Rock."  Talk about this in your mini-group.  Give yourself an assignment.  Where would you go?  What would you throw yourself into? How would you weave your personal material with your journalistic?
Discussion:
Simple and complex:
Action and thought.
*This I Believe.
Thinking on the page.
*Scenes:
Tobias Wolfe and scenes in Sullivan.
Discuss "Upon This Rock"
Play by play and condensed.
What happened and what happened squashed together.
Drunk stories, family stories.
3. January 29:
Reading to have been done by today: John Sullivan's "Mr. Lytle,"  "Michael" and "LA*HWI*NE*SKI."
Writing due today: 
*Your "This I Believe" Piece for mini-workshop
* The same scene extended (play by play) and condensed.
Discussion:
Profiles and biographies.
Other human beings.
Making a profile dramatic.
Profile and place: first four pages of The Meadow in class.
4. February 5:
Reading to have been done by today: Jo Ann Beard's "The Fourth State of Matter," John McPhee's "The Search for Marvin Gardens," and Reg Saner's "Technically Sweet."
Writing due today: 
*Your profile piece for mini-workshop
* The same scene extended (play by play) and condensed.
Discussion:
Braiding essays.
Juggling—two balls or three
Van Gogh, Herring and Me
5. February 12 (Lincoln's Birthday):
Reading to have been done by today:
Begin Wild by Cheryl Strayed through page 176.
Writing due today:
Rough draft of three pages of braiding
Rough thoughts on longer braided essay
Discussion:
Wild
Elements to braid.
Place and the personal.
Journalism as an element
 6. February 19:
Reading to have been done by today: Finish Wild by Cheryl Strayed
Writing due today:
Six pages of your choice (Something you have written since the class began)
Discussion:
Wild by Cheyrl Stayed
Where are we?  Surveying the wreckage.
What are you excited about?
 7. February 26: No class.  Research Mission.  Here's what I am doing. What are you doing?
A three day assignment. Just as important as sitting down at the desk. Reporting.
 Half Time: 
 March 5: No class.  Vacation.  Go to AWP!  (Boston is good.)