Recently writer and professor Shawna Kenney invited me to take part in an online class at the UCLA Extension Writers Program, visiting virtually by way of Blackboard.  Students asked questions, I did my best to answer, and discussion ensued.  I got permission from a number of students to use their questions, and I got permission from myself to use my answers.   First up is T. Locke.
Q.  Hello Bill,
Thank you for sharing your time and thoughts with our class. It has been such a pleasure to get to know you through your book! It's a treat to have you in here in person, so to speak. Here are my questions.
About Process:  I am working on book length memoir. Making myself into a compelling protagonist, mapping out a character arc, choosing events that resonate with the reader and advance the narrative is work unlike any I have ever done before. Who has for that matter?  Except for maybe serial memoirists. 🙂  So, anyway, there's the Me that lived the events of my life and there's the Me that sifts through my life to write myself into a character Me who is well drawn. Memoirists were a lot of hats. Confession. Sometimes I just have to walk away from myself. I need a break from Me! What are some exercises to "shake it off" so to speak and come back to your story fresh?
About Publishing:  I know some first time writers sell their memoirs in proposal form and then work closely with an editor to write and shape that proposal into the published book. Others prefer to write out their first draft  for themeselves first before including anyone else in the process. They want to have chance at seeing the story that wants to be lived from within themselves. Later it can be rearranged and re-conceived with the help of editor on the road to being published. What are your thoughts on the matter, especially for a first time writer?
Thank you for your response,  T. Locke
A.  My name is Bill, and I am a serial memorist!  A great question.  Probably the best way to shake it off is to wait till it's really on.  As when you've gotten to the end of a chapter, or section, or manuscript.  The last is best–write that first draft fast and furious and without a thought for how good it is.  And then–here's the exercise–put it away for a couple of months.  Work on something else.  Fiction, maybe, so the stakes are very different.  Or poetry.  Or book reviews, or all of the above.  Or learn some new chords on the guitar.  When you come back to your draft, you'll be a very different person that she who wrote it.  Bang.  My favorite time in writing–coming back for revision.
I'd say very, very few first-time writers sell a memoir in proposal, something close to zero.  These days, most booklength memoirs are sold on complete manuscripts, and then the editor goes to work (and editors do still edit, despite the mythology).  But if you do sell a memoir on proposal, I'd suggest asking your editor to hang on for a complete manuscript.  If you have a good editor, the revision is a great process of back and forth.  Often, what they have to say will echo what your friends have to say, and be sure that your friends (writers and readers) have read your draft before any editor sees it.  Often, too, an editor will be wrong.  The way to discuss that is through writing a new draft.  Don't get on the phone and complain–just say, let me try your advice.  And do try it.  Only then are you in a position to reject or accept their wisdom.  Every book is a collaboration.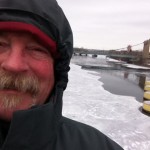 Bill Roorbach walks in the woods every morning and doesn't feel right otherwise.  About twenty minutes in, a mile, he suddenly realizes he's there among the trees, and ventures out of his mind a while, refreshing.