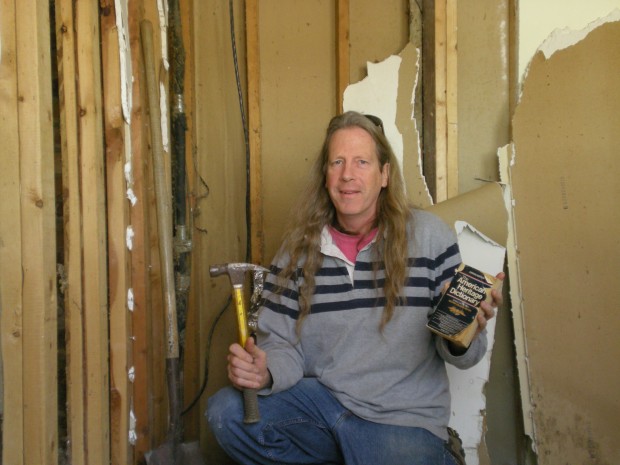 I first knew Tommy Conlon as an Ultimate Frisbee player (see the guy holding the suitcase in the pic in my Ultimate Glory essay), and you may know him as Bill and Dave's most frequent commenter (not to say stalker.) Today he doles out some bad advice…. 
         I'm not a writer, but I write.  Mostly emails and postcards, a lost art.*  An occasional poem.  My work, what I do for a modest living, involves problem-solving.   Sometimes I get tired of solving other people's problems and think I should just go home and solve some of my own.  For free. 
       I work in the home repair industry, and if you knew how unindustriously I work, you'd find that statement either ironic, or laugh out loud funny, depending on your level of intimacy.  All my work comes by word of mouth, which means I don't look for problems, they come to me.  Sometimes prospective clients will ask if I'm licensed, the same as someone might ask you if you're published, and I'm fond of saying, "I'm not a real electrician, but I play one on T.V."  Some people find this oddly comforting and I know we'll get along fine.  On the phone, this line never works.
         One day this week, I had a particularly unproductive, I mean un-industrious day.    Around 5:30, a client I was waiting to meet at a home repair warehouse, cancelled.  Because I have an intimate relationship with this client, I allowed my frustration to show.  It wasn't directed at her, I was in the wrong place at the wrong time,  I was still making bad [work] choices, it was 5:30 and I still hadn't shown up anywhere for work, aside from a one hour icemaker line repair – but the relationship suffered. 
           "Another useless day's energy spent."** 
       It was comforting  – in a misery-loves-company  kind of way –  later, when a friend in another state emailed describing an especially frustrating day of writing:   "Yuck," she started, "wrote all in the wrong direction today! I'm scrapping and will try again tomorrow!"  In my own dour mood, I felt her pain.
      My first reaction: we must have the same birthday***  and there are strange celestial forces at work causing us  both to feel like we're walking through mud flats at low tide in flip flops.  How else could you explain it.
        So foul my mood, dark was the cloud turning on me, how could I cheer a friend in another time zone, without alcohol or grade school humor – techniques that continue to serve me well, all the way into my fifties.
          It got me thinking.  What were the good things that happened to me, in an otherwise lost day?  I was surprised; there were a few:
–          Had a humorous exchange with a neighbor over a shirt, in which he referred to me as a fairy. [Sadly, this was THE highlight]
–          Sold a pair of doors to a person who's started a new business selling beef, buffalo, and elk jerky  –  to gun dealers. 
–          Washed some downspouts to put on my house.  [This may not seem like much, but it has taken me months to get to it!]****
          The day still sucked, but when I looked at it differently, my perspective changed.  I found there were several positive takeaways. 
          Even writing in the wrong direction, can be moving forward.
           Turning back towards my friend, I offered, how do you know your writing went all in the wrong direction?  Maybe your writing is all in the right direction, and you just don't see it.  Here's what I do when I'm in a similar situation.  Walk away.
           Today's Bad Advice Wednesday is: Walk Away!  Or in some cases – run!
         Sometimes at work, I'll get stumped.  I can't see my way around an obstacle.  Often, it's an obstacle I've seen all along, but kept heading towards, hoping it will have worked itself out by the time I get there.  In these instances, when it hasn't, I learn, often for the first time – ignoring the problem won't make it go away.  I am still sometimes surprised by this.
        First thought:  Is anyone looking?  Do I look like an idiot?  Have I made a promise I can't keep?
        Second thought:  Can I talk my way out of it?   
        Third thought:  It must be five o'clock somewhere.
       I don't want to look like an idiot, surely I saw it coming, how are you going to fit an electronic 3 way dimmer switch into a shallow junction box with 4 leads already stuffed into it?  What was I thinking??!
        Well, I wasn't.  Because without a real solution, I would have thought myself into paralysis, a stalemate, unable to move forward.   And sometimes the problem, the obstacle I've been ignoring  but advancing towards, is so bad I  fear I'll have to undo all the work I've done working towards it.  This, undoing/back tracking is a solution of the last resort, and we never want to throw out good work, just because we didn't see the right ending coming.  Never.
      It's time to pack your tools and walk away. How far you walk is up to you and depends on the magnitude of the problem.  Get a cup of coffee, make a sandwich, sweep the kitchen, do the dishes, go to the mailbox, grocery store, dry cleaners.   Walk the dog, walk the neighbor's dog, walk the neighbor, clean the fish tank, clean the gutters, take a bath, update your facebook profile, vacuum, trek for a month in the Himalayas.   Clean up a little before you walk away, don't tell anyone when you'll be back.  
      Don't check email, watch the news, get a tattoo, read a magazine, call your mother, lover, brother, 3rd grade teacher.   Let the problem percolate a little, not enough to keep you awake at night, just enough that you can see it out of the corner of your eye when you're picturing, with an image in your brain, what you were working on.  Enough so you can remember where you were, and still drive and talk on the cell phone without hitting construction workers, while wondering what the hell your character's doing in the laundromat having a memory of his mother folding sheets when he's supposed to be reflecting on his lover's lost innocence, or where the hell is that extra 14-3 wire coming from, can it be moved to another part of the kitchen and why aren't there any headers over any of the windows I need to replace.
        Often, the nugget I need will come while I'm not directly thinking of it.  The inspiration, the creation, comes in the form of a new approach, from a perspective I wasn't looking at.  Kitchen, what kitchen?  I can get at that wire from the laundry room.  Laundromat, so what if he misses his Mama, let him reflect a little, tie it in later with his lover's favorite fruity drink at a restaurant near her work, or let him realize he doesn't have enough change for the large size dryers, life's a bitch.
        The point is, if this writing really did go all in the horribly wrong direction, don't scrap it and start over.  Go back and look at it a little differently.    Go back in to the beginning, or the near-middle, and see if you can massage it a little – get it to go a little more in the direction you want it to go, and at the same time, see if you can get yourself to go a little more in the direction it wants to go, and see if you don't actually have something you didn't see, something worth saving, something worth building on.  Like a marriage.  Partner up with what you wrote, don't try to be the master of it. You may be more brilliant than you think.  Sometimes, all it takes is a nudge. 
                                *                             *                             *                             *                             *
*  Just as "video killed the radio star" (The Buggles, 1979) –  email killed the postcard. 
**  "Knights in White Satin" – The Moody Blues,  1967
***  We don't.  Very few people you know do.
****  Still haven't put them up.