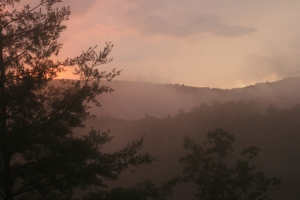 So today's bad advice is really bad advice:
            Come spend some time in the mountains writing and drinking with Bill and Dave.          
            (Quick disclaimer: the following may sound like an advertisement but I'm hoping you'll see it as more invitation than ad.)
            The invitation is to spend a week with us, with Bill and Dave, in the mountains of Western North Carolina.  We have recently been invited to co-teach a master class from June 17th to June 23rd at Doe Branch Ink, a mountain retreat 30 miles north of Asheville in the Blue Ridge Mountains.  I taught there last year and it was great.  Great food, great people, great hikes, great (brutal) bikes rides up nearby mountains, great talk about writing, great spaces to write in woods (and at desks).  These sorts of weeks are usually about building a small community, something we have tried to do in a virtual way at this site, and often it is the time away from class that proves most valuable.  And there are other benefits too.  For instance you'll be able to see Bill try to out-prance the local clog dancers.
            Don't let the fact that we call it a "master class" scare you too much either. The idea is to get a bunch of people together who really care about writing and are committed to the writing life.  Here is the copy that Bill wrote for the Doe Branch website: 
David Gessner returns to Doe Branch Ink, teaming up with his longtime friend and collaborator Bill Roorbach to offer a master class in prose—nonfiction and fiction—inspired by our beautiful setting.  They'll give talks, lead walks, offer exercises and readings to help each participant develop fresh ideas and make new starts to carry forward into the months and years to come.  You'll explore the spectacular surroundings, but also consider your craft, find your own unique voice.  Where do book ideas come from, and how are they developed?  What are the ten skills every writer must hone?  How do we best use nature as both foreground and background in our paragraphs and pages, our essays and stories and books?  We'll leave plenty of time for writing, and take time in both large and small groups to hear and discuss your new ideas and work-in-progress, and to nurture the images and metaphors that can only arrive in a place like this.  And of course we'll meet at cocktail hour for wide-ranging talk and humor, and, above all, warm and lasting fellowship. 
 This is an outstanding opportunity to spend a week immersed in both the writing life and the natural world.
              I think that's a pretty fair description (good job, Bill).  To that I'll only add a page from my journal on June 8th of last year when I was at Doe Branch:
A Day in the Life
June 8, 2011
 1. Got up late (7) and hiked down to the creek.
 2. Sat on bench at overlook and scribbled down ideas for novel and young adult adventure book.  Drank coffee.
 3. Took a morning dip at the "swimming indentation" (not quite big enough to call a hole).
 4. Girls got up late.  9-ish (Hadley world record.)
 5. Taught writing class with Nina and students Jim and Carol.  Quite satisfying week in this regard.  Both talented and keenly interested.
 6. Went white water rafting on French Broad (?) with Logan (son of Doe Branch Ink prez) and Hadley (8) in boat.
 7. Jumped off Jump Hill and swam with Hadley.
 8. Big thunderstorm.
 9. Went to hear blue grass at Zuma's in town.
 10. Hadley becomes local clog-dancing champion.  Local champ bitter at first but then magnanimous, joining her for final dance.
 11. Power went out from storm.
 12. Stayed up late drinking beer in front of cabin with Logan and Nick.
 13. Down at creek to dip and write this morning.