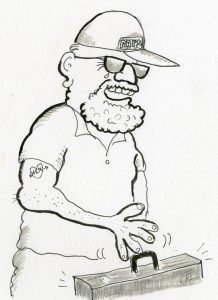 There is almost nothing more frightening for a writer than the idea of losing one's work. This used to mean losing one's work physically when, say, your house burned down.  (I actually remember reading, and following, the advice of another writer who suggested placing final drafts wrapped in plastic in the freezer, where they might survive a fire.)  Of course the world has changed and now the anxiety is focused more on forgetting to hit SAVE or having your computer crash. Here at Bill and Dave's its been an anxious few days as we try to recover lost posts, but we consider ourselves lucky not to have lost the entire content as both of us do our final revisions on line.
But that's not the kind of loss I want to talk about today. While there is nothing more frightening than losing your work, for the development of a writer it is not always a bad thing.  The most famous story in this regard was that of Hemingway and his wife Hadley.  As the tale goes, Hadley was on a train to Spain and lost the suitcase containing many of Hemingway's earliest short stories.  And as the tale goes, narrated of course by Hemmingway himself, our macho hero greeted this news with stoicism.  (Why is it that I imagine there might have been a temper tantrum or two?)  Of course he was devastated, but later he could look back and see this tragedy as less of one, as in fact an opportunity to grow beyond his apprentice work.
"Lose the suitcase!" I exhort my students, trying to get them to shed their earliest writing skins.  It is scary advice, but it is important ability to have, an ability that allows us to finally get rid of apprentice work and trust the writers we have become. But it's hard: you have written something, you think it's good, you never grow beyond it.  The problem here is that the secret of writing—if there is a secret (there isn't)—lies in the growing part.  Of course it's human nature to cling to the suitcase, to want to "use" your old work if it hasn't been published (and sometimes if it has) and to never want to lose it.  And there are many reasons to cling to the old, indolence and fear being two.  It is scary out there in the new; safe back here in the old.  Most of us hold onto our suitcase, work that is both finished and acceptable to us, for dear life.
But.  Still.  Lose the suitcase!  Say you are writing a novel and you have gotten to the part where Mrs. Edwards throws the dinner plate at Mr. Edwards and you are oh so happy because five years ago you wrote a short story based on the same incident, which means you've got it and now you can rest and be confident for a while instead of living in the insecure (but thrilling) world of the first draft and insteaad of doing the daily impossible, uncertain work of making something out of nothing.  But, lo and behold, it turns out you are a slightly different, maybe even better, writer than you were then, and the story made use of the event a little differently than the novel, and the story, after all, was a story, with a story's shape, not a novel's. So you suck it up and do the hard thing and make it new. You know your book, if not your mood, will be better served by writing the whole scene anew, and adding all the subtle differences that occur to you in the frenzy of creation, instead of leaning on, and clinging to, the old work.
Before I get carried away, let me be clear about one thing.  I'm not saying you have to always lose the suitcase.  I'm not a rigid anti-suitcase-ist, and there have been plenty of times I've jammed the dinner-plate-throwing scene in and it's worked just fine.  And I will admit that while we tell young writers to let go, there may be no more important tool of the trade than that of hanging on.  Without it books wouldn't get written. And yet….we writers too often err on the side of the suitcase and too infrequently embrace the scary world of letting go.  It's natural to want to hold on.  But there is something to be gained by a new draft, new writing, where all of your faculties, including, most importantly, your imagination, are fully engaged.  That is when the unexpected starts popping up on the page.
I think Bill is going to tell a story about Fitzgerald in the comments below.  But one of my favorite suitcase-losing stories comes from the great essayist Brian Doyle and I'll now mangle that story off the top of my head.  Robert Louis Stevenson  had written the story of Dr. Jekyll and Mr. Hyde in a mad rush, the way it seems he did everything, cranking the whole thing out in three days after having a dream about a Hyde-like character.  When he had finished he came down and read it out loud in front of the fire to his wife and step-son Lloyd.
I'll let Brian Doyle take it from here:
"Lloyd listened, "spellbound, and waiting for my mother's burst of enthusiasm," but it did not come: "Her praise was constrained, the words seemed to come with difficulty; and then all at once she broke out with criticism. He had missed the point, she said; had missed the allegory; had made it merely a story – a magnificent bit of sensationalism – when it should have been a masterpiece."
Stevenson was livid, enraged, "his voice bitter and challenging in a fury of resentment," said Lloyd, 17 years old at the time and frightened to see the stepfather he dearly loved "impassioned and outraged." Lloyd fled, Stevenson stomped back upstairs, and Fanny stayed by the fire, "pale and desolate."
Then Stevenson returned. "You're right," he said quietly to Fanny. "I've missed the allegory, which is, after all, the whole point of it." He threw the manuscript in the fire. Fanny and Lloyd shouted and reached for it but Stevenson stayed their hands: "In trying to save some of it, I should have got hopelessly off the track. The only way was to put temptation beyond my reach."
He wrote it again, in three days, and then off it went to be published…."
* *
So throw it in the fire.  Lose the suitcase.  The thing about our early work, our apprentice work, is that we think that if we don't use it, it isn't good for anything.  But it is good for something.  It's good for getting us to the point where we can throw it away.