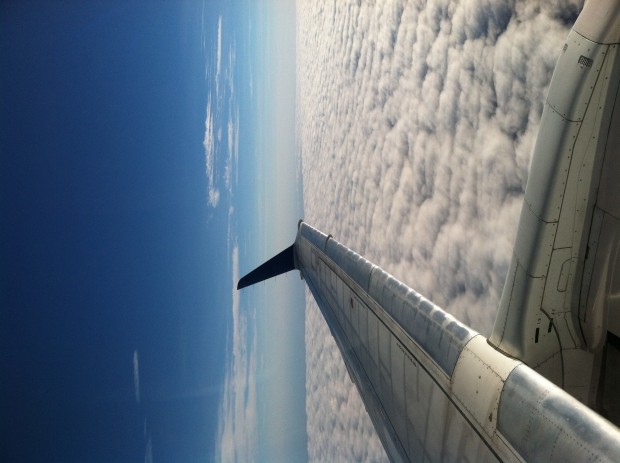 Last book tour I found myself getting depressed at times, a dark feeling overcoming me.  I've talked with a number of friends including Dave who have felt the same: you're alone out there, and the great events (big turnouts, smart media, a feeling of partnership with your hosts) don't always balance out the inevitable bad ones (Oh! We forgot you were coming!).  But also, may I repeat: you're alone.  Alcohol, as always, is helpful and harmful in equal measure.  Food, the same.  Even a great meal and martini alone for the fifth night in a row is no boon.  But neither is an ascetic sandwich and early to bed.  Up at dawn! To the airport!  To the next city! Find the hotel! Grab a shower, and with luck a nap!  Find the bookstore or college or library! And then: it's show time!  And repeat.
So this time I consciously went about doing it differently.  I made dates with friends as before, in whatever city I had old friends, but made dates as well with acquaintances and distant (and not-so-distant) relatives, and with friends I'd lost touch with until the advent of Facebook, and even Facebook Friends, people I'd never met but seemed from this post and that to be sympatico.
First a week of gigs around Maine, so I could get home.
Then, the surprise of being picked as a finalist for the Kirkus Fiction Prize, 2014.  So to Austin amid friends old and new. Then, as planned, to Minneapolis.  A great, late-night meal at Nye's in Minneapolis with my fellow Algonquin author and Mainer Brock Clarke.  Then back to Austin on the original plan, A whirlwind with writer friends, former students, new acquaintances (the Texas Book Festival was in progress).  Then to Miami, where upon arrival, and rather than holing up in the hotel, Brock Clarke and Lin Enger and I (the three of us comprising the Algonquin "Whisky Tour," a blast) got in my rental car and drove over to South Beach, where I dove into the waves in my underwear.  Then back to Books and Books Coral Gables for our gig–but not before a drink and a snack together.  And after, we took the store owner and founder, the famed and fabulous Mitch Kaplan out for more eats.
The next day I crashed.  But I crashed on the beach.  Then I drove up to West Palm Beach to say hi at the nice bookstore there, and dinner with my old guitar friend Jon Zeeman.  Hotel, dawn, airplane: Wichita!
Where I had a great time with friends I'd made at Watermark Books on my last trip, dinner after with my cousin Lindy and her husband, dancer and actor/director respectively, and most to the point: great company.Denver, San Francisco, Corte Madera, Danville, Portland, Bellevue, Seattle, home.  Buffalo, Portsmouth, Augusta, home.  My daughter flew with me to Atlanta, where I spoke at Georgia Center for the Book, then I left her there at my brother's house and headed up to Washington DC, then back to Atlanta for Thanksgiving.At every stop friends new and old, family, too, people from every era of my life. And that's the secret, folks: people. Save the exhaustion for home!
And wash your hands!
No more than two drinks per day!
Unless you want more!
And a day off once in a while, from everything.