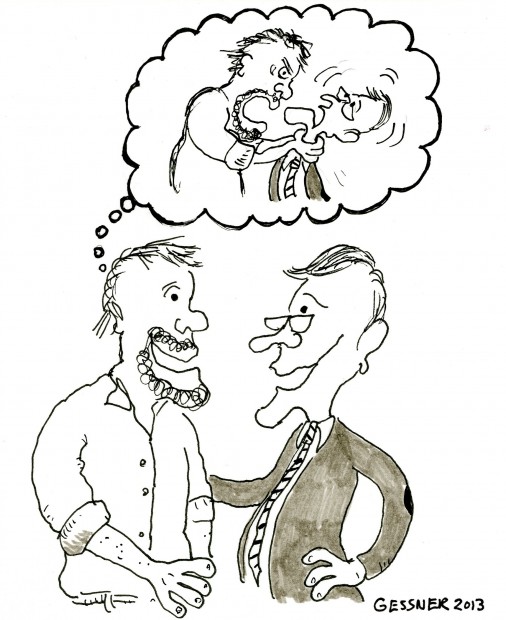 A while ago a former student of mine had a book accepted for publication. This was great news of course, the best. Happy times followed. Happy moments at least.
Then the student got the edited version back from his editor. He called me, he wrote me, he cried. He didn't know what to make of all the marked-up pages and the long letter full of suggestions and re-workings.  
What I told him was that this meant he had a good editor, one who thought a lot about the books he took on and one who cared.
Which was true except that I remembered when I got my first edited manuscript back. The howls of rage.  "It's like they cut off my arm," I yelled to my wife about one deleted passage. (I wish I was exaggerating for comic effect; I am not.)
That was over eighteen years ago, and while I still get pretty worked up upon first seeing my marked manuscripts, I have come to understand how much editing, and working with editors, is not just a partnership but, at its best, a collaborative creative act.
As for advice, here is some that I sent to my student, in no particular order:
Remember it is normal to freak out at this point in creating a book. (Same as all the other points.)
Consider time.  Time is vital. Read the edits and let them sit there—inside you. It is often not comfortable. It is another person's vision imposed on your vision. Got for a walk. Try to sleep. Let time pass with the edits.
 This is important because very often something that an editor suggests will seem idiotic at first and then a week later you will say "wait a minute." (You might even convince yourself that it was your idea.)
Some writers don't take any edits. They "stet" everything.  But generally these people are dicks. (Stet is a copyediting mark that means "Don't fucking change this. Put it back the way it was.")
It is completely fine and acceptable to hold the line in places. To "stet" a bit. But try to think about why you are holding the line in terms of the larger work. This will be helpful for a couple of reasons:
 
1. It will get you thinking about your work again in big picture terms.
 
2. It may make you see things in a new way, and even add new sentences, chapters.
For me writing at the editing stage is all about problem solving and that is always creative. Rather than fight with specifics think about what problems your editor is suggesting and how they can be solved.  You may not solve it in exactly the way the editor suggests, but you should be thankful that the problem was pointed out. The point is to solve it.
Working with an editor is a creative act. Just a different kind of creative act than writing it in the first place.
 
In the end no one knows your book as well as you. But it's nice to know there is someone who knows it almost as well.  And it's nice to have someone else, a teammate of sorts, as the book makes its way out in the world.
 
P.S. Whenever they run one of those monthly "The End of Books" articles they always mention that "editing is dead." I always wonder what planet they are living on because on my planet editing is alive and well.