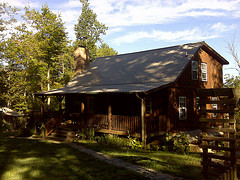 Doe Branch Ink is a writers' retreat located on  50 acres nestled in the Blue Ridge Mountains of North Carolina. Just 30 miles north of Asheville in lovely Madison County — "The Jewel of the Blue Ridge" — the retreat takes its name from a spring fed stream that flows from high in Pisgah National Forest into the French Broad River, a protected National Scenic Waterway.  This June,  from the 17th to the 23rd, Bill  Roorbach and David  Gessner will be at Doe Branch. 
Recently Bill and I talked about the week.
Dave:  The whole idea behind Doe Branch is to have a week where you put your writing first.  A gift to yourself I guess.  It's a gift that sounds very appealing to me at the moment, caught in the swirl of schoolwork and blogging and fresh from filing taxes.  The fact that you get to focus on your writing while living in a great setting, deep in the mountains, is a big part of it too.
Bill:   The timing's perfect—end of the school year, beginning of the summer.  In fact, we'll be celebrating solstice together, always a time of new beginnings.
Dave: In our blog we talk a lot about ways to protect your writing time.  Usually that means a couple of hours a day, squeezed in between the pressures of daily life.  This is different.  Not little nibbles.  A feast.
Bill: I still date a real turn in my life my writing and even my career to a week at a writer's retreat.  I'd been looking for a break from real life, and I certainly got that.  But I got so much more, too, something I hadn't expected.  Suddenly, time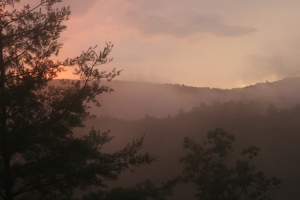 was all about contemplation instead of getting somewhere, doing something "important."  The days were capacious.  I'd take a long morning's walk and realize at the end that not only was I refreshed and full of ideas, but that it was still morning, that there were still hours of writing ahead.  And then in the quiet I'd actually write, full of the feeling that nothing but writing and thinking would properly fill the space.  And that's what I did, feverishly starting and building stories in every open moment.   In the quiet, away from the demands of real life, I found I could produced ten times more work in an hour, whole stories falling from my mind in mere afternoons.   Best, when I was home I realized my priorities had shifted, that my ability to work with focus and concentration was much improved, that I wasn't constantly getting up from my desk and rushing off to do this or that seemingly important task.
Dave: My thinking is that people should take as much time alone as they like. The way the week worked last year was great.  I'm a morning person so I'd go for walks down into the hollow before we all gathered in the morning.  I'd usually have some writing ideas of my own and would scribble them down in my journal.  I even managed a couple of morning dips in the creek.  By the time I got back, breakfast and coffee were ready, and soon after that, around nine, all of the writers would  gather out on the porch.  We did some writing exercises to warm up, read our work out loud, and I would talk for a bit about writing–that is, about goals, habits, craft, and whatever else seemed relevant to the work we were doing.  I really tried to tailor the class to the goals of the people in it, so if someone was working on a novel I'd suggest books to read, for instance.  Some people want more direction than others, and that's fine, too.  It's their week.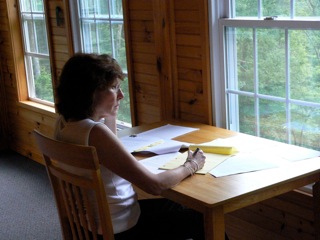 Bill:  I like to read from favorite books, find lessons there.  And I'm hoping people will bring favorite passages to share, too.  And I like to tailor exercises and assignments for those who want them, both fiction and nonfiction, even a little poetry.  We'll think hard about what participants need to bring their writing up to the needs of their various  visions.  And of course we'll all be sharing our writing.  There's nothing like reading from fresh work and hearing what other writers and thinkers have to say about where you're going rather than where you've been.  I like aiming myself at future projects, getting a map in my head for what's next.
Dave:  That's right.  And another thing I find is that a week like this is good for starting to think hard about the form, or more accurately the shape, of the project or projects you are working on.   What exactly is this thing you are working on?   I tend to think of writing in terms of books, not shorter pieces, and what I try to do is help students conceive of how this thing they've got can be shaped into a book.
Bill:  We'll also have time to talk with each participant individually, both informally (at meals and on walks) and more seriously, over coffee in a quiet corner, trying to sort out challenges, move each of us toward the next positive step.
Dave: Ya, that's kind of how it worked last year.  We would meet in the morning until about noon, though during that more formal time people would also wander off to some beautiful corner of the property while they did exercises.  When we were done we got served this amazing lunch that is catered by a local restaurant.  The afternoon is generally a more solitary time, everyone off working on their writing.  Until we get back together for cocktail hour of course.  Then, drink in hand, the talk usually returns to writing.
Bill:  The way I imagine it is this will not just be a time of camaraderie, but the time we come together to share this great vision of ours.   And it's where we're all equals, all with something to offer, something to add, something to give. Some laughter doesn't hurt at the end of the day.  You're an early-to-bed guy, but after dinner and after some talk around the fire , I'm more likely to be in my room writing till all hours.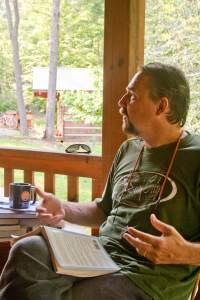 Dave: On the other hand, people can just hole up at the end of the day if they like and keep writing.  There are only a few formal planned activities.  I went for long bikes rides and one day we all went river rafting.  Also one night my eight year old daughter took on the local clog dancing champion at a restaurant in a nearby town. But that's another story.
To find out more about joining us at Doe Branch please click here.