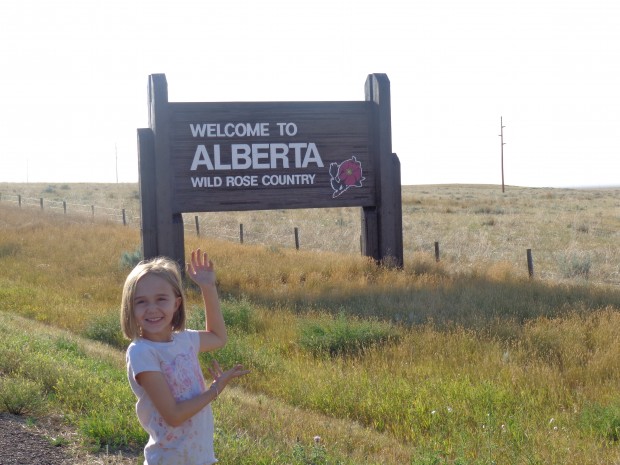 Here was the phone conversation, as recounted later by my wife.
"Is this Nina de Gramont, mother of Hadley Gessner?' asked the Canadian Border Officer.
"Yes it is."
"Does Hadley Gessner have permission to cross into Canada with David Gessner?"
"Yes, she most certainly does."
"Well, that's good because they crossed the border about half an hour ago."
Nina and I had been unaware that any single parent crossing the border with a child needs a letter from the absent parent. So Hadley and I ended up in the Border Patrol office, talking with the officer for close to an hour while he tried Nina's phone again and again. At the end of that hour, the officer had learned some things, including how Labrador Retrievers got their name–they were originally from Newfoundland but that name was taken so they were named after the surrounding sea—and was also pretty sure that Hadley was not being kidnapped.
"I've got a girl in first grade myself so I'm a little more stringent than most of my co-workers," he said. "Ninety percent of all kidnappings are by a parent."
Then he sent us off into the wilds of Canada without official spousal permission, but with some confidence that my intentions were not evil ones.
"I've got to warn you," he said before we left. "It's pretty desolate up there."
He didn't mean his whole country, but the stretch of Alberta that we would pass through as we headed north. Our first stop was only a hundred yards from the border office, to take a picture of the "Entering Alberta" sign, since Neil Young's "Four Strong Winds" was Hadley's favorite song and opens with the line: "Think I'll go out to Alberta…." Once we got on the road we found that desolate was exactly the right word. We didn't pass any other cars as we drove up through the endless albino wheat fields, and when we turned off on a dirt and gravel road east toward Saskatchewan, rocks started kicking up under the car.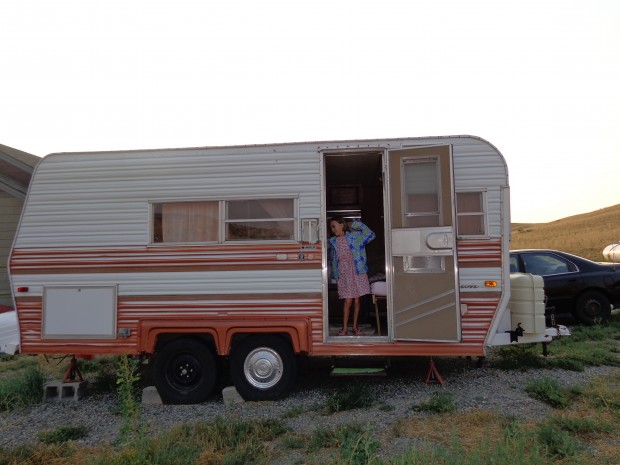 Hadley and I were traveling together after she and Nina had come to spend a week with me during the western trip that became my current book. After the week they both had tickets to fly back from Denver to North Carolina, but only Nina used her's. She had a book to finish (an origin story for the Rogue character of X-Men fame called Rouge Touch) and so we decided that Hadley would join me for the final leg of my adventures. Less than forty eight hours after Nina left, Hadley and I were spending the night in the trailer behind Doug Peacock's house in Emigrant, Montana. Another forty eight and we were crossing into Canada to visit Wallace Stegner's home in the town of Eastend.
This is the traditional point in this sort of blog where I turn from scene and story to metaphoric lesson, and who am I to buck tradition? Let's keep this one simple. There is always some danger, and usually even more trepidation, when crossing borders. Of course I was never that worried with the Canadian Border Officer, certainly not like I had been when sneaking into Cuba or birding in Venezuela. But there was still energy to it.  The book that I was writing involved more than a few border crossings of its own, as I cut back and forth between travel writing, memoir, biography, nature writing and literary criticism. Those more literary crossing were not going to land me in jail, but they were still dangerous in their own way. It is the sort of danger that I have been urging my grad students to court.
I have said more than once in this blog that we are at a thrilling time to be a writer of nonfiction. There are so many possibilities, so many genre combinations. That is why, though I am a lover of memoir, that I grow frustrated when 99.9% of what I see in the workshops I teach is really just memoir. Memoir is great, wonderful, but what about crossing a few borders? What about adding some reporting to your memoir, for instance?  What about crossing into new and dangerous ground?
You can even edge into it and begin slowly by crossing into a metaphoric Canada. But do start crossing. You will find things you have never seen before, things that you have never expected.
Oh, and maybe next time I'll tackle going down the metaphoric river: