Comments Off

on Bad Advice Wednesday: Come Feast with Us!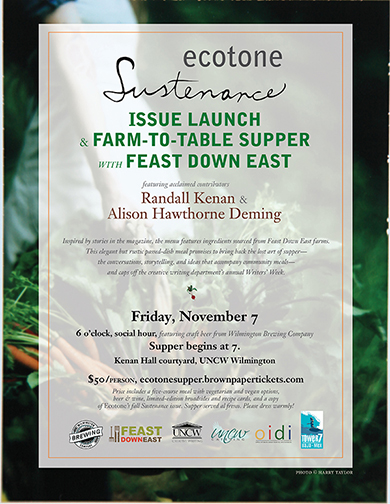 Next week, November 3-7, is Writers' Week at UNCW which means a week off from regular classes here in Wilmington and a horde of writer folks descending on us. It starts with Mark Spitzer and Heidi Lynn Staples on Monday, along with an all-star alumni reading starring Douglas Cutting, Jay Varner, Sarah Creech and Rochelle Hurt. On Tuesday we are visited by Belle Boggs and Chantel Acevedo and Wednesday we bring in agent Michelle Brower, who represents our very own Jason Mott. The Buckner Keynote Reading on Wednesday night will feature poet Patrick Philips and nonfiction writer Katherine Miles, whose book about hurricane Sandy, Superstorm, was released just last week and it taking the world by…well, you know. Brock Clarke takes the stage Thursday night, reading from his just-released (Nov 4) novel, The Happiest People in the World. And the next morning Alison Hawthorne Deming will discuss her new book, Zoologies, with her editor at Milkweed Editions, Patrick Thomas.
After a week like that we will all be hungry. Which is why we are celebrating on Friday night with a big feast to celebrate the Sustenance issue of our magazine, Ecotone. Ecotone, partnering with the nonprofit food-system initiative, Feast Down East, will host a farm-to-table supper with readings by Ecotone contributors Alison Hawthorne Deming and Randall Kenan. The feast takes place in the Kenan Hall courtyard, and starts, as all good feasts do, with beer, during the 6–7 social hour featuring the Wilmington Brewing Company. Supper starts at 7, prepared by chef Ryan Andress.
The feast costs $50/person and includes a multi-course meal , beer & wine, limited-edition broadsides and recipe cards, and a copy of Ecotone's Sustenance issue. Seating is limited, and no tickets will be sold at the door. Tickets may be purchased at ecotonesupper.brownpapertickets.com.
For more info about both Writers' Week click here and to learn more about the feast see below. Please join us!
For immediate release
October 29, 2014
Ecotone magazine partners with Feast Down East to launch its Sustenance issue with a farm-to-table supper on Friday, November 7.
WILMINGTON, N.C.— Ecotone, the University of North Carolina Wilmington's award-winning literary magazine of place, and Feast Down East, a nonprofit food system initiative also based at UNC Wilmington, cap off the creative writing department's annual Writers' Week with a passed-dish meal on Friday, November 7, in the Kenan Hall courtyard.
Inspired by stories and essays in the magazine, the menu, created by chef Ryan Andress, features ingredients sourced from Feast Down East farms. This elegant but rustic meal promises to bring back the lost art of supper—the conversations, storytelling and ideas that accompany community meals. The event will also feature readings by acclaimed Ecotone contributors Alison Hawthorne Deming and Eastern North Carolina native Randall Kenan, as well as remarks by Dr. Leslie Hossfeld, co-founder of Feast Down East.
A social hour from 6–7 p.m. precedes the supper and features local craft beer from Wilmington Brewing Company. Tickets are $50/person and include the multi-course meal, with vegetarian and vegan options, beer and wine, limited-edition broadsides, and a copy of Ecotone's Sustenance issue. A signing with Deming and Kenan will follow.
Alison Hawthorne Deming is the author of four poetry collections and four works of nonfiction, including the forthcoming Zoologies: On Animals and the Human Spirit, in which her essay in Ecotone will appear. Science and Other Poems, her first book, received the Walt Whitman Award. Her writing appears in numerous other magazines and anthologies, including Orion and Best American Science and Nature Writing. A former Stegner Fellow, Deming is professor of creative writing at the University of Arizona.
Randall Kenan's first novel, A Visitation of Spirits, was published by Grove Press in 1989. Let the Dead Bury Their Dead, a collection of stories, was published in 1992 to wide critical acclaim. He is also the author of Walking on Water: Black American Lives at the Turn of the Twenty-First Century and The Fire This Time. He recently edited and wrote the introduction to The Cross of Redemption: The Uncollected Writings of James Baldwin. In his essay in Ecotone, Kenan reflects on his childhood in North Carolina, recalling the particular goodness of mustard greens.
The event supports the nonprofit work of Ecotone and Feast Down East, and is made possible through the generosity of the UNCW Department of Creative Writing, the UNCW Office of Institutional Diversity and Inclusion, UNCW Catering, K38 Baja Grill, and Wilmington Brewing Company.
For more information, please contact Emily Smith, smithel@uncw.edu.