Jan 23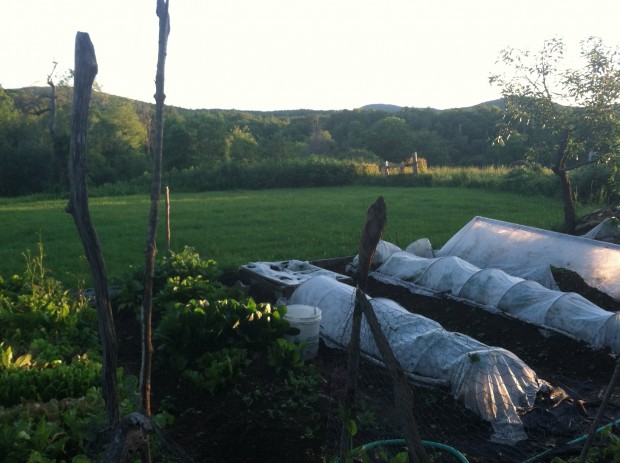 "A career is like a garden," Bill Roorbach told me and a roomful of other eager writers nearly ten years ago at the 2004 Creative Nonfiction Summer Writers Conference at Goucher College.  "There is only so much you can control.  The beans won't climb the pole until they're ready, and sometimes the garden just evolves where it wants – you just step out of the way and fit yourself in."
I know that Bill told me this because I wrote it down, on the back of the blue conference schedule. At the same time I was doodling a picture of Bill that looks nothing like Bill looked back then and looks nothing like him now.  He did have a moustache, I believe, but other than that, my cartooning skills offer perhaps some fundamental insight into why I eventually became a writer. (Gessner, does any of this resonate?)
Bill said two other things that day.  (Actually, he probably said many other things, all of them more brilliant than Julia Robert's teeth, but I only wrote down two other bits of Bill wisdom, probably because my complete attention was focused on shading in my doodle of Bill's enormous shoes.)
He said: Think of your career in ten-year segments.  Don't try to control it month to month or year to year.  Assume there will successes and failures and just hope that in every ten years you've accomplished something to be proud of.
This was something I deeply needed to hear at the time, because my career was in the dumps.  After publishing two nonfiction titles with Algonquin Books of Chapel Hill, I dove headlong into a new project that ended up going nowhere, despite four years of research, travel, sweat and energy, diligent drafting, fierce revision, and numerous promises to my friends that the book would be out "in a few years."  It never did come out.  Not ever.  The garden grew where it wanted to grow, not where I was trying to train it.
The other thing Bill said that day was, "You need to be porous and available."  He meant that, I imagine, on many levels: listen to your characters, listen to your sentences, listen to strangers, listen to the bluejays chattering in the backyard.  But for me, it meant listening to that voice in my head that had begun suggesting, "Forget that damn book, put it aside, because there are other things you should be working on."
I listened, and my last ten years have been pretty wonderful, garden-wise.
But this is "Bad Advice Wednesday," so let me stay in the spirit of the thing and give you my bad advice:  Don't listen to Bill Roorbach.  The silly fool has no idea what he is talking about.
[Dinty W. Moore is a writer and professor and editor, also a great dancer and kind friend, likely a Bodhisattva]