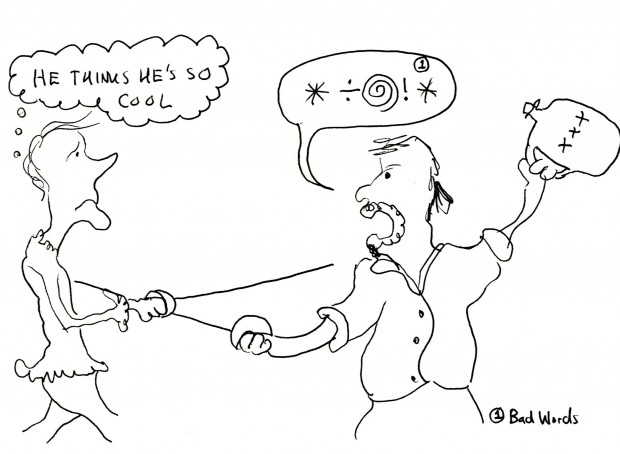 A couple of days ago I came under attack in Terrain.Org, an on-line journal that I have always been, and remain, quite fond of.  The gist of the review, if one can call it that, was that my primary concern as a writer was being "cool," as if I aspired to be a kind of literary Fonzie.  How did I go about that?  By drinking beer in my pages and "dropping the F-Bomb."  The reviewer, Frank Izaguirre, made almost no mention of my topic, which was the disastrous BP oil spill, but made many references to how irritating he found me.  (I've pasted the full review below.)
"Don't reply to it," my wife said.  "It's beneath you."
I usually take her advice, and I quelled my initial response, which was admittedly angry and defensive.  After all there was no mention of the humor in the book, and no mention of the anger or passion, and no mention of the people who I wrote about or the issues that they faced after the spill.   Certainly the reviewer, who is obviously something of a bully, deserved to be stood up to, but I knew my wife was right: I didn't want to descend to rebutting his points, or to bickering.
What I would like to do instead is perhaps kind of dull for most people.  I would like to describe for Mr.Izaguirre what I was trying to do with my book, and what I try to do in my writing, which by necessity includes describing the literary tradition in which I work and what I have tried to do with that tradition.   
I can truthfully say that being cool, or trying to be liked (another of his accusations), has never once entered my head in the course of writing eight published books and hundreds of essays.  But trying to be honest has. That was my vow when I started writing thirty years ago—to be as honest as I possibly could on the page—and that remains a guiding principle.  Honest to my experience. Honest to what I see, and honest about my often complicated reaction to all of  it.
This begins with voice.  My goal is to speak on the page as I do in real life.  To speak to you as if we are sitting across from each other having an open and honest conversation, with or without beers in our hands (thought preferably with).  I aspire to bringing my speaking voice to he page, and for the Gulf book I transcribed much of what I wrote from tape recorders, trying to get something fresh and direct.  Unfiltered.  As it turns out, that means I say fuck every now and then.   That is how I speak.
A good example of this, and how I try to turn even the monologue-heavy sections into a dialogue, comes near the end of the book.  I write:
"I don't want to get hokey here and say that something is being asked of us.  But maybe something is being asked of us.  And maybe this time around we'll dignify what is being asked with an answer.  Even if the answer is: 'Well, what the fuck do we do now?'"
According to Mr. Izaguirre's analysis, I added the "Fuck" in the last sentence to "be cool."  But the real reason it is in the text is quite different.  It is there because I am trying to dramatize a process of thought, or more accurately, to make a scene out of my thinking as it evolves,  instead of merely lecturing.  Just as important, I am trying to cut through the stale cliché of  the phrase "something is being asked of us" and give it new life.
Oh, and there is another reason.  Humor.  (Of course, as a rule, people who lack humor don't recognize it.)
Mr. Izaguirre suggests that I am posing in my work, and to the extent that all art is a fabrication he is right.  I often write about myself as a character who encounters nature, but I try to be as honest as possible about how that self responds.  And what does that mean?  It means that I try to portray that self in all its complexity, with its doubts and its drinking and its reading and its worries and its other relationships with the world, natural and otherwise.  If that works, this means that the reader identifies and says, yes, I have that relationship too.    Again, cool has nothing to do with it for me.  Honesty has everything to do with it.
I have been criticized from some older nature writers for not simply coming out and saying, in the style of an advocate, "This wrong" or "This is right," for not, as this reviewer puts it, showing my convictions. But that is not and never has been my topic.  My topic in this case is the psychology of environmentalism, often played out in a character who just happens to me.  Is that character the most fascinating in the world?  No.  But for some readers he acts as a stand in for their own complex reactions, and in ways that I hope strike a chord in them.  Yes, he has a beer or two. And yes, he has doubts about being a joiner, and is suspicious of any sort of –ist, since it seems unnatural to him. Finally it's true that, yes, he swears from time to time, as I do in real life.  An astute reader would also notice that he reads a lot of books, thinks hard about serious topics, and gets very involved in the world outside him.
As for the greater tradition, Thoreau is always reflexively cited as an obvious predecessor to anyone who writes in my genre. (By the way, the line that Mr. Izaguirre writes as his own, "Thoreau the Crude vs. Thoreau the Prude" is lifted directly from my first book, A Wild, Rank Place.)  Thoreau has had a huge and obvious influence on my work.  But what has always interested me most are the places where the nature writing tradition overlaps that of the personal essay, and Montaigne means just as much.  Throw in a dash of New Journalism, memoir, an adolescence spent reading the comic monologues of Philip Roth, and a deccae spent writing only fiction, and you get some sense of the turf  I work.  My books are first person accounts, though the importance of that first person character varies depending on the topic.  For instance when I am writing about the great nature writer John Hay (The Prophet of Dry Hill), the character called" me" grows smaller and the topic larger.  When the effect is meant to be self-deprecatory and funny, the self sometimes grows.
Perhaps the most illustrative use of the first person is in the book that is actually my best known, not, as the reviewer claims,  Sick of Nature (a favorite of masochistic academics) but Return of the Osprey.  Right from the start I faced a challenge with that book: it would be too boring for a reader to spend 300 pages learning every little detail about the lives of ospreys. I solved that by creating a character out of myself, a character who does what I really did during the course of that year: grow more and more obsessed with the birds. Sometimes, during breaks from learning everything he could about ospreys, the character would stop and have a beer.  Sometimes he would swear.  I'm not sure if he was cool or not.  I know he was obsessed.
In my above list of literary influences and traditions, I neglected one important strain.  In college I was lucky enough to study with Walter Jackson Bate, and his biographies of Keats and Johnson are as good as anything I have ever read.  Bate believed that what was most important in literature was that which the reader could "put to use" and that's why he, like Johnson, thought biography preeminent.  I feel the same way about autobiography and self-portrait.   I like to read it, and write it, because my hope is that readers can put a little "to use" in their own lives.  But in books like Osprey and Tarball, I also use biography toward a purpose.  My hope is to pull readers in with the autobiographical story and then point toward the larger subject: birds, say, or a deadly oil spill.
Okay enough of this.  Time to stop lecturing and go drink a fucking beer.
Here is Mr. I's review:
Milkweed Editions, 2011
Reviewed by Frank Izaguirre
I have a complicated relationship with David Gessner's writing the same way he has a complicated relationship with being a nature writer. On the one hand, I appreciate his self-appointed status as a watchdog for stereotypical environmentalists, and on the other I find it a bit weird that probably his best known book was written for an audience of mostly nature writers just to notify them that they're uncool and need to drink beer in order to stop being uncool. I enjoy a nature writer who's at least as eager to commune with people as animals. I'm also a little worried about his drinking. Can't tell if that's what he wants.
Regardless, the man's writing at an impressive clip these days, publishing a book each of the last two years. The Tarball Chronicles, his latest, is a travelogue/meditation on the Gulf oil spill and what it means for the region, our country, and even the world. We join Gessner on his haphazard and unplanned journey, meeting endearing locals and emblematic wildlife; and we get a closeup of how a corporation can shush away all problems by whispering dollars.
But the most interesting part of the book doesn't have to do with the Gulf or oil: it's Gessner's internal struggle with his identity. Gessner has a similar thing going on to the Walden subplot of Thoreau the crude vs. Thoreau the prude. He awkwardly describes how he brings beers out into the field with him, chugging them rather randomly throughout different times of the day. He also frequently mentions all the meat he eats, ostensibly so he isn't confused with one of those touchy-feely vegetarian environmentalists that are kinda lame.
There's something in his writing that makes it seem like practically everything he does is just to make sure he seems cool. He'll only describe his birding outings, his affection for wildlife, as long as he mentions he had a drink within three to fifteen pages. He remembers to drop the F-bomb about every fifty pages.
Gessner is so self-conscious about following his own rules on how not to be a granola that I can't really tell who he is. He makes grand efforts to befriend everyone he meets, including those with opposite political and religious views. I get the sense he wants to be liked by pretty much everyone ever, which is a problematic quality for anyone and especially a writer. In his zeal to prove he gets along with non-nature lovers, or nature lovers that shoot everything they can eat, I find it hard to pin down his convictions. I'm not sure the things he does are truly him and not just insurance against being boxed into the stereotypes he worries make nature writing uncool.
Maybe the one thing that always remains clear is he genuinely cares about the environment, close to him and elsewhere. For me, that's cool enough.