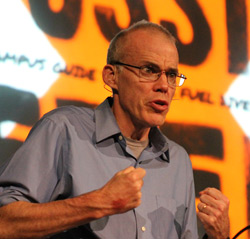 Dear Bill,
I have been meaning to write you for a while.  As you may or may not know, I shoveled some criticism your way, along with a heap of praise, in my 2011 book, My Green Manifesto.  The gist of the criticism was that you were reasonable and right, but lacked fighting spirit.  To which I now say: Ha! 
Boy, was I wrong about that one.  Then I was reacting to the reasonable arguments of your book, Deep Economy ,which seemed obviously right but sometimes had a Jimmy Carter cardigan sweater sort of feel.  But you have certainly taken that sweater off.  Ripped it off and burned it even.  In fact, you have demonstrated more fighting spirit left than almost anyone else left on this overheated planet.  So, sorry about that.  My bad. 
Of course you started to bring this whole thing to the country's attention, long before Uncle Al's slideshow, with your 1989 book, The End of Nature. I read it right when it came out, and was duly impressed, though I was also left feeling uncomfortable. The end of nature?  I was still in my full-on Thoreau stage at the time and I knew I could experience wildness in nature, even if this nature had empty 7-up cans and cigarette butts in it.  I didn't like the idea that the world was as human controlled, or influenced, as you suggested.  Jump ahead fourteen years and your book seems much more than prescient.  It is not going too far to say that the facts of that book are now the backdrop for almost everything I write, whether it is about the western fires, Atlantic hurricanes, or oil spills in the Gulf. It deserves to be remembered as what it is: a classic of Silent Spring status.  Okay, enough praise. Now down to business.  Global warming business, of course. 
I just finished re-reading the piece you published in the August 2, 2012 issue of Rolling Stone, "Global Warming's Terrifying New Math."   I am sitting here, drinking the morning's second cup of coffee, and my brain has that tightened up feeling that it always gets when I'm wrestling with ideas that are too big for me.  But this time I don't want to do what I usually do when I feel overwhelmed: run away.  Run away and do something else—watch TV or work or ride my bike– and try not to think about it. This time I want to think about it.  I want to make some personal sense of it.
First the obvious. Last year, when I travelled through the West, was the worst ever for western fires—until this year of course. We are all getting tired of the phrase "the hottest year on record" and ice caps are melting at record rates, and anyone who doesn't see that is blind. So what? some say.  Maybe we should just accept that this is what is coming.  Get out our shopping carts and sleeping bags and guns and get ready for our Cormac McCarthy future. But that's not so easy to do, is it?  We humans generally aren't like that; we are busy little beavers who like to fix things, and some of us, particularly those with children, aren't that crazy about the idea of a sizzling apocalyptic future.  So the old question (the same question you used to ask as a college newspaper editor if I remember correctly): What is To Be Done?
In your article you first tell us what the answer is not. It is not twisty light bulbs and recycling and hybrid cars. Not that we shouldn't  do these things—we should—but that as you put it: "People perceive—correctly—that their individual actions will not make a decisive difference in the atmospheric concentration of CO2…"  And: "Most of us are fundamentally ambivalent about going green: We like cheap flights to warm places, and we're certainly not going to give them up if everyone else is taking them.  Since all of us are in some way the beneficiaries of cheap fossil fuel, tackling climate change has been like trying to build a movement against yourself—it's as if gay-rights movements had to be constructed entirely from evangelical preachers, or the abolition movement from slaveholders."
 This is an important point, and worth pausing on.  One of the topics I've focused on over the last few years is the psychology of environmentalism, and I've used my own ambivalent self as a test case.  And one of the things that has kept me from getting up on the global warming stump is my own hypocrisy.  Last summer, for instance, I drove thousands of miles following the trail of Wallace Stegner and Ed Abbey, trying to write a book about the two men that would, at least in small part, inspire others toward environmental action.  You see the problem there, right?  "We are all hypocrites," said my friend the river activist Dan Driscoll, "But we need more hypocrites who fight."  Sure, yes, true.  But I still think the undermining hypocrisy hamstrings a lot of us.  How to wave a fist against the oil companies with one hand and reach for the pump with the other?  How?  
Your article helps me start to answer this basic question. It doesn't let me off the hook entirely, but it reminds me that we are all on our hooks together.  And it reminds me that while individual action may be a moral imperative, it is not the larger answer to a larger change.  Take the case of Civil Rights, another paradigm-shifting change, as an example. Treating your fellow humans as equals may be a moral imperative, but creating laws, though it springs from the personal, is something else.   (But here my brain is getting knotted up again: isn't being a wasteful person who battles global warming like being a racist who supports civil rights?  Help me, Bill!)
Anyway, let's say we accept our own hypocrisy, that we realize that we are just part of a wasteful culture, and that that shouldn't stop us from trying to change that culture (since, as it happens, that culture is helping destroy the world.)  What's next?  Well, you tell us: next we fight.
Let's stop for a second and imagine the world were being attacked by giant spidery aliens.  If that were the case, if it were fight or perish, we would all fight.  I for one wouldn't diddle around worrying about whether or not I'm a hypocrite or if I was using my car or air conditioner too much; I'd break out my gun.  But who is the enemy?  Who are the spidery aliens?  Who do I shoot at?
 You tell us that, too.  I won't go into all you math but it boils down to three things:
If the temperature rises 2 degrees Celsius we can kiss goodbye to the environment that we all know and that humankind evolved in.
The maximum we can put into the air is roughly 565 gigatons of carbon dioxide
The fossil-fuel industry has reserves of oil and gas that will lead to the burning of 2,795 gigatons, five times that limit, and is rapaciously seeking more.
It is this same fossil-fuel industry, not governments or individuals, that you propose should be cast as "Public Enemy Number 1."  The oil and gas companies are the giant spidery aliens.  When other businesses exploit children or dump sewage in lakes we have evolved to the point where we say "Hey, that's not such a good idea," and "You can't do that," and finally "That's against the law."  Shouldn't we do the same to companies that are destroying the world we know?
"Yes," is the answer you give, and "yes!" I holler back from the pews.  Is it really possible that we  police people for throwing trash in a river but that we will not police companies that, by plan and with full pre-meditated  knowledge (many of those who work for them are scientists and scientists know the real math of warming, as you point out), are creating a burning uninhabitable world.  You quote Naomi Klein: "With the fossil fuel industry, wrecking the planet is their business model."   
So then I circle around to the same question: What is to be done?   And you give me an answer here too.   "Moral outrage" is the short answer, but financial leverage is the long one, in the form of carbon tax and a movement of divestment similar to that used against South Africa in the 1980s.  Okay, that second part kind of makes my brain tighten up again.  But moral outrage I understand.  And you have given me my enemy. 
So thanks for that.  I'm ready now.  Not sure exactly what to do now, but I await your call.  Sign me up; put me in the game; tell me what to do, coach.  I'm serious.   Let's get after the fuckers.  If I can be a tenth of the fighter you are I'll be proud.
Sincerely,  
David Gessner
P.S. Follow Bill on Twitter: https://mobile.twitter.com/billmckibben
 P.P.S. From Bill M: a few thoughts of mine on this evolving movement: http://www.tomdispatch.com/blog/175737/