Dec 24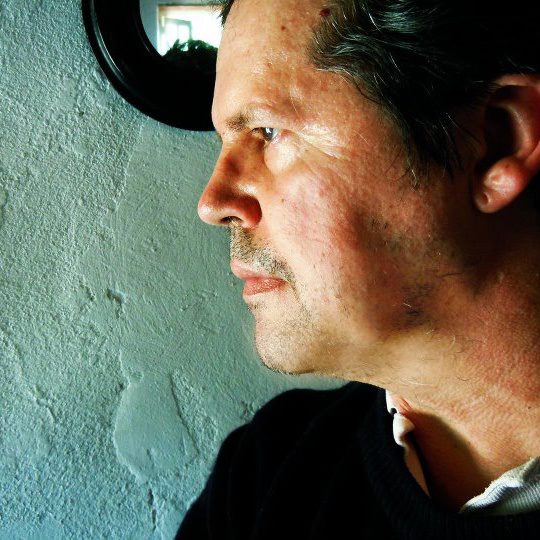 .
In 1991, well before I returned to live in France, I went to New Orleans with my childhood friend, musician, blind.  Jean-Marie, a name that sings like quaint rivers of France where he was born, in my hometown, Grenoble, less than a block away from me. We grew close, playing together as children, attending the same public school. Piano was our bond, our shared language. We both went to the music conservatory. I would stop by his house to ask for a bottle of milk my mother had not had time to buy, and he would be sitting at the piano, playing the same prelude I was. With time, his eyes began failing him, but not his spirit. There was joy in him, a joy that to this day flows uninterrupted. His link to the world, what allows him to live, is sound. When his mother called–just two days ago– to tell us he had suddenly lost hearing through one ear, my heart sank. The next day I spent sitting by the phone, waiting for test results. At 10pm the call came. He had recovered. We sang Halelujahs, we opened a bottle of wine. We told again the stories of our youth, the moments of glory and failings. The world of sound, that year, was New Orleans.
My parents were traveling with us; our winterbreak, away from Midwestern snow. We walked past the humid gardens and sycamore trees. We talked about the birth of Jazz and wondered if it was still there, in the florid leaves hanging from the sky, in the entrelac of iron balconies. I described to him the old instruments and photographs from the jazz museum. But mostly we talked as if he could see, as if there was no barrier, and I would make my footsteps a little louder, my voice resonate close to walls, giving him a feel for the space he was in, its history, its legacy.
We walked on Congo square, heard the Preservation Hall Jazz Band. The  pianist was over a hundred years old. He was pressing keys with straight gait, no syncopation. Time seemed to come out of his hands. He sang with the music, another melody, a refrain, the missing part of a piece written for two, man and love, humble hands and forgiving fortitude.
The next day we left for Nottoway, the house of a sugar plantation built by John Hampden Randolph.
Christmas Eve, and the air was damp and heavy, the sun already too warm in mid-afternoon. Our room smelled like ancient candle wax and cinnamon and opened on a balcony on the second floor. It overlooking a lush green lawn growing amid thick majestic oaks.
We had been told that on the levee was a water wheel boat with a steam calliope, of all things.  Jean-Marie had brought a tape recorder with him. We could not pass on the unique opportunity of recording steam powered organ music on a boat, and decided to walk to the levee at the end of the day.
We felt like the Lomax brothers on their expeditions to record American traditional music, and in our excitement, we didn't pay too much attention to the clouds gathering above our heads. The wind was blowing vigorously and we had to proceed slowly to avoid falling. I was giving my friend detailed directions and holding his arm.
We arrived where the Natchez wheel boat was moored, at around 6pm. Tourists aboard were curious and wondered what two grown men were doing on the levee with a tape recorder, instead of being on the boat and celebrating.
Recording was a challenge, because the wind was strong and loud, but we managed to capture around half an hour of music before the rain started falling down. It was time to fold and retreat, under the mocking gaze of the boat passengers. Rain thinned down, and was replaced with hail. Ice balls bounced against our backs as we tried to walk faster.
Running with a blind friend under a hailstorm on Christmas night while carrying a tape recorder is not the smartest thing I ever did. We dashed through the thick meadow separating us from the plantation, while lightning bolts ascended from the Earth to meet purple clouds. The Christmas lights of the plantation guided our approach and when we reached our room, we were drenched, but triumphant. We had music
We gathered around an oak table, next to the fireplace. Jean-Marie took the tape recorder, and pressed play. For twenty minutes, all we could hear was the wind. Then we heard the faint clamor of the calliope huffing and playing. "Jingle Bells" pierced through the rain and sleet.